Golden Sphere Monument in Pesaro
The Italian artist Arnaldo Pomodoro has left his golden sphere monuments all over the world. One of them has become the symbol of Pesaro in Le Marche.
Tell any person from Pesaro that you'll meet them at 'la palla di Pomodoro', and they instantly know where to go. The golden sphere monument at the end of the main street on the edge of the Adriatic Sea has become a common fixed point for anybody permanently or temporarily passing through the city that is mostly known as the rather plain sister to the World Heritage attractions of nearby Urbino.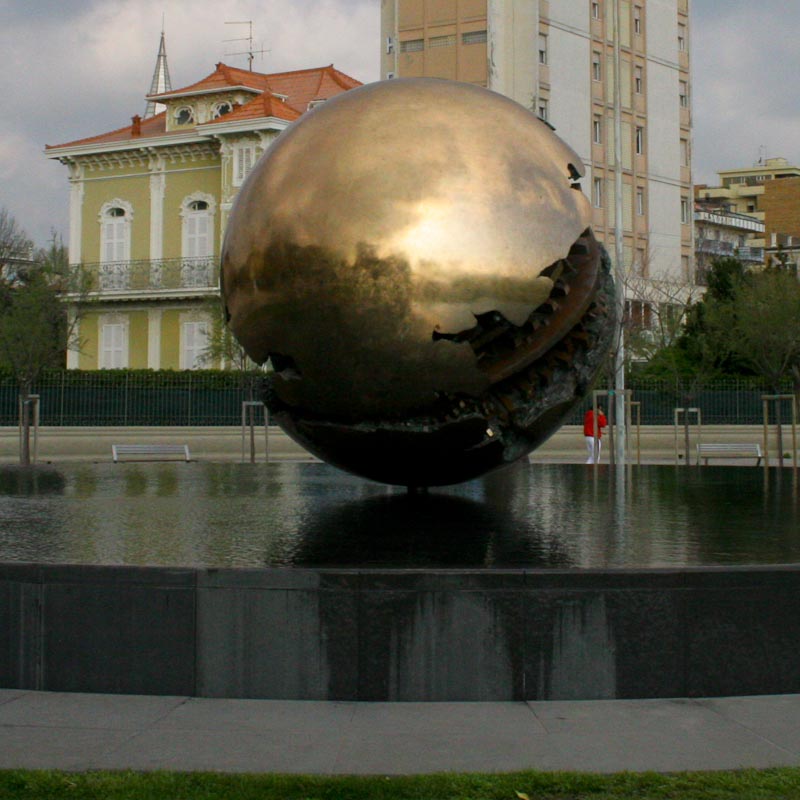 From Montreal to Pesaro
The dramatic 'Sphere Grande' – in a polyester incarnation – first made its appearance at the Montreal Expo in 1967, but in 1971 the artist Arnaldo Pomodoro donated it to Pesaro, where he had worked as a consultant for the restoration of public buildings in the mid-1950s. In 1998 the present bronze version pushed the original to Rome, where it can still be seen outside the Ministry of Foreign Affairs.
Other 'Sfera con Sfera' sculptures by Pomodoro where disintegrating, cracked up globes or poles reveal their internal cogs and machinery can be seen in the Vatican Museums and in the UN Headquarters in New York. The Italian has even left his mark outside the Queen of Denmark's front door.
New World Order
And if you look at the orange glowing globe in Pesaro, when it reflects the last rays from the setting sun, it is almost like seeing a new world order where east becomes west and planets are moulded in metal.
Quite an achievement for an artist born in Morciano in 1926.