Urbino in Le Marche
One of the most adorable hill towns in Italy
Urbino in Le Marche had its heyday in the Renaissance, and its appearance hasn't changed much since then. For this reason Urbino is often considered one of the most adorable hill towns in Italy. 
Even since I first saw Raphael's mischievous 'Cherubini' and other lovely chubby toddlers, I have been wanting to go to Urbino. The UNESCO World Heritage site and small medieval town in Marche, where a visionary duke in the late 15th century had supported artists like the native son Raphael, Piero della Francesca, Titian and other of the most important Renaissance artists and reorganized the city state to match his ideas of what was modern, comfortable and beautiful.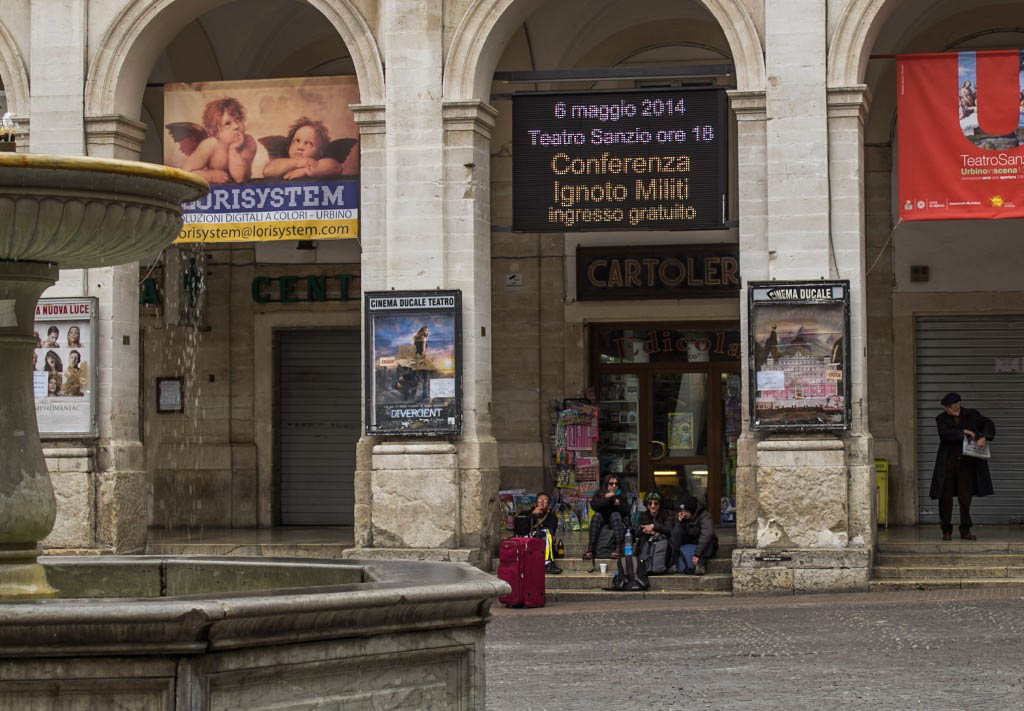 Preserved renaissance appearance
Urbino is only 36 km from the coastal city Pesaro, and together they make one provincial capital, so I was surprised to find that the two cities connected by a unlit, winding country road with enormous potholes due to recent landslides caused by heavy rain. In Europe 2014, broken asphalt signals the limit of civilization, so it seemed fitting to step out on slippery cobbled stones after a long climb up the hill.
Continued economic and cultural stagnation from the 16th century onwards means that Urbino has preserved much of its renaissance appearance including city walls built according to designs of Leonardo da Vinci. There are no modern buildings inside the walled town, and even cars and scooters find it difficult (but not impossible) to maneuver the irregular layout of the steep narrow streets. In other words there is a convincing medieval atmosphere about Urbino enhanced by the slight drizzle and fog on this particular night.
We did a quick stroll around town, which is harder than it sounds as the inclines are considerable. In spite of Urbino being a university town, there were few people around and most of the cafés seemed closed, but we were fortunate to get a free table at the Antica Osteria da la Stella. The ancient inn that claims to have hosted Raphael and Piero della Francesca and where they still served a really nice dinner.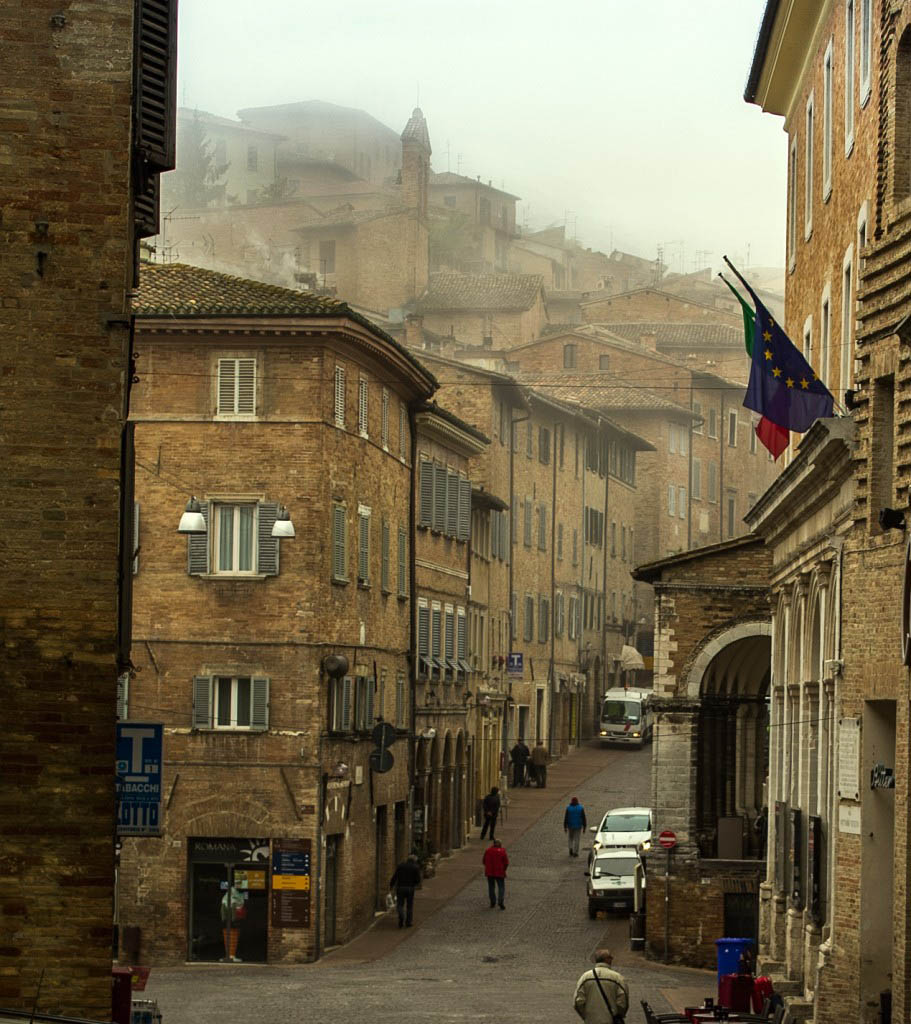 The main attractions of Urbino
The next morning we set out to discover the attractions of the city. The Ducal Palace and the National Gallery of Le Marche are a must-see with its first-class collection of renaissance art. Other stops on the typical tourist itinerary include the cathedral in neo-classical style, the Church of San Francesco where Rapheal's parents are buried, and Raphael's house where he was born in 1483 and trained.
We also found Raphael's angels on a banner over a tobacconist in the main square, and numerous weird and wonderful details like the windows glazed with bottle bottoms, the obelisk in piazza Rinascimento which is one of twelve Egyptian obelisks in Italy, porticoed alleys, lavender coloured shutters, silly souvenirs, secret gardens and stunning views of the hills beyond the town.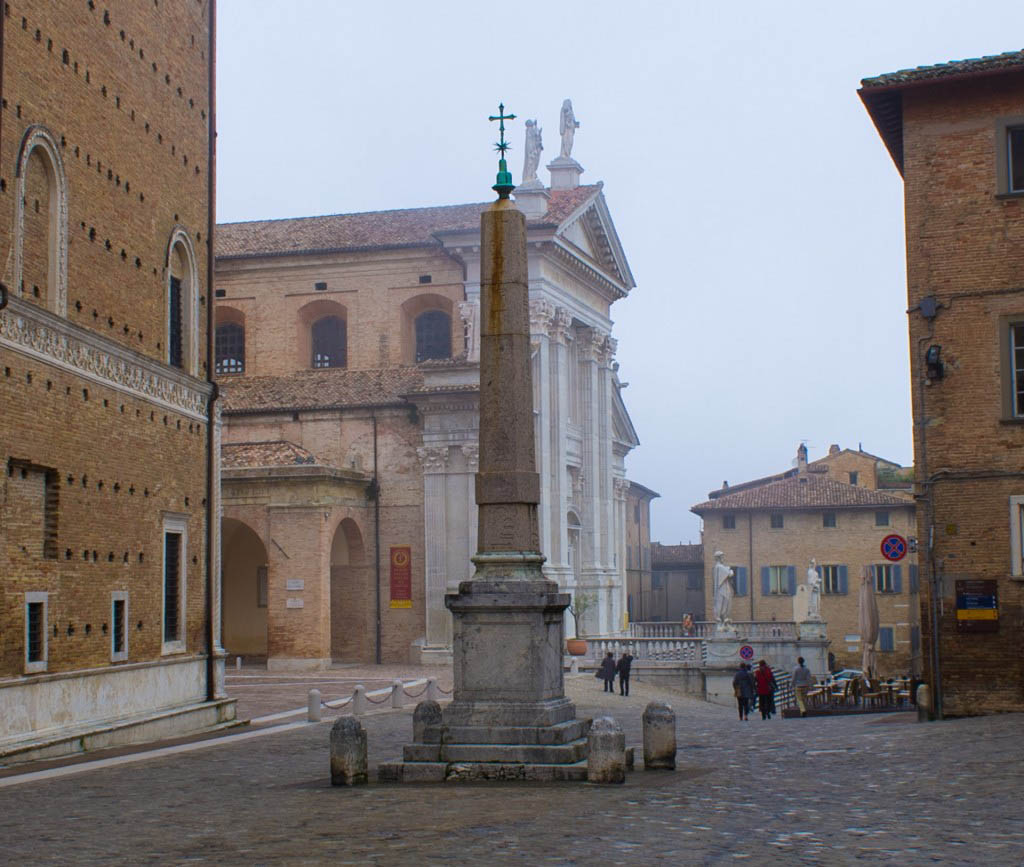 Yet the best memory of Urbino was a woman, who came up to us in a quiet street and without a word offered us a newly blessed olive branch. After all it was Palm Sunday and even travelling Protestants can use an ancient symbol of spiritual triumph and victory. So for the better part of a year now, we have had a reminder of one of the most adorable hill towns in Italy guarding our front door. And the withered branch is nearly as dear to me as one of Raphael's well nourished angels.
Other places to visit near 'One of the most adorable hill towns in Italy':
The musical attractions of Pesaro
Arnaldo Pomodoro's artificial sun of Pesaro