Sicilian baroque in Palazzolo Acreide
Sicilian baroque in Palazzolo Acreide: One of Unesco's World Heritage Sites in Val di Noto. But  you don't stumble into sights – they have to be discovered.
It must have been a Sunday for the nut-seller had set up camp in a corner of the piazza, where all the old men assembled to wait for the heat to cool off. One of the anziani stood out with his light grey Borsalino and an orange polo in a shirt wave of grey, white and blue, but apart from that no one drew much attention to themselves.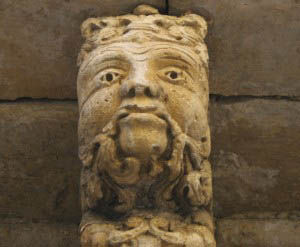 To the men on the piazza, we have probably been top entertainment, as we walked aimlessly up and down the main streets a couple of times consulting the ceramic Legenda on the walls and looking at the somewhat neglected baroque buildings. Palazzolo Acreide is one of Unesco's World Heritage Sites in Val di Noto, but you don't stumble into sights – they have to be discovered somewhere behind the beautifully embellished, weather worn facades. There is an enticing atmosphere of Sicilian 'Gattopardo' style decadence around the place. No wonder Palazzolo Acreide was used as location for Franco Zeffirelli's film version of 'Cavalleria Rusticana'.
When we crossed the piazza for the third time, the man with the Borsalino got up.
"Are you American", he asked with impeccable US accent and seemed genuinely disappointed by our 'no'. Still, we spoke English, and the old man seemed to grow for every word exchanged in a foreign tongue. At least, his friends were gawking reverently, while he explained the obvious that we should definitely consult the tourist office to get the most out of our stay in Palazzolo Acreide.
"There is so much to see around here, and they have got all manner of brochures", he explained, pointing to a shop in the opposite corner of the piazza and stressing several times that the services of the tourist office were free of charge.
At the end, we had no choice but to cross the square and enter the tourist office followed by too many pairs of Sicilian eyes. Here we received an exquisite service and innumerable brochures once the two ladies learned they could speak to us in Italian, but when we set out again to see Akrai and the zona archeologica, the ruins of the Norman castle and the ethnologic house museum of Antonino Uccello, the attractions had closed down for the evening. All that was left were a series of mocking baroque stone faces and the awareness that language is more than a means of communication.
If you like this post on Sicilian baroque in Palazzolo Acreide you might also like:
Baroque Sicily: In Noto walls talk
Baroque University Catania: Admiring the spirit(s)
https://italiannotes.com/wp-content/uploads/2012/06/Sicilian-baroque-in-Palazzolo-Acreide-e1360150054119.jpg
240
640
Mette
https://italiannotes.com/wp-content/uploads/2014/12/logo.jpg
Mette
2010-01-19 17:28:00
2017-09-23 15:10:25
Sicilian baroque in Palazzolo Acreide