The Cinque Terre hike
The Cinque Terre hike along the celebrated coastal trail proved more strenuous than expected. But the views were spectacular and slightly daunting, if you are afraid of heights.
I'm not a habitual hiker, but having heard of 70-year-olds who covered the entire distance in the Cinque Terre hike from Monterosso al Mare to Riomaggiore in Liguria in a day, I though it couldn't be that hard. After all it's only 9 km and I pretend to be relatively fit. As it turned out, I was in for a challenge.
The easy bit
We stated out from the train station in Monterosso on a fine November morning. Even out of season with a precarious weather forecast, the station was packed with people of all nationalities and all ages in smaller or larger groups. And they had all come for the stunning landscape and the hikes.
We went straight past the tempting cafés and beach chairs in Monterosso and strolled along the beach, where some people were sun bathing in bikinis and shorts. In the Western distance mountains rose and dropped sharply to the sea forming a jagged line of great scenic beauty. We passed a few hotels and restaurants and watch tower, and a stairs decorated with personalized bricks in support of Cinque Terre after the 2011 flooding. It looked like a nice Sunday outing.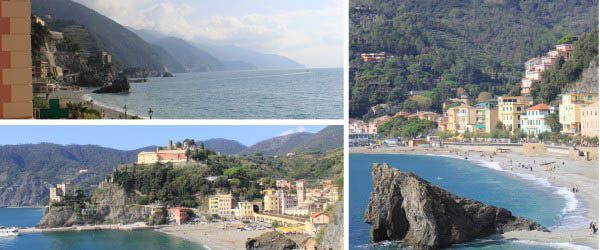 Up up and around
But after about half an hour the paved walkway ended in a rough trail and a manned checkpoint pointed out that these paths were largely unprotected mountain trails and visitors must were suitable clothes and shoes. From then on the trail winded itself up and around over brooks and mountains. Sometimes there was just a narrow passage between the hill and a steep drop into the Mediterranean. And given the high flow of visitors walking in both directions it could be hard to get by. Still, the sight of the shimmering sea, the green hills and the terraced vineyards and olive groves was outstanding. And catching the first glimpse of the candy-coloured Vernazza that cluttered a cove far below released a nice stream of endophines. With views like that hiking the Cinque Terre trail comes close to happiness.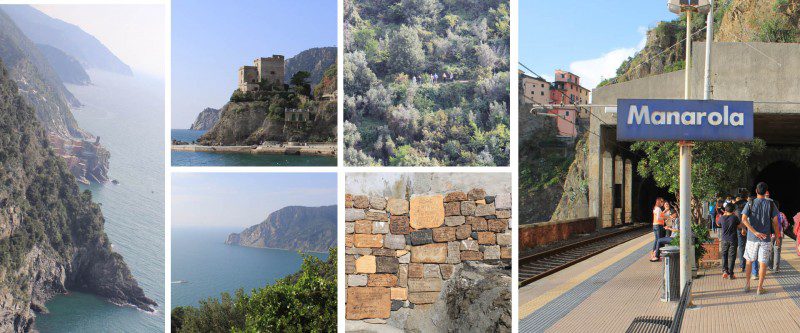 Warnings and closed trails
We reached Vernazza 3 km from Monterosso in about 2,5 hours. This is supposed to be the most challenging part of the trail, so after a quick sandwich we started to move on towards Coniglia. But after a steep climb, the checkpoint on this 4 km stretch was closed and there was a sign with a bad weather warning. This along with a rather ominous looking black sky on top of the mountain made us turn around and take the train to Manarola, as we had heard the lower trail from Coniglia to Manarola was closed.
In Manarola we had hoped to be able to walk the last 20 minutes of the itinerary along the famous Via dell'Amore, but it turned out to be closed and locked as well. So at the end of the day, the Cinque Terre hike turned out to require less exercise than expected, although I had had my doubts about completing the trail, when I stood panting on a precipice surrounded on all sides by nothing but sky, sea and hills.
Other places to visit, when you have done the Cinque Terre hike
5 things to do in Savona Italy