A Word of Warning on
The Cathedral of Catania
Open-armed saints welcome visitors to the Cathedral of Catania, but there is also a word of warning inscribed on the façade.
The Cathedral of Catania ranges among the most adorable churches I've seen with its contrasting lava and limestone exterior guarded by cool marble saints. The characteristic buildings in the centre of Catania are naturally included in UNESCO's listing of Val di Noto as testimony to the 'exuberant genius of late Baroque art and architecture' along with the centre of other towns like Noto and Palazzolo.
Yet it is not the architectural beauty that makes me linger over the Cathedral of Catania, but the inherent threat in the acronym N.O.P.A.Q.V.I.E. embossed on the façade. N.O.P.A.Q.V.I.E. stands for 'Noli offendere Patriam Agathae quia ultrix iniuriarum est', which means that Saint Agatha will revenge any injustice performed by those who offend her country. A promise or warning that has hung over Catania for almost 1800 years.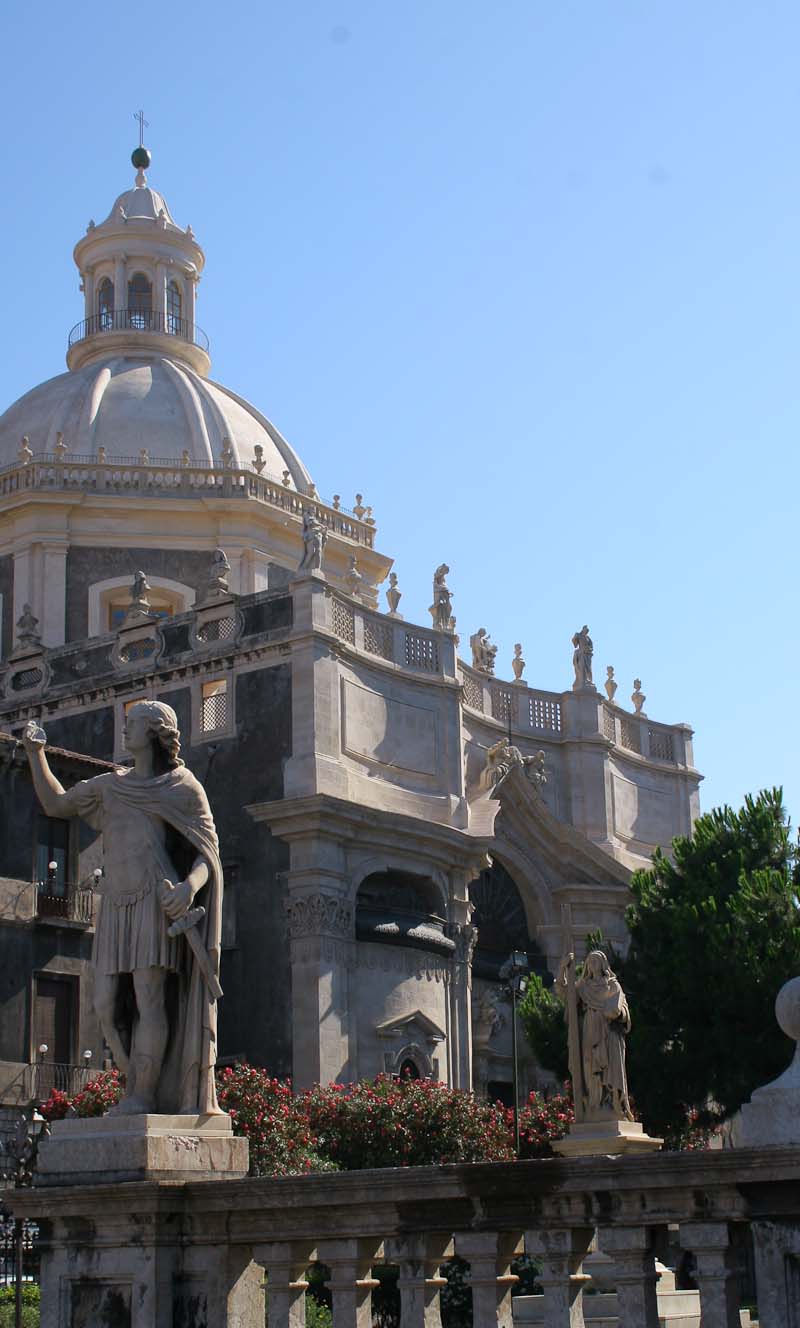 Breasts of a Virgin
According to the Italian chronicler Jacobus de Voragine, Agatha was a beautiful and pious young girl born into a noble family in Catania in 231AD. She was wooed by the low-born, pagan Roman prefect Quintianus, who locked her up in a brothel the first time he was rejected, but still Agatha refused to give in. Instead she kept provoking Quintianus with her chastity and her faith in God, even after she was subjected to torture and starvation. The virgin Agatha had her breasts cut off and was sent to prison, where Peter the Apostle appeared and healed her wounds, but 20 years old she was prosecuted as a female martyr and canonized soon afterwards.
Saint Agatha is often depicted carrying her severed breasts on a platter, and the shape of her attributes made her the patron saint of bell-founders and bakers (of round breads and buns).
Revenge
After Agatha's death Quintianus was on his way to confiscate the young girl's riches, but suddenly his horses went wild and kicked him in the river. His body was never found. Precisely a year later, Etna erupted and spewed fire and lava down towards the city. The pagans fled from the mountain to the saint's tomb and placed the pall that covered it in the line of the fire. This held the lava back from advancing any further, and led to a belief in the vengeance and protection of the virgin saint.
In 1231 Frederic II met hostility and opposition against a central rule from several Sicilian cities, and to institute an example he planned to prosecute all the inhabitants of Catania including women and children. They were allowed to attend a last mass, where the king would also be present, and when the congregation opened their prayer books the letters N.O.P.A.Q.V.I.E. were written on every page. This intimidated Frederic II and made him call off the execution, so no people from Catania were harmed in the struggle.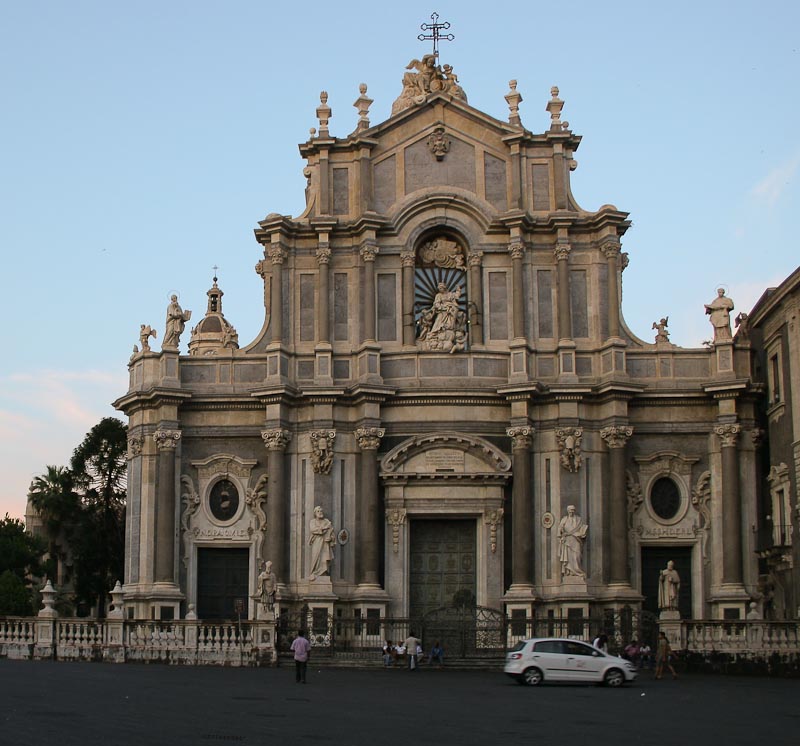 Since then the magic letters N.O.P.A.Q.V.I.E. have been part of the design every time the Cathedral of Catania has been destroyed and rebuilt. So has the acronym M.S.S.H.D.E.P.L. which stands for 'Mentem Sanctam Spontaneam Honorem Deo Et Patriae Liberationem' meaning that Saint Agatha had a 'holy and generous soul, gave honour to God, and accomplished the liberation of her country'.
For this, the bust containing Saint Agatha's relics in the Cathedral of Catania is covered in colourful gem-stones, and she is commemorated every year from February 3 to 5 with all night processions through the streets of Catania.