Blueberry crostata
Shortcrust pastry shells filled with an creamy mousse of fresh fruit produce a delicious and festive blueberry crostata.
One of the easiest ways to copy the exquisite selection of Italian  pasticcerie consist in making a large batch of tiny or small shortcrust pastry shells and filling them with fruit jam, curd or a creamy mousse. The blueberry crostata is very similar to my chocolate raspberry cream tarts, but it does not make it less enjoyable, and if you are planning a small bash, you could make both with little extra effort.
For other recipes with blueberries see my Chocolate blueberry cake and Panna cotta with blueberry coulis.
Ingredients
For the shortcrust pastry
250 g flour
150 g butter
80 g powdered sugar
1 egg
For the blueberry mousse
3 sheets of gelatin
1/2 lemon juice
1/2 vanilla pod
100 g fresh blueberries (frozen blueberries can be used instead)
80 g sugar
100 g white chocolate
1 egg white
1 tbsp powdered sugar
150 ml double cream
Preparation
Start by making the shells for the blueberry crostata. (Shortcrust pastry can be bought ready-made in which case you just have to roll it out and bake it.)
Mix flour and powdered sugar
Chop and rub the butter into the flour and sugar mix until it resembles small breadcrumbs.
Use beaten egg to press the pastry together in a tight ball – don't knead.
Roll out the shortcrust pastry thinly and line the buttered tart pans of your choice with pastry. The measures in this recipe make 8 cup-sized shells.
Blind bake for 15 minutes at 200 C / 390 F. And let the tart shells cool.
Freeze the lined tart pans for at 30 minutes before baking, if you are tired of blind baking.
To make the blue mousse, start by soaking the gelatin sheets in cold water.
Chop white chocolate finely.
Boil blueberries with lemon juice, vanilla pod and sugar, until the sugar has melted.
Squeeze excess water from the gelatin and stir it into the warm fruit.
Pour the still warm raspberry mixture over chopped white chocolate.
Stir until the chocolate has dissolved.
Give the blueberry mousse 10 minuttes to cool. It should no set.
Whisk egg white with powdered sugar until white and fluffy.
Fold the fluffy egg white into the blueberry mixture.
Whip double cream lightly and fold it into the mousse.
Fill each crostata shell with mousse.
I have decorated my blueberry crostata with edible silver dragées.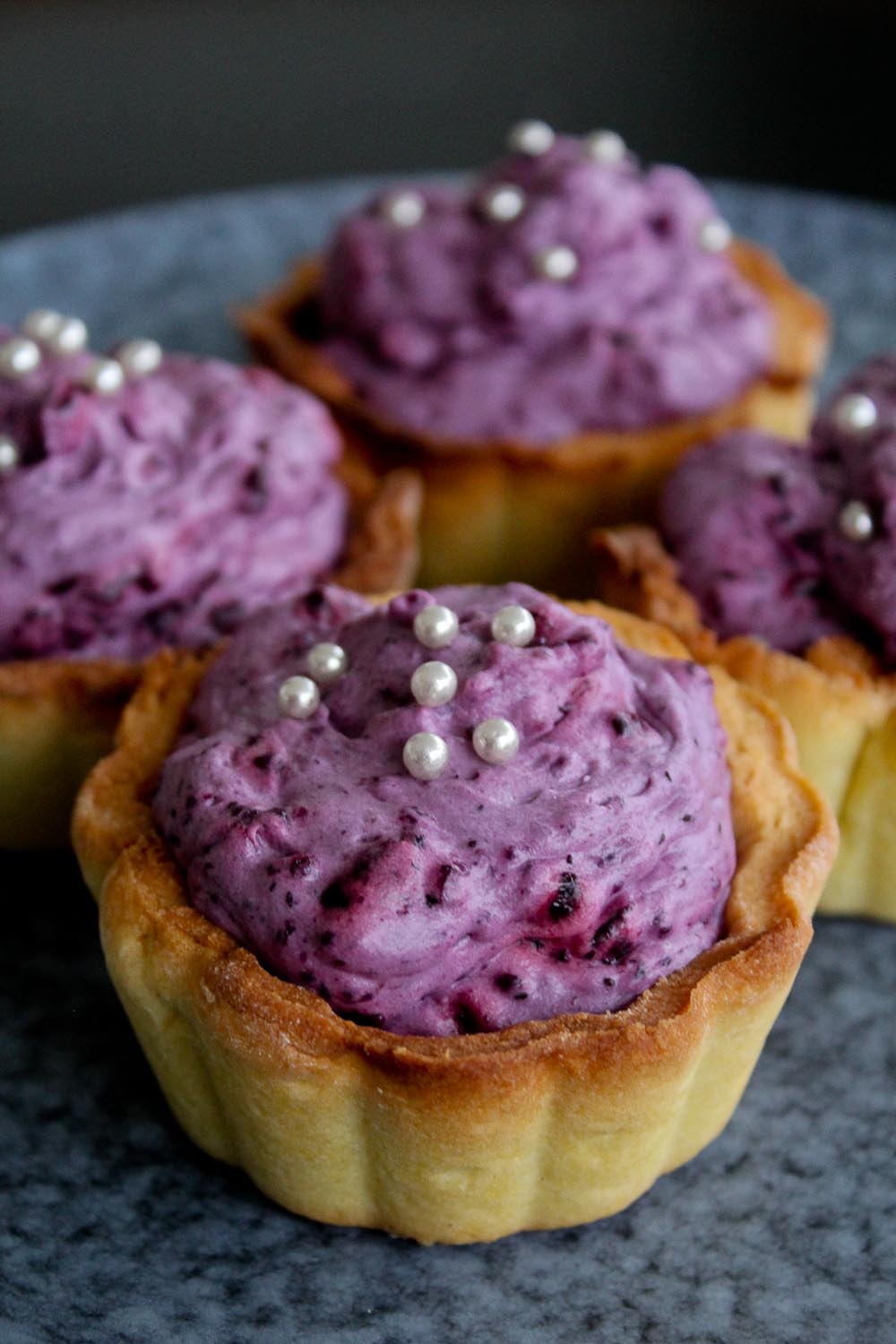 If you want your blueberry crostata to have a more uniform purple colour, you could blend the boiled fruit before adding gelatin, egg whites and cream.