Polpette di baccalà
These fishballs made from salted cod (baccala) makes a crispy alternative to the inimitable baccalá mantecato. And they taste just lovely.
By and large, I like baccalá mantecato so much that I don't need other recipes with salted and dried cod, but nevertheless I try one occasionally just to make sure, I'm not missing out on anything. That's how I discovered these polpette di baccalà which are really delicious both as a main course and as a starter.
Ingredients
250 g baccala (salted cod) soaked for 24 hours in several changes of water.
2 tbsp butter
2 tbsp flour
200 ml milk
2 eggs
2 cloves of garlic
1 cup of bread crumbs
Salt, pepper and fresh chopped parsley
Preparation
Boil the baccala in plenty of water for 20-30 minutes. Let it cool in the water, before you remove skin and bones. Use a fork to lightly mash the fish.
Boil the garlic in a little milk until sweet and soft enough to mash with the fish.
Heat the butter in a casserole, but don't let it change colour. Stir in the flour, and pour in a little of the milk at a time, whisking constantly, so that you end up with a thick besciamella.
Add mashed cod and garlic to the casserole and mix thoroughly.
Stir in chopped parsley, pepper and, if necessary, salt to taste, and leave the mixture to cool for a few minutes, before you stir in the eggs.
If necessary, use additional breadcrumbs to make the mixture more firm.
Form the mixture into small meatballs, roll them in bread crumbs and fry in hot olive oil until golden brown.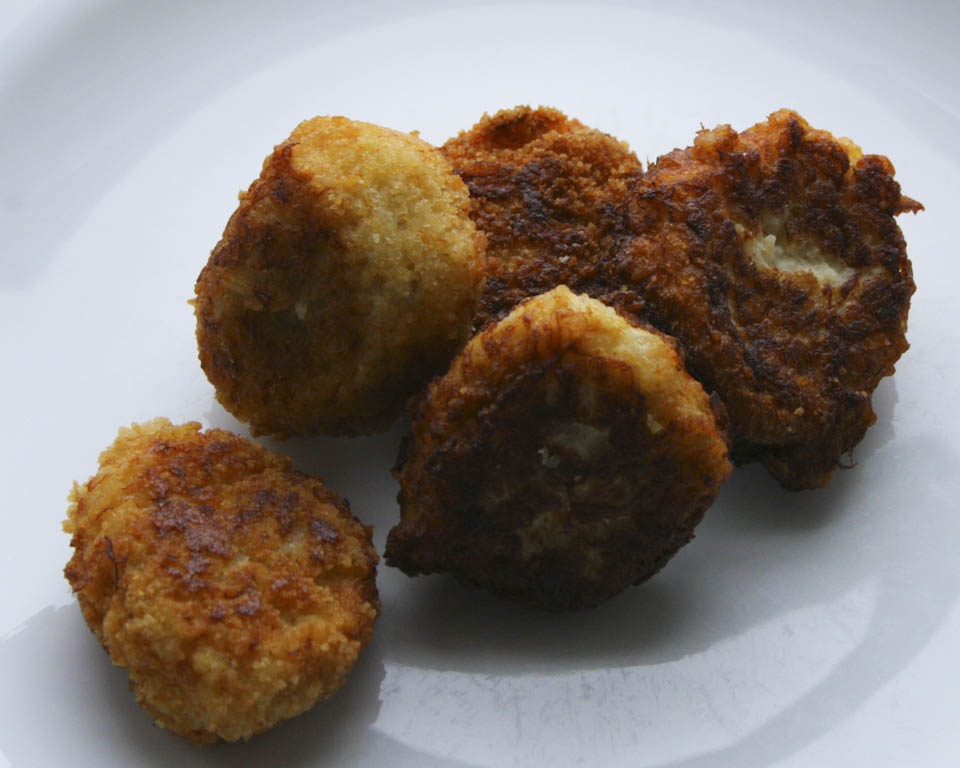 If you can't find salted cod here are some other fish recipes:
Vitello tonnato – veal in tuna sauce
Cod with potatoes, squash, capers and anchovies
https://italiannotes.com/wp-content/uploads/2012/07/Salted-cod-fishballs-e1358863965949.jpg
240
640
Mette
https://italiannotes.com/wp-content/uploads/2014/12/logo.jpg
Mette
2011-03-10 15:41:56
2013-03-10 15:42:07
Salted cod fishballs