Salerno Italy – medicine and gardens
Despite the guidebooks Salerno Italy is a pleasant place to visit – a modern town with an interesting history in medicine that becomes visible in the public gardens.
According to my edition of Lonely Planet Italy, Salerno might come as a shock, after the picturesque little towns of the Amalfi. Over the years Salerno has been victim of earth quakes and landslides, and the town was left in tatters by the heavy fighting that followed landings by the American 5th Army in 1943. It is chiefly recommended as a base for exploring Paestum and the Sorrento and Cilento peninsulas.
In spite of this I found the town highly charming. Most of the old, winding, very narrow streets are reserved for pedestrians and lined with friendly cafes, chick boutiques, a few department stores and the ubiquitous offices of political parties. A nice place to mingle, observe and breathe in the south Italian atmosphere.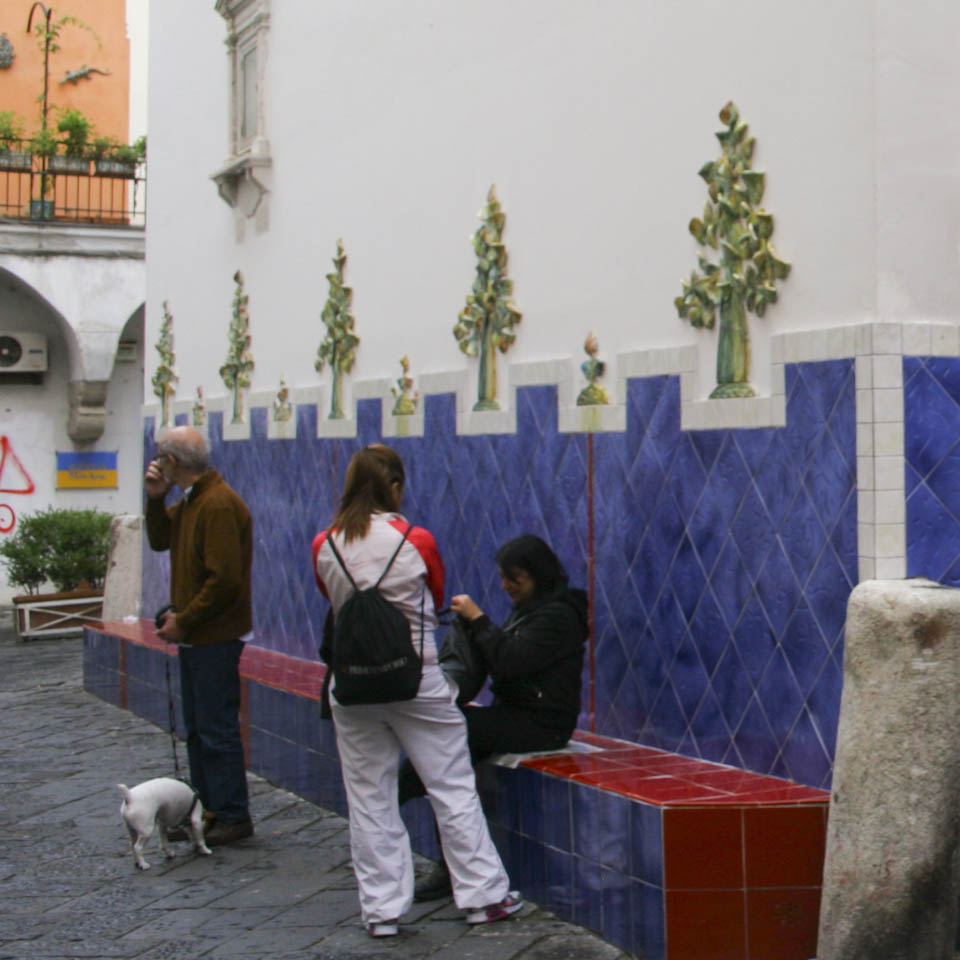 Walking around with no specific direction or purpose, I noticed a whitewashed building with a blue tile base and symmetric decorations of trees in green glazed ceramics. The building was locked in by a fashion boutique and a print shop, and it looked like a church coupled with a penthouse flat and an enviable roof top garden, but a small sigh announced that this was the famous Scuola Medica Salernitana (-in a virtual museum sense, I believe.)
The locals claim that the medical school, which has existed at least from the 10th century, was the first and leading centre of medical knowledge in western Europe. It is supposed to have been founded by a Greek, a Latin, an Arab and a Jew who used their knowledge of languages and medical practices to translate and accumulate knowledge. According to HV Morton, Robert Curthose of Normandy received treatment for festering arrow wounds in Salerno on his way home from the crusades, and the didactic poem called Regimen sanitatis Salernitanum should be dedicated to him. The poem concerns domestic medical practice such as daily hygiene and diet and the rhyming verses made the recommendations easy to remember.
We climbed further up the hill to the Castle of Arechi to see the Giardino della Minerva, where medieval doctors cultivated and collected herbal remedies, but the garden was closed to the public (an afternoon winter season occurance).
Nonetheless, I find the medical history and sights a perfectly good reason for seeing and revisiting Salerno. Today, at least, the town is so much more than a convenient transport junction, and if it comes as a shock to anyone it must be a pleasant one.
Other sights and attractions near Salerno Italy
The romance of the isle of Capri Italy
Sorrento holidays in Vico Equense
The Paestum temples: Greek ruins in a sea of flowers
https://italiannotes.com/wp-content/uploads/2012/07/Medicine-and-gardens-in-Salerno-e1359107592229.jpg
240
640
Mette
https://italiannotes.com/wp-content/uploads/2014/12/logo.jpg
Mette
2011-01-18 12:41:23
2021-10-03 18:29:43
Salerno Italy – medicine and gardens