Eggplant and pepper stew from Sicily
I'm not a big fan of the French ratatouille, but this Sicilian caponata recipe with aubergine, peppers, capers and raisins is definitely something else.
I'm not a fan of the French ratatouille and try to avoid cooked salads or vegetable stews with onion, eggplants and tomatoes when possible, but Sicilian caponata recipe makes a delicious exception. The marriage between sweet and sour, vinegar and sugar, olives and raisins stands out as a pleasant surprise in combination with salty capers and the rather bland eggplants.
Caponata can be used as a side dish for fish and white meats or as a chilled antipasto served with bread or on top of a friselle bisquit, but it can also be used as a main vegetarian course.
Sicilians owe the recipe to Arab invaders. They introduced the south Indian eggplant to the Mediterranean region, and although the plant was considered poisonous until Carmelitan monks introduced the cooked version to the public towards the end of 1400, it soon became extremely popular. Classic caponata alone is said to exist in no less than 37 different versions depending on where on the island the recipe originates.
This recipe is my interpretation of a meeting between Elizabeth David and Michele Scicolone ie. no anchovies and tuna fish, but tomato paste instead of chopped tomatos. It tastes fantastic.
Ingredients
1 eggplant
1 bell pepper (red or yellow)
1 onion
2 sticks of celery
100 ml tomato paste (use the thin passato di pomodoro instead of concentrato di pomodoro)
2 tbsp raisins
2 tbsp capers
100 g black olives
2 tbsp balsamic vinegar
2 tbsp sugar
2 tbsp roasted pine nuts
Olive oil
Preparation
Clean all the vegetables and chop them up in cubes.
Heat the oil in a large casserole, and fry eggplant, onion, pepper and celery until tender. Fry them in turns, if the casserole cannot contain everything at the same time.
Put all the fried vegetables back in the casserole together with tomato paste, capers, raisins, sugar and vinegar. Stir well and leave the dish to simmer for 10 minutes.
Add olives and leave on low heat for another 10 minutes.
Sprinkle the caponata recipe with roasted pine nuts before serving.
More vegetarian main courses like this caponata recipe
Baked vegetable recipes: Fennel and tomato gratin
Ciambotta – Aubergine, pepper and potato stew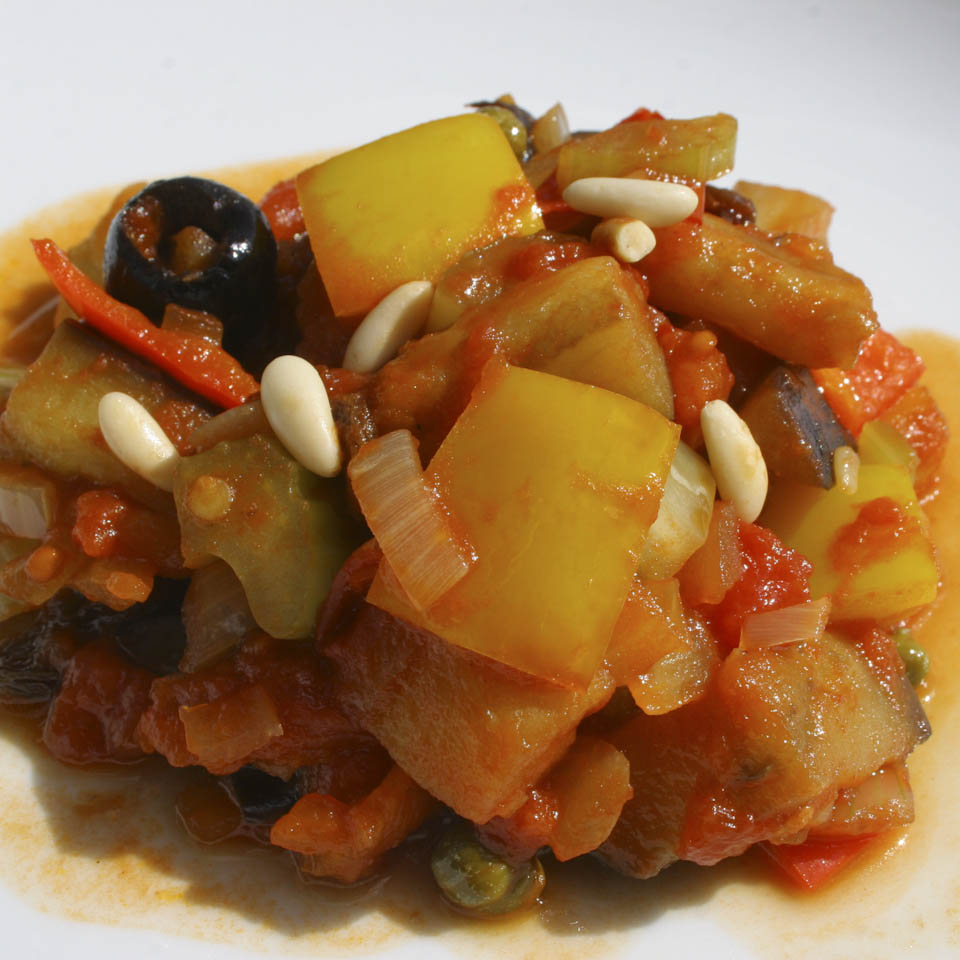 https://italiannotes.com/wp-content/uploads/2012/10/Caponata-eggplant-and-pepper-stew-e1359542848755.jpg
240
640
Mette
https://italiannotes.com/wp-content/uploads/2014/12/logo.jpg
Mette
2010-06-15 11:13:00
2015-05-30 10:38:29
Caponata recipe