Acri in Calabria
and its history of violence
Acri in Calabria is sometimes described as the 'door to Silas', yet the town appears impenetrable which could be due to a long history of violence.
With a population of only 21.000 people – same size as Castrovillari – it should be possible to get a fast impression of the Acri in Calabria, but serpentine roads connecting four neighbourhoods scattered over several hilltops, left me exhausted and confused. We ended up getting lost between the church of the blessed angle and the piazza dedicated to the local hero of the Italian unification, Vincenzo Sprovieri.
International aspirations
Most of the houses are less than 50 years old, designed by DIY architects, while the buildings were being erected. Decay seeps in with crumbling stones and peeling plaster or is kept at bay with fresh paint in bright colours. And international aspirations manifest themselves in shops with such names as 'Hair's Art', 'Old Movie' and 'Las Vegas'. Nothing reveals that Acri is a very old city tracing its origin back to the Bronze Age.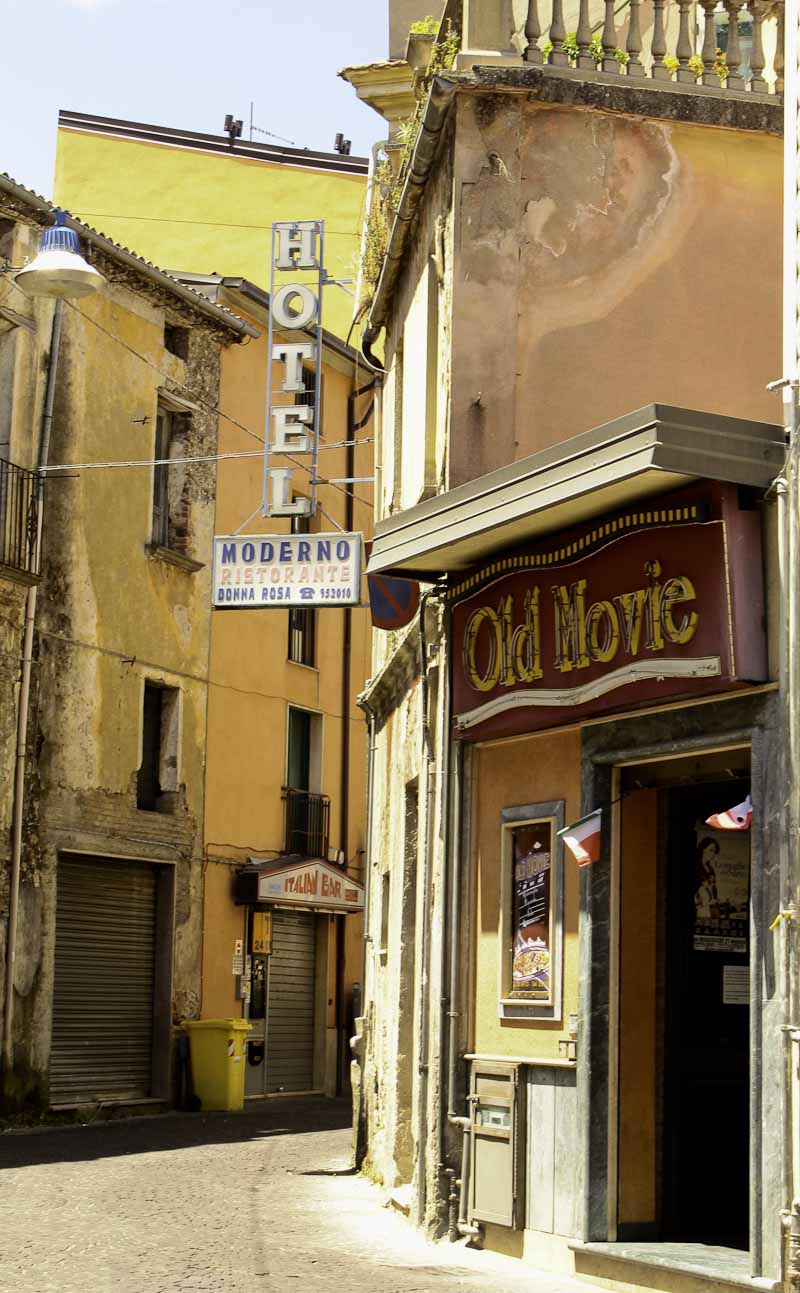 Prosperity and war
But then again a lot has happened over the past 3.000 years. In the Middle Ages, during the reign of Federico II, Acri enjoyed a period of relative peace and economic prosperity, and it became an important centre for the silk trade.
In the 15th century, the power struggle between the French House of Anjou and the Spanish Crown of Aragon nearly destroyed the town. In 1462, a local duke obtained permission from the Aragonese King Ferdinand I of Naples to collect taxes in Acri. When people protested and proclaimed loyalty to the former Angevin rulers, they were seized by troops from the Aragonese army.
Even at that time, Acri must have seemed impenetrable to outsiders, for the Spanish soldiers failed to take the city, until they found a traitor who revealed the secret signals that opened the city gates. The soldiers attacked Acri with incredible cruelty, and it is estimated that 2000 citizens lost their lives. Women and children who had taken refuge in the church of Santa Maria Maggiore were burned to death, and the leader of the guards was publicly sawed in four pieces while still alive, and the limbs were exposed from the four towers of the castle.
Such history of violence is in stark contrast to the quiet peace, we experienced on our visit to Acri. But the ruins of the old castle with its one remaining tower still hover over the city as a reminder of times gone by.