Parma the city of ham and cheese
Few cities around the world are as strongly associated with food as Parma in Emilia-Romagna. The famous parmesan and prosciutto have made Parma the city of ham and cheese.
I had really looked forward to our first visit in Parma, but as we drove up to our pre-booked hotel I felt a fever rising. It did not make it better that the central location turned out to be suburban with a boring 3 km walk to the historic centre, so by the time we entered the Borgos south of Piazza Garibaldi I was hot, tired and queasy, and the last thing I wanted was ham and cheese. An extreme shame when you find yourself in one of the culinary capitals of the world.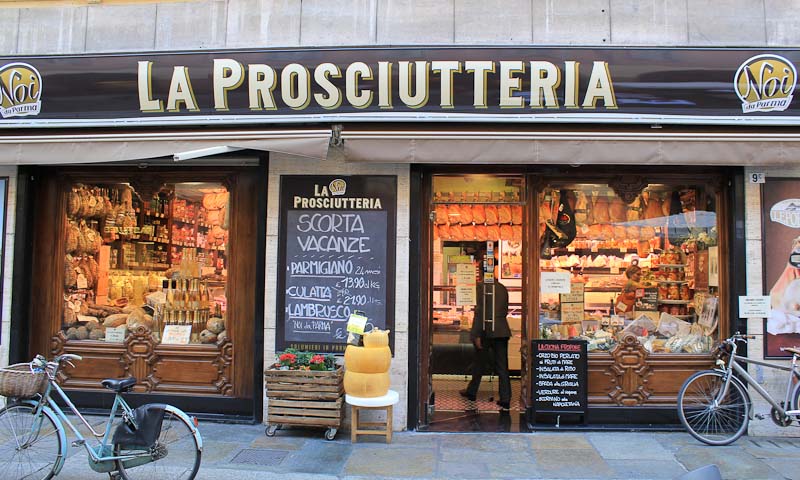 An Industry Based on Ancient Traditions
Parma has been the centre of the Italian food valley since the Roman Age, when the area was famous for their salted and cured meats. In the Middle Ages, courtiers further developed the art of selecting the best meat cuts, salting them and letting them dry and mature in open air. And towards the end of the 19th century Parma experienced a veritable boom in the demand for cured meat. This led to the growth of an industrialized food industry around Parma.
The small hilltown Langhirano became highly skilled in curing hams. Another nearby village, Zibello, specialized in Culatello, which is the heart of the ham, so to speak. Pietro Barillo found a way to mass produce dried pasta and set up a shop in the centre of Parma. While farmers north of the city focus on the production of huge, wheel shaped Parmigiano-Reggiano parmesan cheese.
Food Shopping Around Via Farini
In Parma, you will still find the most exquisite hams and cheese in the prosciutterie, wine bars and trattorie around Via Farini, where they slice the ham with academic accuracy. Even for a sick window shopper, their selection of delicacies is outstanding, and missing the opportunity to sample the various products still fills me with regret. And our visit to a cheese farm in the company of 10 million flies the next morning did not bring compensation. So I guess, I just have to go back and have a real taste of Parma the city of ham and cheese as soon as possible.
This blog post was last updated in March 2017.
Other places near Parma
Pontremoli is not what it appears to be
Sabbioneta – Ideal city of the Renaissance