The astronomical clock in Macerata
The astronomical clock in Macerata shows how even Medieval hilltop villages change over time.




I hadn't realized it was almost 10 years since our last stay in Macerata until we reached Piazza della Libertà. On first impression the town hadn't changed much. There were still plenty of parking spaces available along the ring wall circulating the oldest part of town. I had no problem identifying our former hotel and favourite restaurant. The city gates and the opera arena looked the same as ever, and the narrow, winding streets were still paved with bricks and lined with brick houses.
We went up Le Scalette to the clock tower and noticed the pink panel with a midnight blue astronomical clock. The golden arm, the signs of the zodiac and the coloured studs signifying planets looked remarkably new, and above the clock beneath a small painting of Madonna and child there was a balcony with two wooden gates and a tiny bird preparing to ring a bell with its beak. I didn't remember seeing that before, and with good reason it seemed when I checked the old photos. Last time we visited the panel bore an inscription in memory of Il Risorgimento and Vittorio Emanuele II.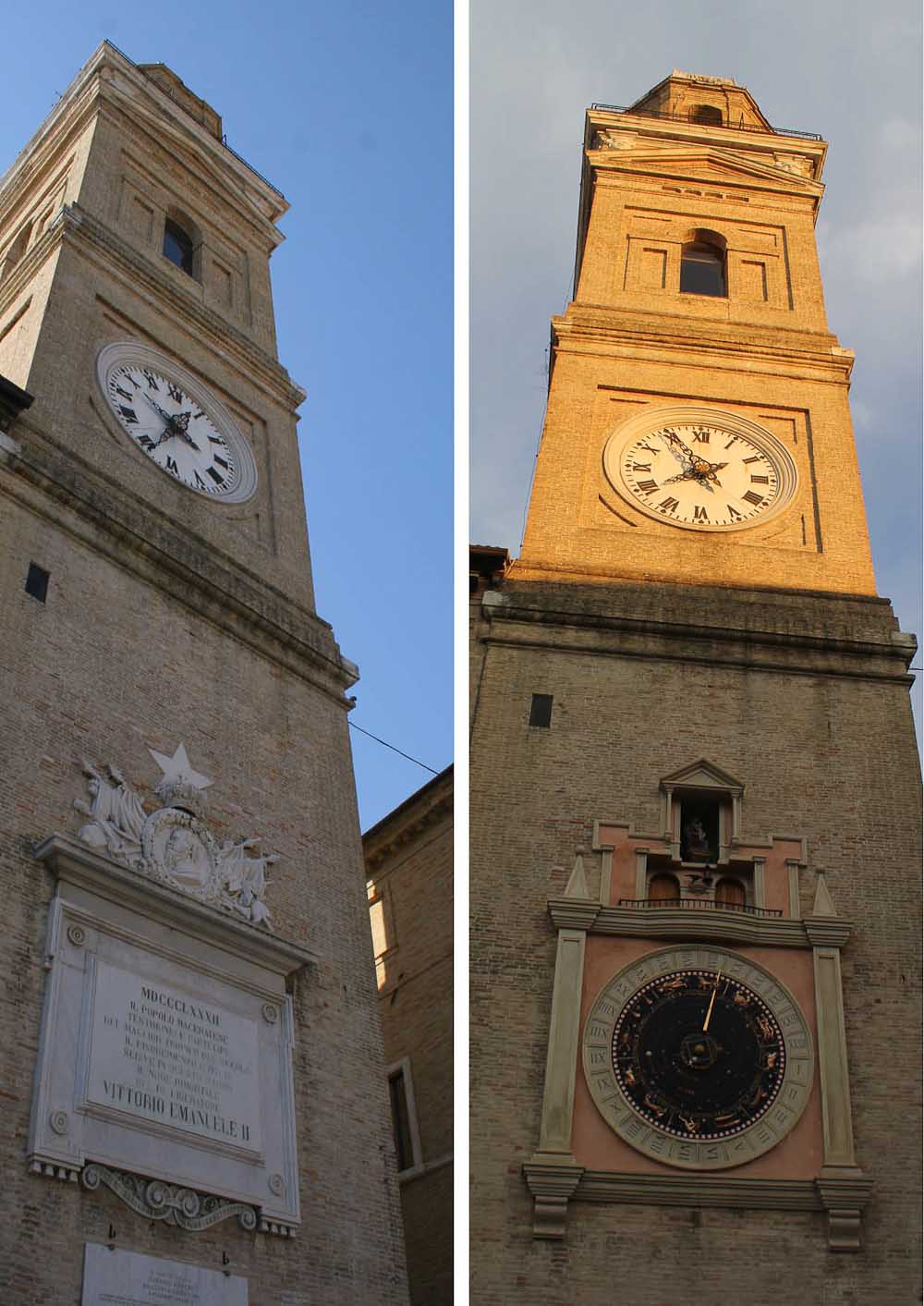 It turned out the the astronomical clock in Macerata had been restored at the cost of nearly 800.000 euro and reinserted in Torre Civica after 133 years' absence. The astronomical clock was originally constructed by the Ranieri brothers from Reggio Emilia in 1568 with inspiration from the astronomical clock on St. Mark's in Venice. For 250 years the mechanical clock kept the citizens of Macerata updated on the time of day, the day and months of the year, the sighs of the zodiac and the rising and falling of the sun and the moon, but eventually the old clockwork stopped functioning and a mayor eventually decided to have the mechanism walled up to stop further decay.
In 2014 the idea of the astronomical clock in Macerata resurfaced and a master clockmaker named Alberto Gorla was commissioned with getting the mechanisms 4.000 pieces in working order. It took him a year, and on 18 April 2015 hundred of people on Piazza della Libertà could see the bird popularly known as Cesare strikes his beak against a tiny bell 12 times, whereupon the wooden doors slide open and a trumpeting angel emerge on the balcony announcing the arrival of the three wise men. The mechanical puppet show lasts a few minutes before the wooden doors close, but it fascinates children – and childish grown-up like me.
You can see the spectacle in the video below, and next time you visit Macerata make sure to be on Piazza della Libertà at 12 am or 6 pm, when Cesare strikes again.