Ancona fountain: Drink with the fauns and satyrs
An orgiastic, untamed libido is peeping out from medieval facades and monuments all over Italy, like this Ancona fountain.
By cloning goats with men, the ancient Greeks and Romans constructed a personification of an orgiastic, untamed libido, and it is still peeping out on us from medieval facades and monuments. Most of the time you only have to see the horned, mocking face to imagine the lower half of the manimal with tail, hooves and other primal attributes.
On the medieval stretch of Corso Mazzini in Ancona between Piazza del Teatro and Piazza Roma, no less than 13 fauns and/or satyrs stick out their tongues at shoppers. The 12 sardonic bronze masks are presumably sons of Pan, who himself is carved in stone and placed in their midst, a position held for almost 500 years.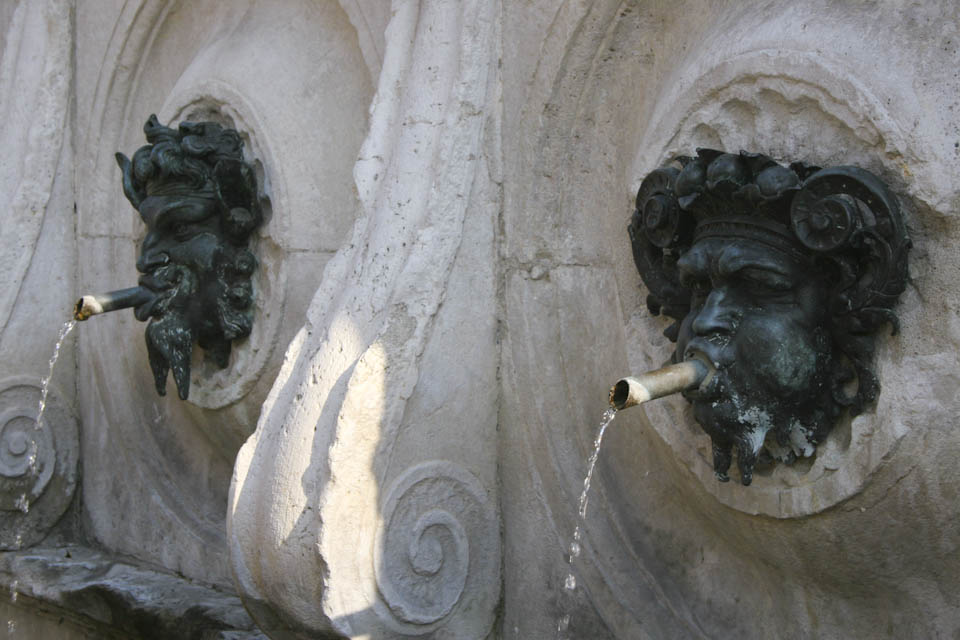 La fontana del Calamo or Fontana delle tredici Cannelle was designed by Pellegrino Tibaldi in 1560 as a replacement for an antique Greek fountain that had been demolished in 1503. The faces are in other words incredibly old, but they keep well, and they still sprout water from the canes or pipes in their mouths.
Satyrs are traditionally associated with fighting and wild drunkenness, but the locals nevertheless maintain that you should not leave Ancona without drinking with the Paneides, if you wish to return, that is. And who wouldn't want to return to this magic seaport, where you can see the sun rise and set over the sea without changing location?
Other places to visit near the Ancona fountain
Italian fashion – Designer shoe shops and outlets in Le Marche
Splashes of spring along Ancona hills
Ripatransone and the narrowest alley in Italy
https://italiannotes.com/wp-content/uploads/2012/06/Ancona-fountain-Drink-with-the-fauns-and-satyrs-e1359715285332.jpg
240
640
Mette
https://italiannotes.com/wp-content/uploads/2014/12/logo.jpg
Mette
2010-04-13 11:31:00
2022-06-19 18:12:57
Ancona fountain: Drink with the fauns and satyrs