What to do in Treviso
Few tourists bother to visit Treviso 30 km north of Venice, and those who do are often disappointed. For Treviso is not Venice, but an altogether ordinary town. Here is our list of what to do in Treviso. 
We hadn't been in Treviso for many hours before we were approached by an American woman, demanding to know if we had seen the canals. When we pointed her in the direction of the rivers Botteniga and Sile crossing and encircling the city, she sighed exasperated:
– I shouldn't have come here, and can't wait to get back to Venice. There's absolutely nothing to see and do in Treviso.
Given that attitude, she was probably right, but we really enjoyed our stay and these highlights.
City hikes
There are 82.000 people living in Treviso, but the old city centre is relatively compact and pedestrianized which means you can explore all corners and crevices of the town on foot.
We walked under gates, across bridges and along arcaded shopping streets. Got lost in the small streets between Cagnan and Buranelli. And discovered beautiful art deco friezes with gold-leaf decorations, emblems with indecipherable words like 'Dominorque Naoni Monti Musoni Ponto', vaults with faded frescos and tiles, elegant iron fretwork, shop signs set in the characteristic lettering of the 1930s, Roman mosaics below the pavement and hundreds of other, tell-tale marks of history.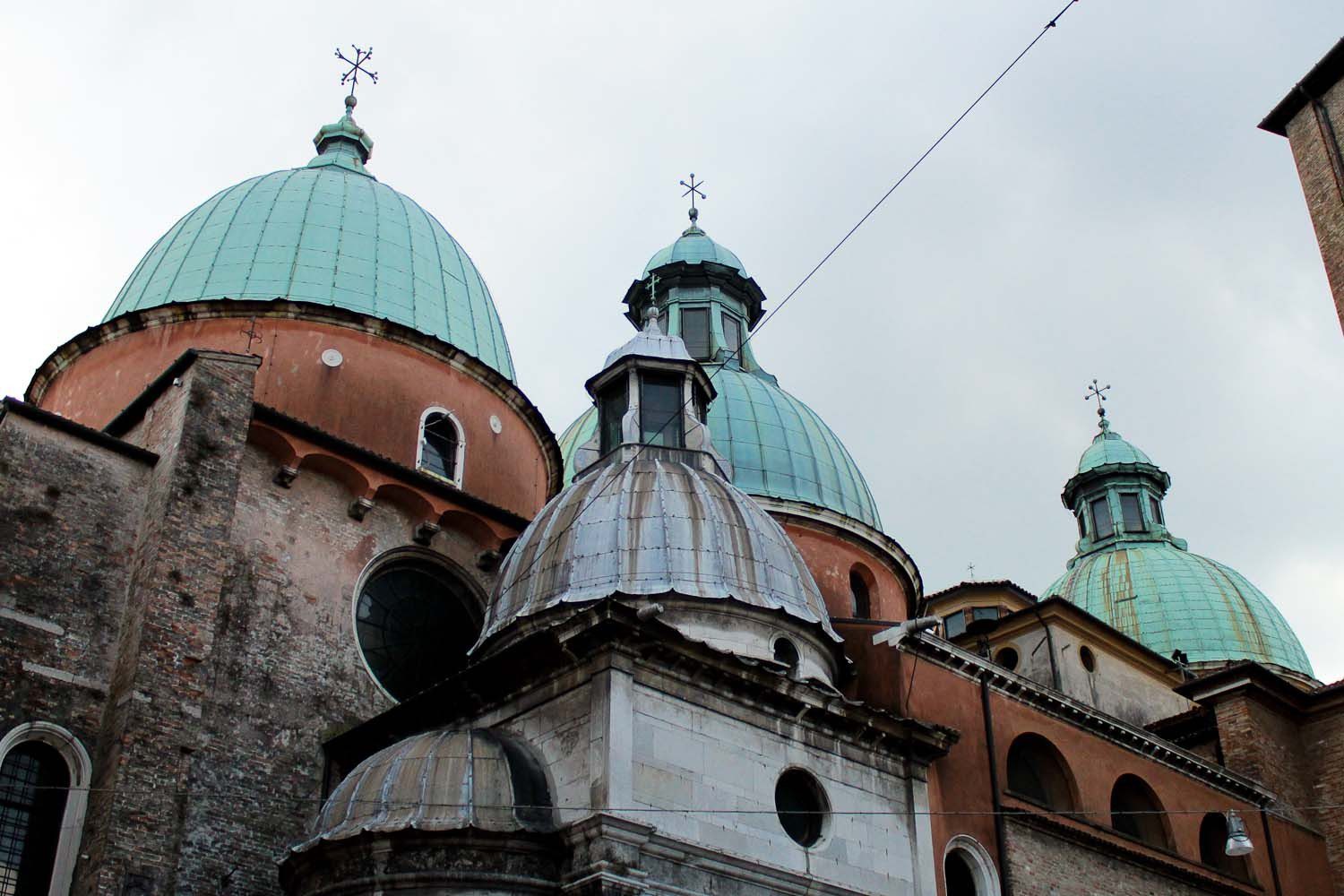 Churches and art
Along the way there are impressive churches like the seven domed cathedral and famous works of art. The great Italian renaissance painter Titian has made a painting of the Annunciation in the Malchiostro Chapel of the duomo and the Santa Caterina museum houses a fresco cycle by Tommaso da Modena, who is also represented in the Dominican chapter house of San Nicolò.
In the duomo you can also see works by Il Pordenone, on the second floor of the Cappella dei Rettori there are frescos by Il Pozzoserrato, and the Luigi Bailo Civic Museum has an art gallery with pieces by Venetian artists such as Paris Bordone, Tintoretto and Tiepolo.
Shopping
Treviso is home to some of the most successful Italian clothes brands, such as Benetto, Sisley and Stefanel and to the exclusive bicycle company Pinarello. All have retail shops around the city, and there are numerous other interesting shops around like the design shop Morandin Regali with a large selection of Murano glassware and Gastronomia Danesin, where you can find every local and regional speciality and delicatessen.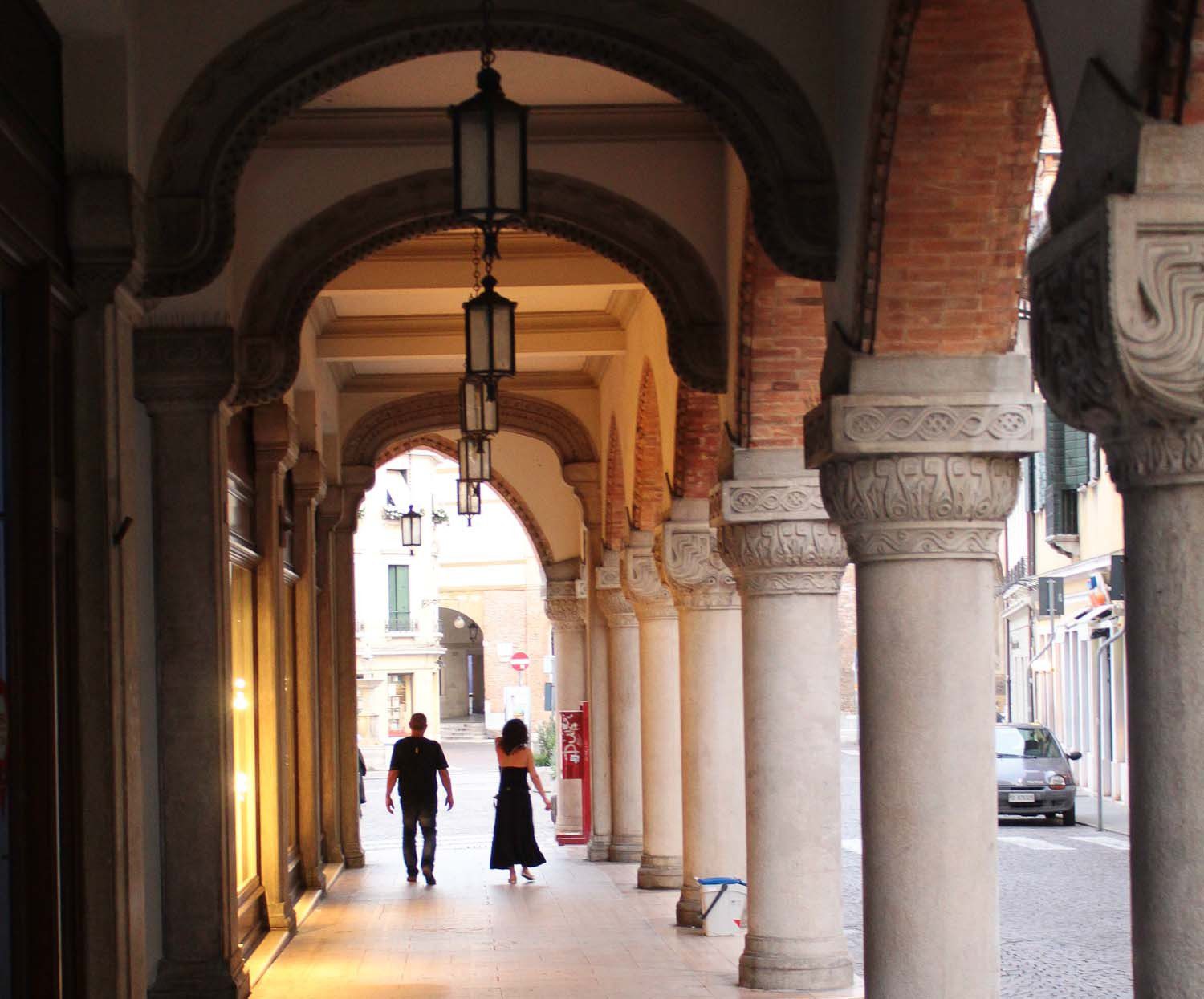 Cafés and restaurants
Treviso seems like an affluent city, which may explain the high number of cafés and restaurants. People are sipping spritz or espresso all around the reconstructed Palazzo dei Trecento, which was nearly destroyed by Allied bombers in 1944. Some of the outdoor bars along the canals are so popular, people spill out over the bridges. And there are lots of good restaurants around Via Inferiore, where you can taste the local Prosecco wine, the long leaved radicchio di Treviso and the Tiramisu dessert, which was invented in the 1960 by a now closed local restaurant.
Architecture
Treviso suffered heavily during both World Wars, and large parts of the medieval city centre were destroyed. Still, some of the old palaces have survived or been reconstructed. I particularly like the Loggia dei Cavalieri from 1276. A covered outdoor meeting place, where the upper classes used to gather for meetings, talks and games. Today groups of teenagers are hanging around the frescoed structure, but people of all ages use it as a meeting point as well.
Another lovely architectural feature are the colonnaded Buranelli district, where fishermen from Burano used to have their stores. Here the houses emerge from water, colourful pelargonia line the parapets, there are maritime paintings on the facades and steps lead down to the water side, where women used to do their washing. Treviso is not Venice. But it seems like a very nice place to live for a few holidays or a lifetime.