Wrinkled potatoes with chili and garlic dip
Patate salate con salsa
Wrinkled potatoes with chili and garlic dip are a Mediterranean classic and much better than fatty crisps with industrially flavoured cream.
With the worldcup comes a craving for fortifying snacks that can help control our nerves in front of the television. Saltboiled new potatoes with various dips are a Mediterranean classic and so much more sporty than fat boiled chips or crisp bags with industrially flavoured cream.
Wrinkled potatoes
1 kg small new potatoes
2-3 tbsp salt
Water
Scrub but don't peel the potatoes.
Place them in a casserole with just enough water to cover.
Add salt and boil for 10 minuttes until the potatoes are tender.
Drain and leave on the heat for a while, so the potatoes become encrusted in a thin layer of salt.
Serve unpeeled warm or cold.
Mojo calabese
4 dried calabrian peppers (or two fresh red peppers)
1 fresh red pepper
2 cloves of garlic
1 tsp cumin
Dried white bread
Olive oil
Vinegar
Salt and chili to taste
Soften the dried peperoni in boiling water for 15 minutes.
Wash the fresh pepper, remove seeds and blend all peppers with olive oil and garlic.
Add cumin, vinegar and 1-2 small dried chilies, if you are using fresh sweet peppers. (I used the dried ones from my 'ristra' dried pepper string, and they turned out to be incredibly hot, so no point in adding extra chili in that case)
Blend again and adjust the texture with white bread crumbs.
When kept in a clean glass container sealed with oil, the mojo will keep throughout the worldcup, if it is not finished off during the first matches.
Salsa aioli
3 cloves of garlic
2 tsp salt
2 egg yolks
250 ml olive oil
Lemon juice
Proper aioli is supposed to be made with mortar and pestle, which means you peel and slice the garlic and pound, crush and grind them with salt.
Add egg yolks, mix some more and add one drop of olive oil at the time, until you have got a thick paste.
Round of taste with lemon juice.
If you are running late, you can of course use a blender or an electric mixer. (Real lazy cooks use a good ready-made mayonnaise stirred up with lemon juice and loads of crushed garlic, but don't tell anyone.)
Other snack food recipes than wrinkled potatoes with chili and garlic dip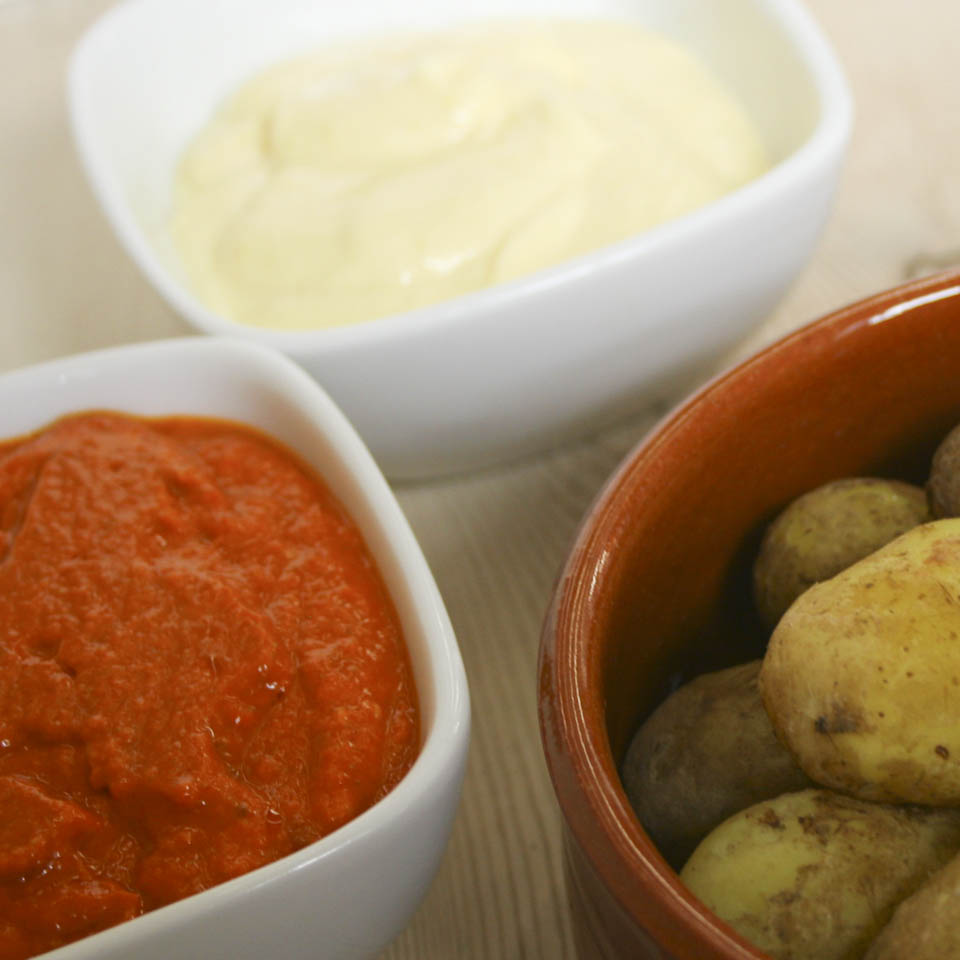 https://italiannotes.com/wp-content/uploads/2012/07/Wrinkled-potatoes-with-chili-and-garlic-dip-e1359542889479.jpg
240
640
Mette
https://italiannotes.com/wp-content/uploads/2014/12/logo.jpg
Mette
2010-06-11 09:29:00
2013-07-14 11:41:24
Wrinkled potatoes with chili and garlic dip