What to do in Termoli?
Termoli is the holiday spot in Molise. A place with wide, sandy beaches, a still active fishing harbour and an old fortified town to explore. Here are our suggestions on what to do in Termoli.
In summer the number of inhabitants in Termoli triples. Tens of thousands of primarily Italian tourists occupy hotels and holiday flats along the beaches that stretch out for miles north and south of town. But the annual invasion does not spoil the atmosphere. Termoli has an authentic nucleus with historic buildings, an active harbour and lots of quaint structures and traditions like the trabucchi fishing vessels and the annual pirate attacts. Even the new part of town is fairly charming with streets lined with pink flowering nerium trees. Here's a few suggestions on how to have a good time in Termoli.
Get a Tan
Buy a magnum bottle of sun lotion and go to one of the huge beach establishments. Beaches north of town are ideal for families with children, while the beaches south of town are great for water sports. You have to rent a 'sdraio' beach chair and an 'umbrellone' parasol, but once settled you can stay all day. And beaches are fabulous for people watching.
End the day with a shower, a drink and a visit to one of the local fish restaurants.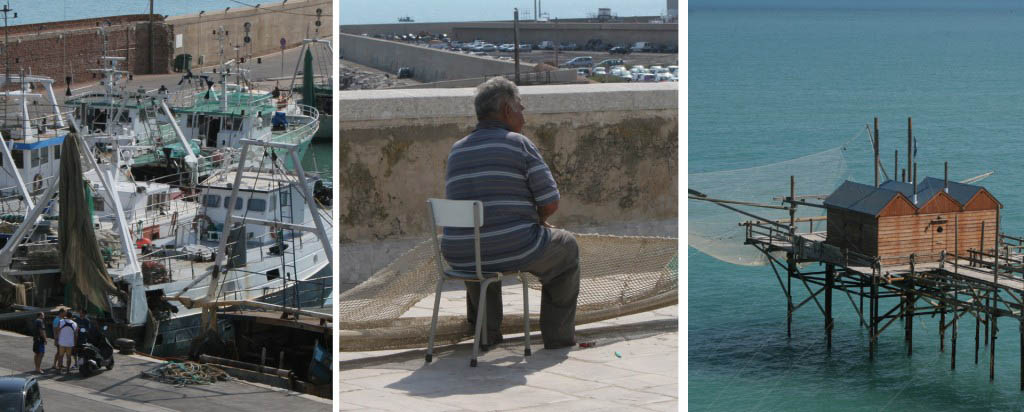 Boats and Fishing
Walk into the Adriatic along the pier and see how the trabucchi work. There's usually one that is manned, and it is fun to see, if they catch anything.
At the end of the pier you'll see the harbour with a fleet of modern fishing boats and weather worn fishermen mending their nets. You can also take a day trip with the ferry to Isole Tremiti. The boat ride takes about an hour both ways.
The Castle and the Cathedral
Stroll around the old town and explore the narrow alleyways, the castle and the cathedral with relics of no less than two saints and interesting figures and inscriptions decorating the façade. Find a café with a table in the shadow and sit down with a glass of ACE juice and breathe the sunny laid-back atmosphere of the only coastal town in Molise.
Other suggestions of what to do in Termoli and nearby places
Canada in WW2 – The Battle of Ortona