What to do in Chianti
A few suggestions on what to do in Chianti. Diversions that may sharpen your appetite for more Florence, Siena and Pisa not to mention the magnetic medieval villages central of Tuscany.
The Chianti area of Tuscany is not clearly defined, but it comprises some of Tuscany's most beautiful countryside with a patchwork of forests, olive groves, vineyards and medieval villages in the hills between Florence and Siena. A perfect setting for romance and relaxation.
Yet repetition dulls the mind, and after visiting two or three medieval villages with magnificent palazzos, churches and piazzas and charming restaurants and winebars, I tend to get outrageously bored and tipsy confusing dates and places. Therefore I try to spice up the travel experience with doing something different in-between. And it doesn't have to be bungy jump to cause a thrill. Here are some of my favourite diversions in Tuscany's Chianti region.
Back to nature
There are 14 natural reserves in the Siena region alone offering a variety of landscapes. Take a hike in the wild cypress forest in Riserva Naturale di Sant'Agnese that can be accessed from Poggibonsi. The tall pencil-slim trees have become the symbol of Tuscany, but they make quite a different impression in ancient wild groups. For nature with a view and eroded ravines leaving a landscape with vertical love handles I'd visit Riserva Naturale Castelvecchio.
Wannabe pilgrims
The ancient road between Rome and Canterbury runs through Tuscany, and Via Francigena is almost (but not quite) as famous as the Camino de Santiago. It was used by the Archbishoip of Canterbury, Sigeric the Serious, when he went to Rome at the end of the 10th century to be consecrated by the Pope. I wouldn't undertake to cover the total 1700 km, but I'm sure even a short walk along the pilgrims' trail would have a great spiritual and calming effect.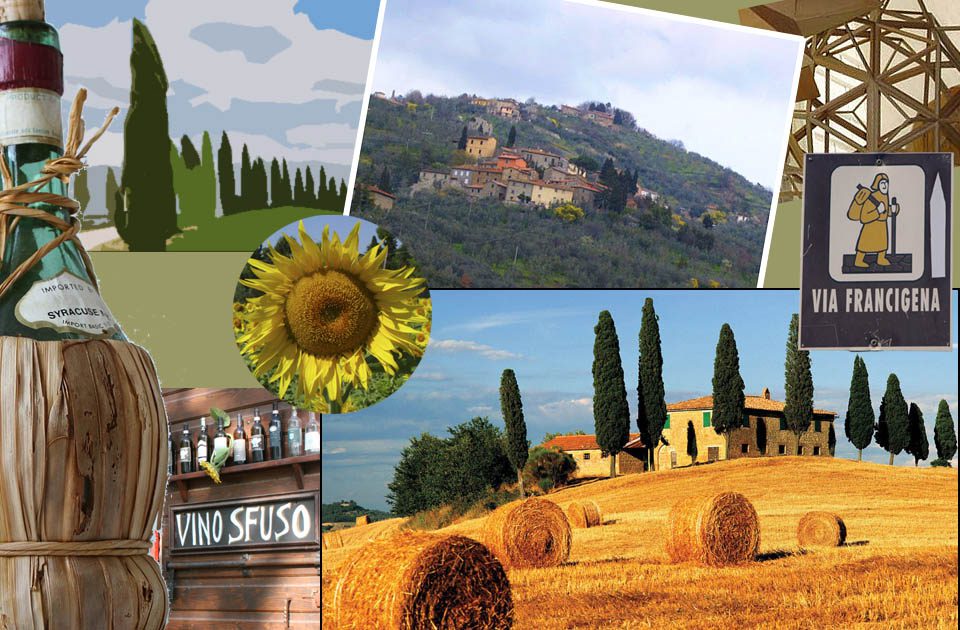 Museum not to be missed
One museum I wouldn't want to miss in this part of rural Tuscany is Museo Leonardiano in Vinci. In the town, where Leonardo da Vinci was born in 1452, the museum has transformed his imaginary drawings to dream machines that comprise helicopters, hydraulic pumps and musical instruments. You leave the museum with a lasting impression of having met a visionary genius.
Free wellness
If we stretch the concept of Chianti a little to the south-west, we'll find some of Tuscany's wild natural springs. These opaque pools of steaming hot water form rocks into white bathtubs, and they are not just breathtakingly beautiful but also a dip into intense physical wellbeing. In spite of the smell. The free thermal bath closest to Siena and Florence is Petriolo and it's said to cure everything from colds to arthritis.
Outdoor art dose
Finally, I'd take one of the daily art doses in the outdoor Chianti Sculpture Park, where the work of sculptors from all around the world is exhibited. For instance, there's a cypress tree in broken glass and a line of big stones balancing on thin steel stems. Interesting ways to observe and challenge the laws of nature.