Making mozzarella at a farm dairy near Altamura
Making mozzarella at a farm dairy near Altamura: There are more than 400 different cheeses in Italy. Most of them are still made at small farm dairies. And there's nothing like the taste of fresh mozzarella.
Entering the small, farm dairy at masseria La Selva between Altamura and Matera feels like opening a forgotten page in a history book. In Denmark, 97% of all cheese and dairy products are supplied by a few huge co-operative dairy plants, while the Italians seem to have skipped the industrialization of dairy farming all together. La Selva still produces cheese and milk in a room next door to the stables, where a herd of 30-40 curious cows are munching hay. The distance from farm to fork is nonexistent.

Behind a steamy glass door that marks the entrance to the dairy, Antonio Denora and  Pietro di Filippo transform fresh milk into gorgeous cheese. The room is kept immaculately clean and temperatures are monitored closely. Even on a modest scale, cheesemaking is treated with the veneration due to an ancient tradition that is considered part art and part science
Pietro is responsible for separating the milk into curd and whey. In between cleaning duties, he stirs the contents of two steel drums with a long wooden stick, In a box at the back of the room, this mornings production of freshly made scamorza – ie. a kind of strangled, pear-shaped and dried mozzarella – lies immersed in salty water. And at a table in front Antonio flips ricotta into characteristic wanna-be weaved plastic cups. Beside him, a huge white lump of coagulating curd is waiting. And when the last ricotta has been cupped, the mozzarella action starts.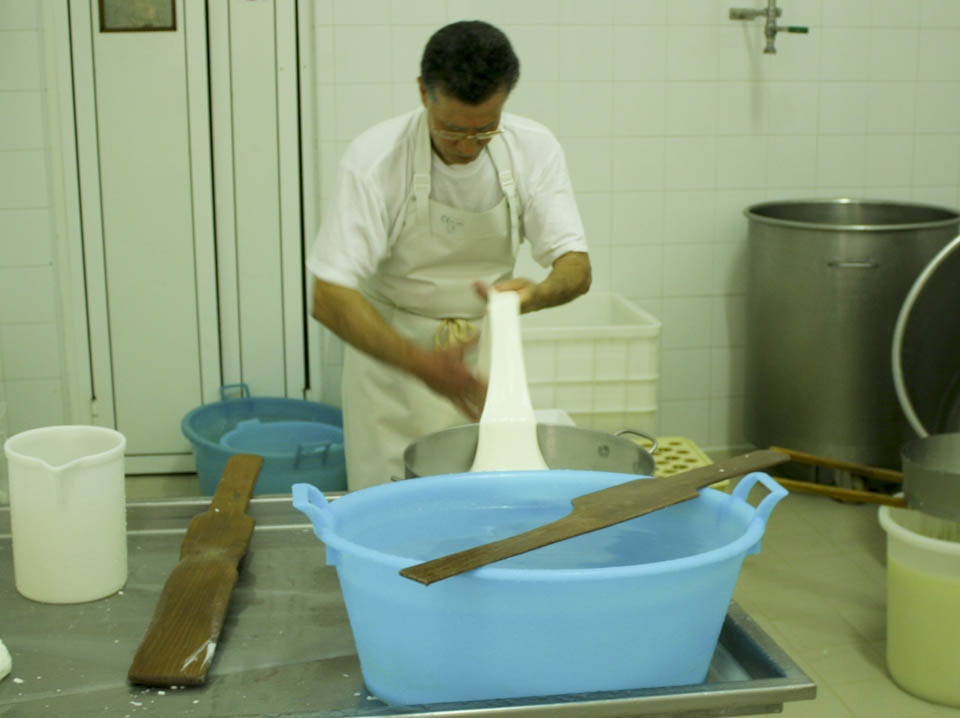 With a long, long knife, Antonio vigorously chops up the curdy mass on the table. The lumps are mixed with almost boiling water and then the mass is stretched and kneaded to a smooth, shiny pasty that pops up through thumb and forefinger as a ball.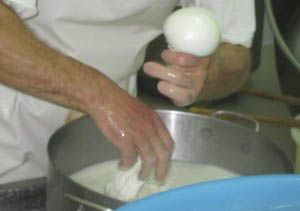 The process is accomplished with surprising elegance and ease and less than 10 minutes later, fresh mozzarellas are ready for delivery at the restaurants in Altamura that purchase the small caseificio's entire production. But first we are offered a finger taste of the still warm mozzarella or fior di latte, as it should rightfully be called when it's based on cow's milk. And needless to say the freshness and taste is absolutely unforgettable.
The dairy is one of many activities at masseria  La Selva, which also houses the "Sinergie" group working for cultural exchange and the preservation and restoration of Puglian art heritage. A story, I'll save for another day.
More on making mozzarella and other Italian cheeses
Gorgonzola myths: Celebrating the blues
Burrata with pickled aubergine
https://italiannotes.com/wp-content/uploads/2012/07/Making-mozzarella-e1362834014493.jpg
240
640
Mette
https://italiannotes.com/wp-content/uploads/2014/12/logo.jpg
Mette
2011-08-12 10:02:02
2017-09-23 14:35:39
Making mozzarella at a farm dairy near Altamura