Eating Out at
Trattoria La Moretta in Ancona
Trattoria la Moretta in Ancona is an institution. For more than one hundred years, the same family has served traditional Marche dishes like stoccafisso and brodetto at this restaurant in Piazza Papa.
One thing's for sure. You won't leave Trattoria La Moretta in Ancona hungry. The servings are more than adequate and they really want you to have your fill.
From this point of view, it was a mistake of me to order one of the four fixed menus. I know from experience, I cannot possibly eat a full Italian restaurant meal, but as the menus required a minimum of two orders, and the price of one starter and one main course was more expensive, than the menu I wasn't hard to persuade.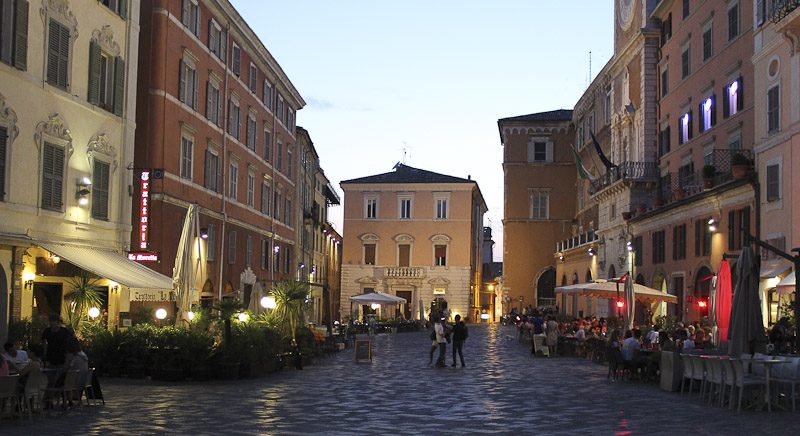 An extraordinary lasagne
Trattoria La Moretta specialises in fish and seafood, but we were in the mood for meat and started with a carpaccio of veal marinated in lemon juice and olive oil. But first we were served a Spritz Aperol and a rustic slice of toast with a soft milky cheese like brie.
The veal had been treated to a drop of truffle oil and came with pinoli, rucola and ample shavings of grana. Utterly delicious.
The next course was a generous slice of Marche lasagne which consists of many layers of thin pasta with a tasty sauce of finely minced veal and offal. The lasagne didn't seem to be baked but rather assembled, and apart from the grated parmesan on top there was no bechamel and hardly any cheese involved.
Tears of dawn with a taste of violets
Instead of bottled wine we asked for a pitcher of house wine, and were served a red wine with a surprisingly penetrating bouquet of violets. A very extraordinary red that took some getting used to, but once you'd accepted the strong scented perfume, it was fine. We asked the waiter about the grape and were told it was the Lacrime di Morre d'Alba that grows only in a few communes north of Ancona. Apparently, it is a very old grape that was first described as a treat for Barbarossa when he came to Ancona in 1173 and demanded to be served the best food the region had to offer.
The lasagne was followed by a hearty stew of veal chunks with potatoes, mushrooms, bay leaves and perhaps a little minced offal to give the dish an earthy irony taste. It was fantastic, though a little too much comfort food for a very hot summer night sitting outside under the stars on the enchanting Piazza Plebiscito. And the generous salad bowl that accompanied the stew was well-meant but misplaced.
The menu finished with a kind of tiramisu made of a biscuit soaked in spirits and topped with a cream of mascarpone and egg yolks. Industrial chocolate sauce and crunchy bits of crushed torrone added character to the dish.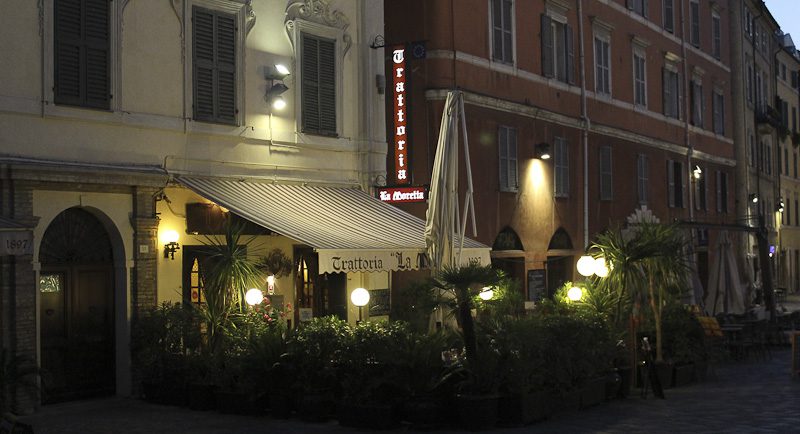 Almost perfect
In general, all the food was carefully made of the best ingredients, and very good value for money. We ended up paying 87 for two including two bottles of water, espresso and amaro.
My only complaint was the head waiter's tendency to switch to English every time he returned to the table,even though we had communicated perfectly in Italian before. It always pisses me off, when restaurant staff seem more eager to practice their own language skills than listening to the customer. After all, thousands of Northern Europeans spend long winter nights studying Italian and dreaming of Italy in evening classes, and the first thing they learn is how to order a menu. A little patience and forbearance would suit Italian waiters and hoteliers, whose English is far from perfect.