Tracking Bernini in Rome
Few individuals have left as clear a mark  as the Neapolitan sculptor, painter and architect Gian Lorenzo Bernini in Rome. His work and legacy can still be found all over the city in baroque buildings and sculptures.
I'm not a great fan of the writer Dan Brown, but he deserves recognition for having drawn international attention to the genius of Bernini. The novel 'Angels & Demons' has sent tourists through Rome to look for clues of a secret alliance between the apparently devout Christian, Bernini, and occult tradition or the heretic scientists.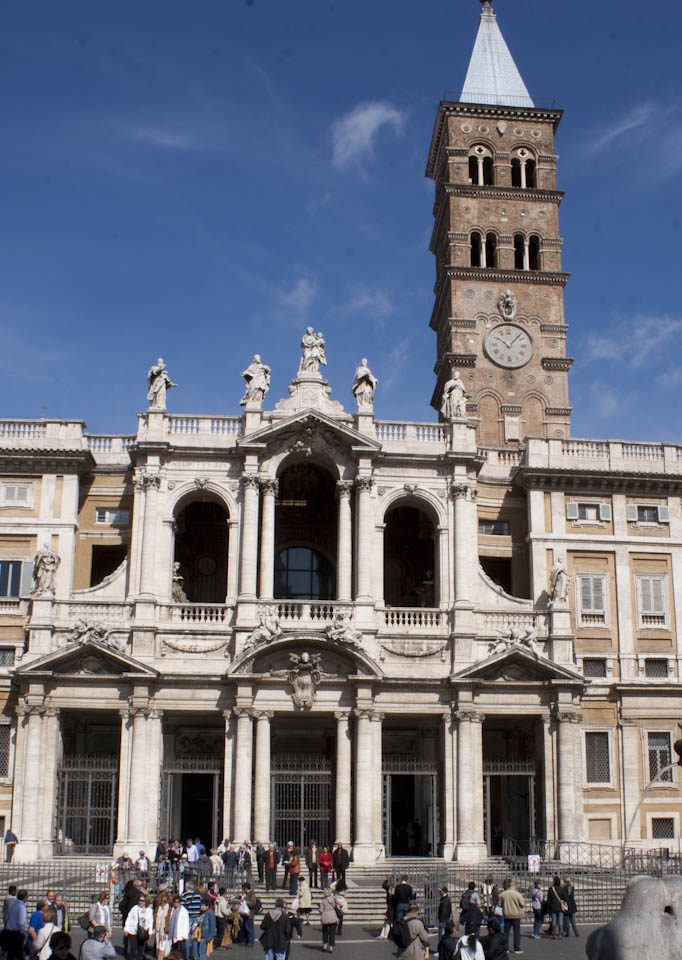 Tourists outside Basilica di Santa Maria Maggiore, where Bernini is buried.
The Four Elements
The classic 'Angels & Demons' tour goes from the Chigi Chapel inside Santa Maria del Popolo where Bernini's sculpture of Habakkuk and the Angel represents Earth as one of the four elements on Brown's 'Altars of Science'. Water is represented by the Fountain of Four Rivers on Piazza Navona as the Trevi Fountain is not Bernini's work. Fire is a sculpture inside the church of Santa Maria della Vittoria called the Ecstasy of St Teresa. And Air is West Ponente at Saint Peter's Square.
Other important Dan Brown plot stops are the Pantheon which was originally built as a temple to honour the Roman gods and which has an oculus that turns the whole building into a sundial. And of course St Peter's Square, created by Bernini as an elliptical plaza to symbolize Copernicus' discovery that our solar system was based on ellipses – the planetary orbits around the sun.
Discover Sculptures As You Go
Personally I prefer to stroll around Rome and look out for Bernini along the way. His sculptures have a great narrative element that makes them open to interpretation, and they can be found as fountains and statues all over the city.
The tomb of Gian Lorenzo Bernini and his family can be seen just outside the Sistine Chapel in the Basilica di Santa Maria Maggiore. Here he is in the company of several dead popes and important relics such as pieces of the True Cross and the Holy Crib.  The church is remarkable for a Bling Bling ceiling in pure gold, impressive mosaics and a balustrade with statues of saints inspired by Bernini's statues on St Peter's. The master himself has only contributed to S. Maria Maggiore with a Baptismal font of Saint Cajetan holding the Holy Child.
Other Notes on Rome
An unsuccessful daytrip from Fiumicino Airport