Ravioli ai tre formaggi
This three cheese ravioli recipe is a real treat of three cheese filling wrapped up in homemade ravioli and served with a crunchy topping.
Normally the three cheese combo is used for risotto or a sauce for gnocchi, but I can eat it any time and particularly when the creamy filling is wrapped up in homemade ravioli and served with a crunchy topping of fried leftover prosciutto ham. A real treat.
Ingredients
For the pasta
4 dl pasta flour
2 dl water
A pinch of turmeric
For the filling
125 g ricotta
50 g grated parmesan
50 g mashed gorgonzola or other blue cheese
Good grating of nutmeg
Preparation
Start by making the pasta dough. Make a volcano of flour on a clean table. Pour a little more than half the water in the middle of the mount and use a fork to stir it with the flour. Add more water gradually, till you have a tough dough. Use the heel of your hand for kneading, when the fork is no longer useful. Keep kneading for at least 10 minutes or use a pasta machine.
Run the dough through the pasta machine once. If the edges are frayed, add more water, and if the dough seems sticky, add more flour. Roll the pasta through the machine at least ten times at max width (to make up for ten minutes kneading).
Decrease the width of the pasta machine gradually, one step at a time. Cut the pasta out in circles.
Leave the pasta on wire rack covered by a clean tea towel.
Meanwhile prepare the filling.
Mix ricotta, mashed gorgonzola and grated parmesan with grated nutmeg. Pour the mixture in a small plastic bag, cut the corner off the bag and press tops of filling on half the pasta discs.
Place another pasta disc on top of the filling and press the edges together.
Boil the three cheese ravioli recipe in well salted water for 2-3 minutes and serve with tiny cubes of fried prosciutto.
Other stuffed pasta like this three cheese ravioli recipe
Spinach and ricotta cannelloni
Homemade ravioli recipe with radicchio filling
Tortellini with spinach and ricotta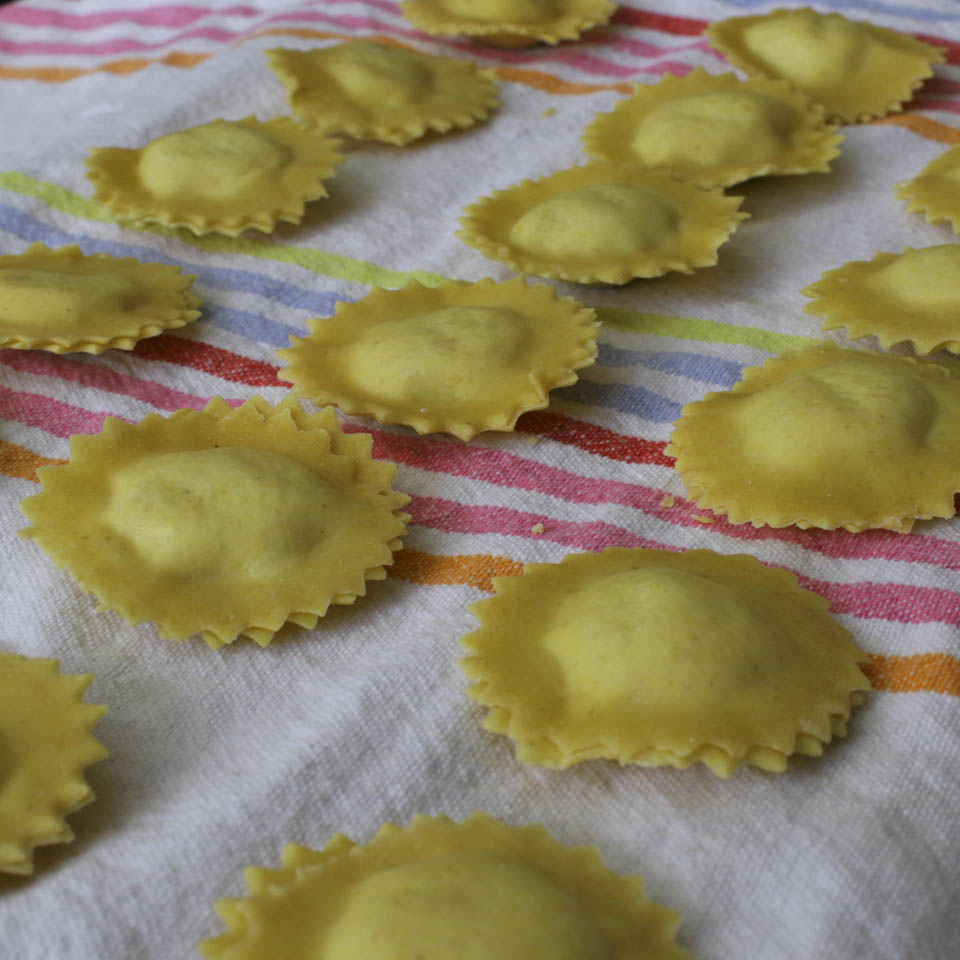 https://italiannotes.com/wp-content/uploads/2012/06/Three-cheese-ravioli-recipe-1-e1361368444360.jpg
240
640
Mette
https://italiannotes.com/wp-content/uploads/2014/12/logo.jpg
Mette
2011-08-05 13:24:59
2013-10-12 16:49:48
Three cheese ravioli recipe