Things to do around
Catanzaro in Calabria
The sole of Italy's boot is becoming increasingly popular among foreign holiday makers thanks to virgin beaches, magnificent mountains and relatively low costs. Here's my list of what to do around Catanzaro in Calabria apart from lazing on a sunbed.
Take a ride
Even with a car getting around in Calabria takes time. The distance from Reggio di Calabria to Crotone along the south east coast is only 250 km, but Google estimates it will take 5 hours, and they're not far from the mark. Constant road works, strange deviations and bottlenecks provide plenty of time to look around and enjoy the landscape and the alternating views of the mountains and the sea. SS 111 across the central mountains from Gioia Tauro to Locri is the loneliest and most deserted road in Calabria and it used to be controlled by highway robbers. Today, without the risk of a hold-up, the distance can be covered in 1 hour and from the highest point, Passo del Mercante, there's a fabulous view of both seas.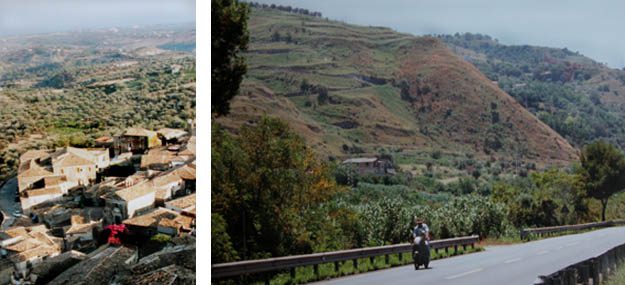 Explore the hill towns
Explore the small hill towns along the coast. Some of the villages inhabited mainly by old people and children may appear sinister and uninviting to passing tourists, but on my visits to Siderno, Caulonia, Locri, Stilo and Squillace, I've never experienced anything more unpleasant than not being able to find an open café.
My favourite hill town in the area is Gerace, sitting on top of a rather unapproachable rocky peak that offers views of outstanding beauty, especially in the early evening when the sun goes down over the ruins of an ancient fortress.  In the 10th century the inhabitants of Gerace allegedly survived an Arab siege by eating ricotta made from breast milk. There's also a cave near the ruins, where Saint Antonio del Castello evoked a spring of water. With some luck and imagination you can still see the print of his knee on the cave floor.
City kicks
Regional capital Catanzaro 13 km from the Ionian coast is a good place to get your city kicks. Catanzaro has been scarred by repeated earthquakes, but with almost 400 000 inhabitants there're plenty of shops in the centre and a few places of historical interest around the main square Piazza Matteotti.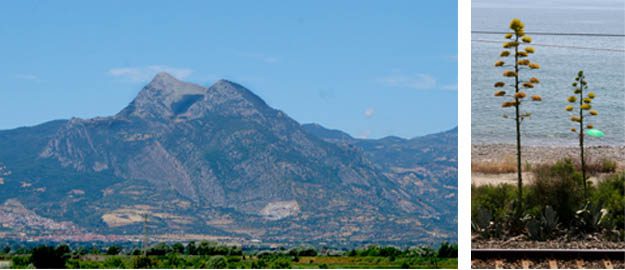 Hikes in unspoiled nature
Inland from Catanzaro, the Sila Piccola national park beckons with refreshing coolness, green meadows, mountain vistas and pine forests. This is the place for hiking, fishing, skiing and other outdoor activities off the beaten track. There are a few isolated communities and villages where old traditions and dialects have survived unaltered for centuries, and an artificial lake, Lago Ampollino, made to encourage tourism and produce electricity.
Time to party
Once there was a Greek fortress complex at Capo Rizzuto, but all that remains of Hera Lacinia today is a solitary Doric column. Not a whole lot of fun, if you ask me.
Still, there's plenty of family entertainment in the party zone of holiday resorts and campsites along the coast. I spent a week in Le Castella some years back when an Italian television station arranged a series of summer shows by the harbour, so every evening celebrity hosts presented games, contests, sketches, music and dance performances for a large audience of everyone who cared to drop by.
Calabria is worth more than a short stop on the way from Naples to Sicily.
Other things to see and do in Calabria
One of the best beaches in Italy?
Pictures from Italy: Contemporary shepherds