The Sweet Aspirations of a Fig Tree
The fig tree is one of the first plants to be cultivated by humans and one of the most rewarding with incredible high yields of sweet edible fruit year after year.
One of the best things about having your own piece of land in Italy, is the chance to grown exotic fruits like almonds, pomegranates, lemons and of course fig trees. For a Scandinavian used to apples and pears this comes close the romantic vision of Paradise.
Wonderful Shade
In south Italy self-sown fig trees grow on every bare patch of dry red earth. You see them on motorway shoulders, in heaps of garbage and among the stony rubble of ancient muretti a secco. Figs are everywhere. And I can't help being impressed by their insatiable desire to reach up, grow and achieve greatness in numbers and measured by the size of their leaves. Charles Dickens had a point, when he said:
"Train up a fig tree in the way it should go, and when you are old sit under the shade of it."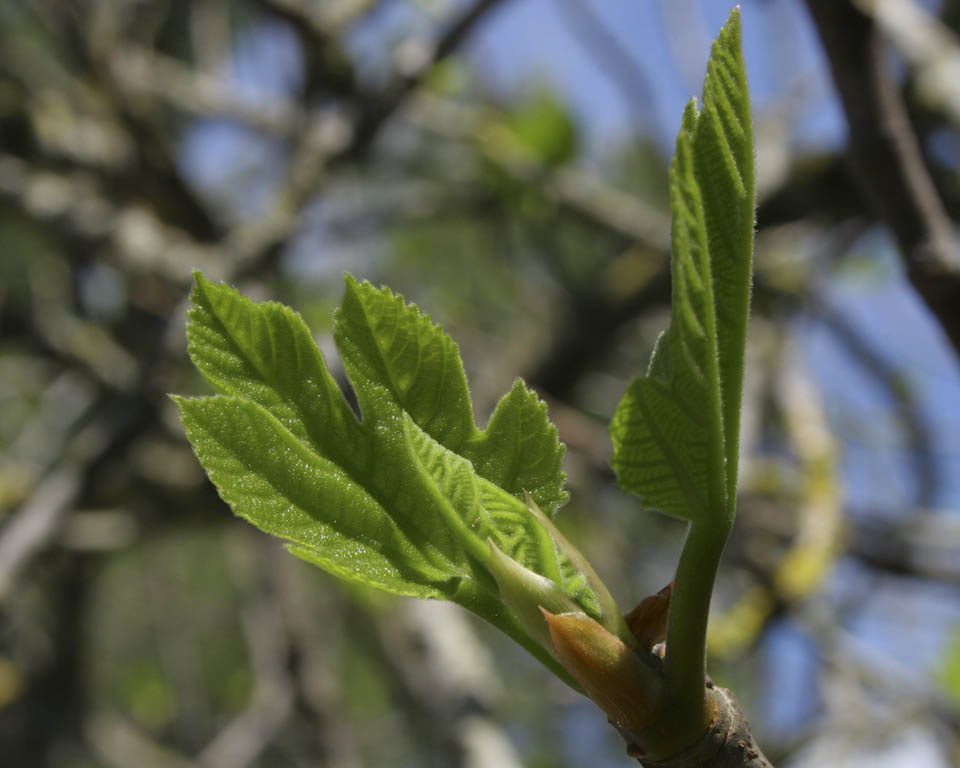 One of the Exquisite Pleasures of the Mediterranean
In spring all branches on a naked fig tree point upwards ending in bright green dots that turn out to be perfectly shaped leaves that are just about big enough to serve as a Lego doll bikini. The tininess does not last. For every blink of an eye, the leaves seem to grow, and after a few days fruits can be spotted. Like the branches and the leaves, fig fruits point upwards until they ripen and become soft and heavy with juices that weigh them down. For some types of figs this happens in June, and then the birds will be ready and waiting, leaving only empty shells behind. Summer figs are hard to get by, unless you get up at the break of dawn.
"To eat figs off the tree in the very early morning, when they have been barely touched by the sun, is one of the exquisite pleasures of the Mediterranean." Cookbook author Elizabeth David wrote in 'An Omelette and a Glass of Wine'.

Take Your Pick
If you can't compete with the early birds, you will have another chance in September and October unless all the fruits have been sacrificed in a prolonged draught. Fig trees tackle hot periods without rain by turning their leaves into upward pointing cups ready to catch every drop of dew that may fall. As a last resort the tree may have to let go of the fruit, but this is very unusual. In the late summer you are up to your knees in windfalls and beneath each fig tree there is a fragrant jam of sweet slippery fruit. But never mind the waste, as long as you have enjoyed a fig or two.
Otherwise you could end up like Sylvia Plath in the 'Bell Jar':
"I saw my life branching out before me like the green fig tree in the story. From the tip of every branch, like a fat purple fig, a wonderful future beckoned and winked. One fig was a husband and a happy home and children, and another fig was a famous poet and another fig was a brilliant professor, and another fig was Ee Gee, the amazing editor, and another fig was Europe and Africa and South America, and another fig was Constantin and Socrates and Attila and a pack of other lovers with queer names and offbeat professions, and another fig was an Olympic lady crew champion, and beyond and above these figs were many more figs I couldn't quite make out. I saw myself sitting in the crotch of this fig tree, starving to death, just because I couldn't make up my mind which of the figs I would choose. I wanted each and every one of them, but choosing one meant losing all the rest, and, as I sat there, unable to decide, the figs began to wrinkle and go black, and, one by one, they plopped to the ground at my feet."