The secret zoo near Manduria
The zoo near Manduria on the road towards Oria has lots of animals, yet it is virtually unknown even among the locals.
A couple of days ago I came across an article on the combined zoo, safari and amusement park in Fasano near Bari. That reminded me of another Puglian zoo that in spite of a great number and variety of animals is practically unknown, even to people who have lived in the area all their lives. I am talking about the zoo on the road between Oria and Manduria – just across the road from the barracks and airfield where several division within the US Army Air Force were stationed during WWII.
We had braved the stench of Manduaria Ambiente to visit the sanctuary ofS. Cosimo alla Macchia, where friends had told us devout pilgrims still practiced floor licking – lingua strascinuni – as a kind of penance – but when we arrived the church and the surrounding outdoor areas were fully and totally deserted. A shop sold crucifixes, holy water fountains, charms, rosaries, bibles, porcelain angles and other religious souvenirs, but there were no customers, the church was empty and neither cars nor busses filled the scorching parking lot which could easily accommodate all Auchan shoppers on a Friday night.
So much concrete emptiness can get a little creepy, so we observed the scene from the shadow of some trees and found ourselves next to a small wooden ticket office. This aroused our curiosity so we paid the entrance fee and entered a lush garden forest where we were greeted by parrots, pelicans, storks and black swans. There were also deer, wildebeest, zebras, antelopes, camels, buffalos and other hoofed animals, crocodiles, reptiles and snakes, hippos, lions and about eight big tigers locked up behind a double steel wire fence. They looked pretty docile and bored, but I still found it hard to believe that so many big cats live on a lawn in Salento, and if I did not have the photos to prove it, I would still doubt the memory.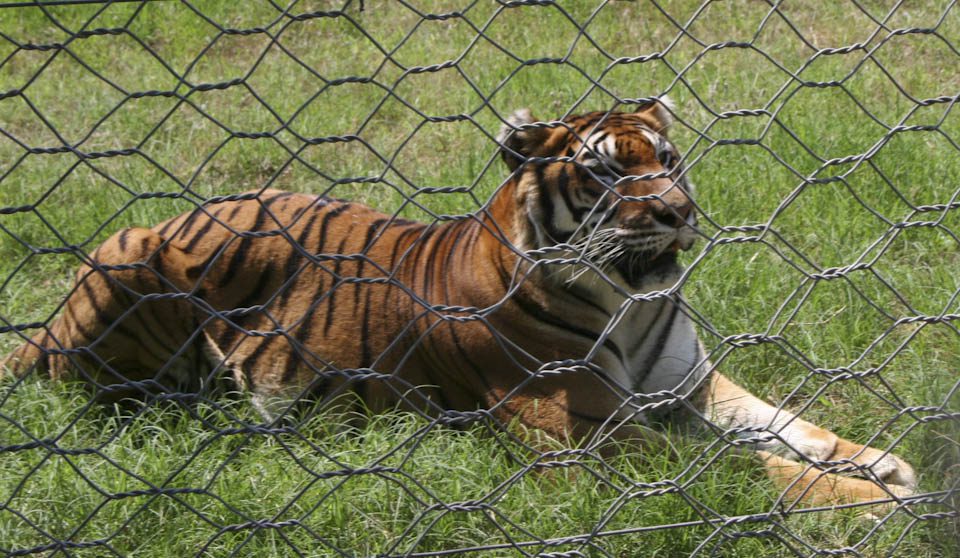 There is something strange and surreal about secret zoos, but the 'Giardino zoologico di Oria' is a nice, cool and quiet green spot that deserves many more visitors, than I have ever seen in the vicinity. So if you happen to be in the area, you might as well take a look around. Perhaps the ticket office will even reward you with a peacock feather.
Other almost secret places close to the zoo near Manduria
Mummies in Oria – Grinning skeletons in all year parade
https://italiannotes.com/wp-content/uploads/2012/07/The-secret-zoo-near-Manduria-e1359542460613.jpg
240
640
Mette
https://italiannotes.com/wp-content/uploads/2014/12/logo.jpg
Mette
2010-08-26 16:12:00
2017-09-23 14:39:40
The secret zoo near Manduria