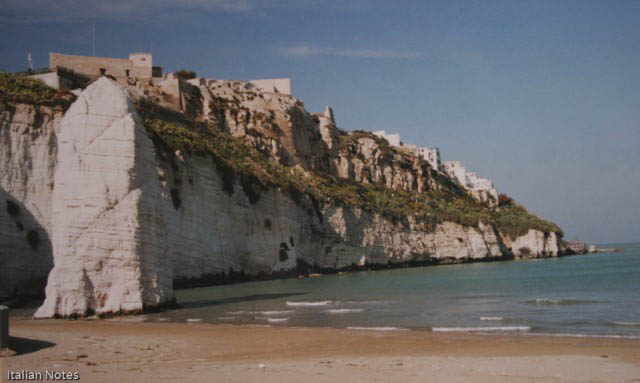 The invasions of Vieste
According to legend the Pizzomunno rock in Vieste is a petrified lover, But it is not the only local drama carved out in stone.
Over the past 10-15 years Vieste on the southeastern tip of Gargano has become a popular holiday resort. Italian and foreign tourist surf the waves, swarm sandy beaches and swim in the child-friendly (read: not very deep) emerald green sea against a picturesque backdrop of white lime stone cliffs. As soon as the sun sets browsers crowd the old town's maze of steep, narrow streets with their range of restaurants, souvenirs and crafts shops, while enjoying the friendly atmosphere and warm velvety evening air.
The romance of the place is underlined by a legend attributed to Vieste's landmark, a 25 m tall vertical monolith standing on the beach beneath the castle. This rock known as Pizzomunno was allegedly named after a young fisherman, who once upon a time fell in love with a local golden haired beauty called Cristalda. Every day the fisherman went out to sea, where a mermaid tried to lure him to become her king. Pizzomuno refused thinking of Cristalda, but that evening when he took his beloved for a walk along the beach, the jealous mermaid attacked and dragged the girl below waters. Pizzomunno was petrified by chock and sorrow, and the next morning the white rock had taken his place. The rock is still standing, and once a year Cristalda is said to come out of her abode in the sea to visit her lover in Vieste.
Apart from such fanciful fairy tales, it is hard to imagine that anything has ever disturbed the beauty and tranquility of this ancient fishing village, until you notice the 'Chianca Amara' or bitter stone outside Vieste cathedral.
The stone commemorates an attack by Turkish pirates  like the one on Termoli in 1566. It was Turgut Rais who was in command of the raid on Vieste in July 1554. Turgut Rais had worked with Barbarossa, and he was respected and feared for his martial skills and his ruthlessness, so when he attacked Vieste with a fleet of 60 galleys there was hardly any point in fighting back. The Swabian castle and the fortified city could not protect the local population, and after a few days most of the men had been butchered, while around 7 000 women and children were captured, deported and sold as slaves. The massacre must more or less have eradicated the town.
Fortunately today's invasion of beachgoers is much more peaceful, and the 13 000 inhabitants of Vieste seem to live in harmony with and of the steady flow of tourists occupying their hotels, holiday homes and camp sites.