Italian Notes
Involtini di cavolo
Stuffed cabbage rolls are a brilliant but somewhat neglected invention known for eons throughout the world. A lot of modern families have no time for preparing these slow cooked dishes, and some stuffed cabbage recipe can be quite a handful with many ingredients that have to be processed and prepared separately.
This recipe is really simple with no strings attached. All you have to do is pre-boil the cabbage leaves, mix the meat with spices and uncooked rice, and roll it up in small packages. The whole works can be done in less than 20 minutes once you have got the knack of cabbage rolling. After that dinner cooks itself until it is ready to with serve with a piece of bread and the fragrant tomato soup on the side.
Ingredients
2 dl white rice
8 pointed cabbage leaves (can be substituted with white cabbage or savoy cabbage)
500 g minced beef
2 cloves garlic
Salt, pepper, grated nutmeg
1 tbsp  paprika
½ tsp cayenne
300 tomato paste (concentrated tomato pure can also be used)
1 ltr soup or beef stock
Preparation
Bring a saucepan of salted water to the boil. Add cabbage leaves and vook for 2-4 minutes until soft. Drain and cool the leaves and cut away the stem.
Mix minced beef with uncooked rice, finely chopped garlic and spices.
Divide the meat among the cabbage leaves and roll them up in small packages. If you place the opening downwards in the saucepan, theres's no need for strings or toothpicks
Cover the cabbage rolls with soup and tomato paste and let them simmer over low heat for about an hour.
Other cabbage recipes
Make sauerkraut – sour cabbage
Winter salad with cabbage, cranberries and walnuts
Red cabbage salad with figs and oranges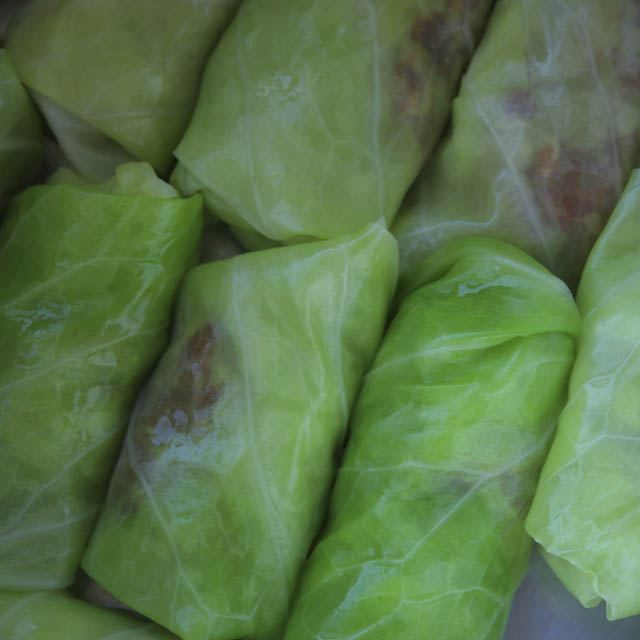 https://italiannotes.com/wp-content/uploads/2012/07/Stuffed-cabbage-rolls-1.jpg
240
640
Mette
https://italiannotes.com/wp-content/uploads/2014/12/logo.jpg
Mette
2011-02-22 15:50:58
2022-06-19 17:20:08
Stuffed cabbage rolls