Sitting on a cloud sipping
Marsala wine
Marsala wine was originally a British invention. But it still sums up the taste and mystery of Western Sicily.
Western Sicily holds a charmed mystery to me best captured by the flavours and fragrances of the natural abundance of the earth and the sea. This is an agricultural region where vines, olive trees, wheat and cotton fields dominate the cultivated land, while coast provides salt, tuna and mackerel for consumers around the world. Still, it is a British invention that sums up the place.
Sitting on the mountain top in Erice  sipping Marsala you can almost taste the view. A short cable ride downhill, Trapani spreads out like a sickle and in the distance you can glimpse the Egadi Islands, Tunisia and Africa. Marsala wine has a complex, earthy flavour with hints orange flowers, chili and wild herbs. There's a clear umami element leading out to sea like a shoal of anchovies. And without being an expert I at least pretend to detect a note of the local sea salt.
A British Invention
Yet Marsala wine is not the result of ancient traditions. It's a relatively new creation based on a mixture of grapes like the white Grillo variety, which main virtue is an ability to withstand high temperatures.
In the late 18th century British merchant ships visited Western Sicily to trade for soda ash presumably used for glass making. One of these traders, a John Woodhouse, acquired a taste for the local wines and had it mixed with brandy to prepare it for the sea voyage back to England, where it was sold under the name of the shipping port as an alternative to sherry and Madeira.
The breakthrough came in 1800, when Admiral Nelson made a written order for 500 casks of Marsala wine for the English fleet that was stationed on Malta in the Mediterranean. Five years later, Nelson and the English fleet won the giant battle of Trafalgar, and from then on the Sicilian wines became generally known as Marsala victory wine.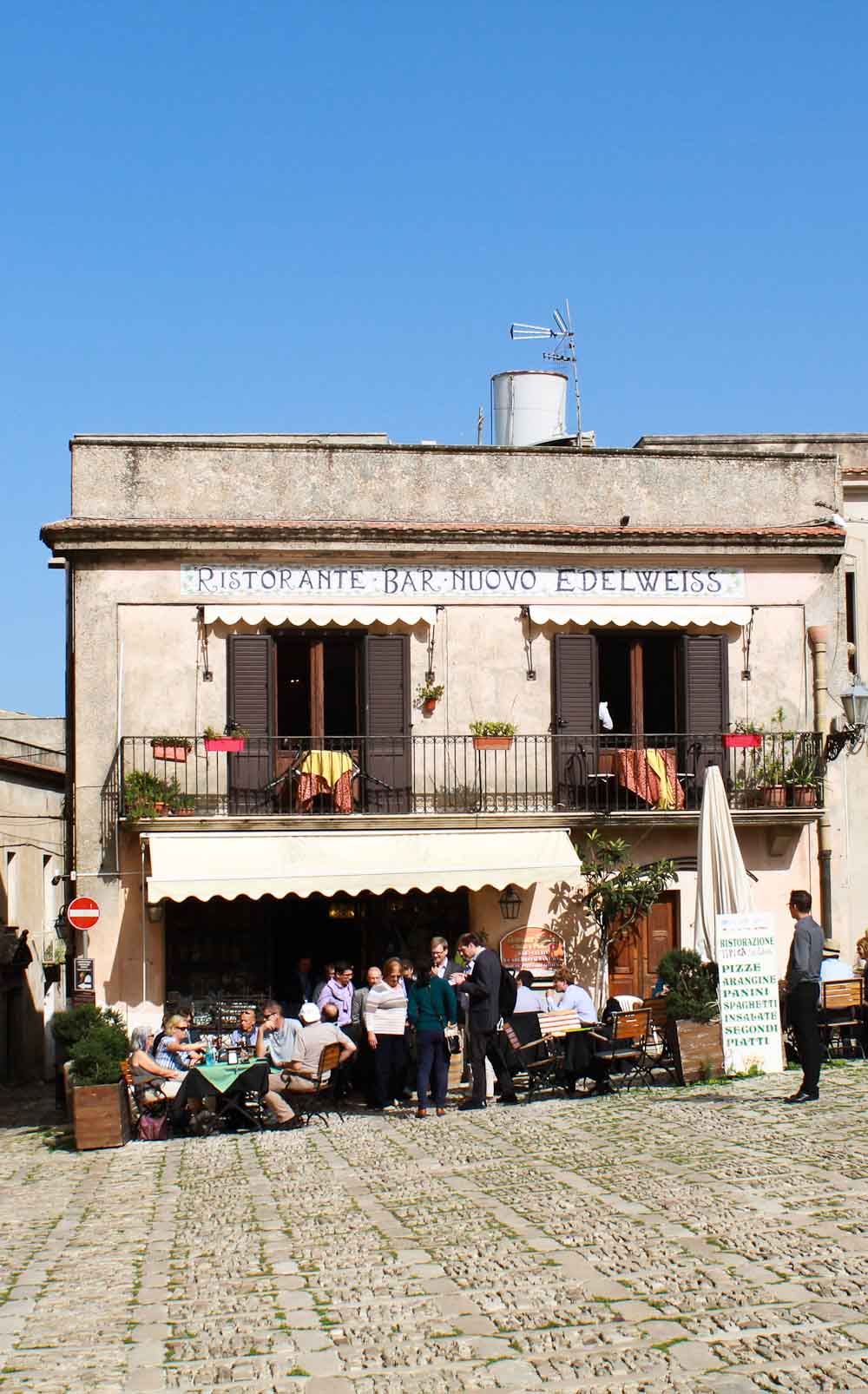 One of the few cafes in Erice – without a view.[/caption]
Visit an old wine baglio
Soon several Englishmen and a few Italians founded wine businesses in western Sicily. The wines were kept in fortified warehouses, called a baglio, where new wine was added to existing wines and stored in huge wooden containers. In consequence, the original Marsala wines varied greatly in character and strenght.
Today the production and taste of Marsala has been refined and streamline into a delicate fortified wine and a great addition to a number of Sicilian dishes. And you can still visit an old wine baglio at the sea front in Marsala. But now it has been converted to an Archeological museum. That way Marsala can still be traced as a likeable mystery and mixture of tastes.
More on Sicily
Exploring Taormina attractions on your own