Eating out at Ristorante Diana in Bologna
Ristorante Diana in Bologna opened in the 1920s to become one of the fat town's leading culinary temples.  Unfortunately it has not been able to retain this position, and today is little short of a tourist trap.
We were lured into Ristorante Diana by the parking attendant at the garage, where we deposited our car. With starlit eyes, mouth drooling and the characteristic index finger in cheek sign, he told us of this restaurant as the place to go for a real bolognese treat. To be kind, he may not have been out about town for the last 30 odd years. Alternatively he could be on commission or related to the restaurant owners, as no native Italian would normally recommend a restaurant with such inferior food standards.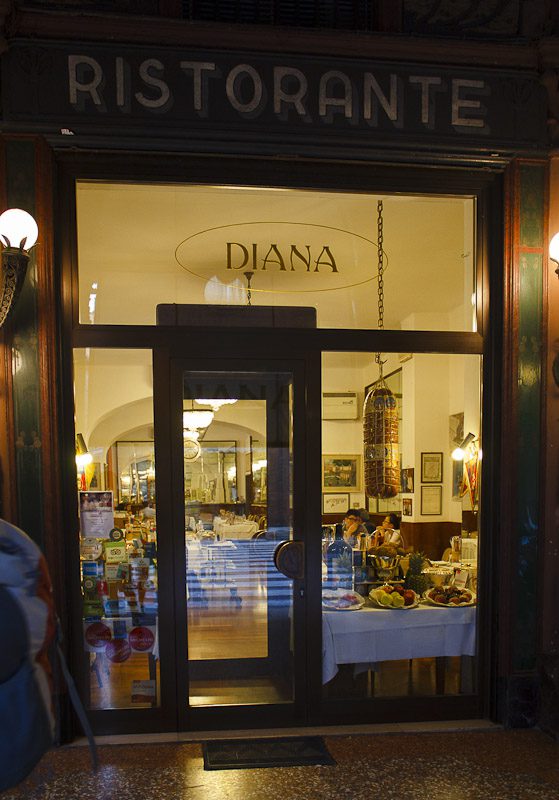 At least we have never been tricked this way before, so we jumped right in and booked a table before even signing in at the hotel. When we returned for our meal at nine o'clock Friday evening, only two other tables are occupied. A clear warning sign. But instead of looking for something better in what is supposed to be one of Italy's culinary capitals, we got ourselves and our still high expectations seated at one of the the nice outdoor tables.
We started out with two antipasti that were served with a choice of plastic wrapped grissini. The 13 euro mix platter della casa came with slices of five cured meats such as mortadella, salami, cured and boiled prosciutto and head sausage. Nothing to get all excited about, as long as you ignored the price. The other antipasto was a plate of filetto maiale which turned out to be no more and no less that about ten slices of nondescript pork fillet. There was no oil, no cheese and no homemade bread to go with the meat. Nothing but a 4 euro service charge.
I had to try the tortellini in brodo, which is a kind of signature dish for Bologna. The soup was good and strong, and the minutely identical tortellini could have been homemade. Still, I've had better with local friends. The other main course was Carrello degli arrosti' and again we had naively imagined it to be something that required a trained cook. It wasn't. The meat wagon was a trolley with different kinds of roast meats such as turkey, veal and pork. Not something that required brains or talent let alone a recipe to prepare.
The wine recommended by the waiter was a mediocre local Sangiovese. And desserts was ordinary tiramisu and chocolate ice cream. All in all a meal far below average in Italy at the exorbitant price of 108 euro, which more than we've ever paid at that kind of restaurant before. Makes me feel a bit sad for a town with Bologna's reputation. Especially, when  you compare it to the restaurant standard in nearby towns such as Bagnacavallo, Dozza and Sasso Marconi