Restaurants in Foggia:
Trattoria Giordano Pompeo
Trattoria Giordano in Foggia is a friendly, family-run restaurant with high vaulted rooms, white tablecloths, a warm, welcoming atmosphere and lovely food.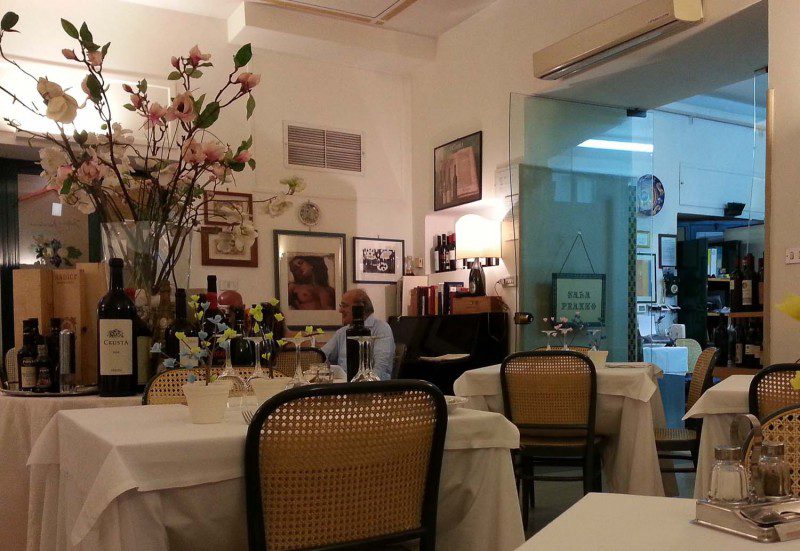 You enter Trattoria Giordano in the Puglian town Foggia through the open kitchen, where the mother of the family and her sister rules, while husband and son work as waiters.
We were received with hot, homemade buns straight from the oven. The waiter recommended a brilliant wine based on the local Nero di Troia grape, and dropped by with free samples of pizza rustica, while we studied the menu. The rustic pizza was a kind of puff pastry focaccia with a generous filling of squash and peppers. It hinted at a kitchen strongly based on the culinary traditions of local peasants.
For starters we ordered prawns with mashed potatoes and a stringy kind of spinach and crostini fried bread with anchovies and bufala mozzarella. Both antipasti could easily make it out for a proper meal. They were indeed "ricchi e abbondanti", as promised by the waiter.
"Primi piatti" had to be the house orecchiette with a strong tomato sauce made from fresh tomatoes, fresh basil leaves and hard ricotta, that was grated over the pasta at the table. Although we had ordered only one first course, the kitchen had taken the liberty of dividing it on two plates, and there was more than we could eat.
The "secondo" meat course was "Braccioli". A local version of veal-ups with parsley, garlic and grated Parmesan that is left to simmer in tomato sauce for a couple of hours. Overestimating the appetite we had asked for a plate of fried potatoes to accompany the meat, but by the time it arrived, we couldn't possibly eat another bite, as there had to be room for desserts. The other tables were served salt-baked dorata and "ricci di mare" sea urchins, and people really seemed to enjoy it.
We asked the waiter for dessert recommendations, and he laughed and explained that just that morning his mother and aunt had decided to make "cartellate". Cartellate is a typical pugliese Christmas treat shaped as spirals of fried pastry, and our visit to Trattoria Giordano took place at the beginning of July, but it seemed appropriate to end the meal with another classic dish from the region. And the cartellate was dark and crisp and soaked in "vincotto", just as it should be.
With bottled water, espresso and grappe we ended up paying 85 euro for the full meal, which places Trattoria Giordano in the well-made, authentic food at affordable prices end of the restaurant specter. And I'll be happy to go back next time I'm in Foggia.