Insalata di cavolfiore crudo
Raw cauliflower salad
This raw cauliflower salad is so sweet, crunchy and good that even children love. And they can eat as much as they like cause it's highly nutritious as well.
Some people can't stand the taste of raw cauliflower, while others can't get enough. Especially, children, who normally wrinkle their noses at 'smelly boiled cabbages', love this raw food salad which is a little sweet, a little cruchy and highly nutritious. It even looks pretty.
The salad can be served in tiny portions with other antipasti as a starter, it can make a substantial primo piatto or used to accompany roasted fish or meat dishes.
Ingredients
½ cauliflower
1 apple
1 tbsp mustard
3 tbsp olive oil
1 tbsp apple vinegar
5 dried apricots
2 tbsp chopped hazelnuts
Preparation
Wash the cauliflower and slice it finely
Stir mix mustard a little olive oil at a time till you have a thick dressing
Mix with vinegar.
Clean, core and chop apple and apricots and mix the fruit well with the dressing, before adding the cauliflower.
Sprinkle the raw cauliflower salad with nuts before serving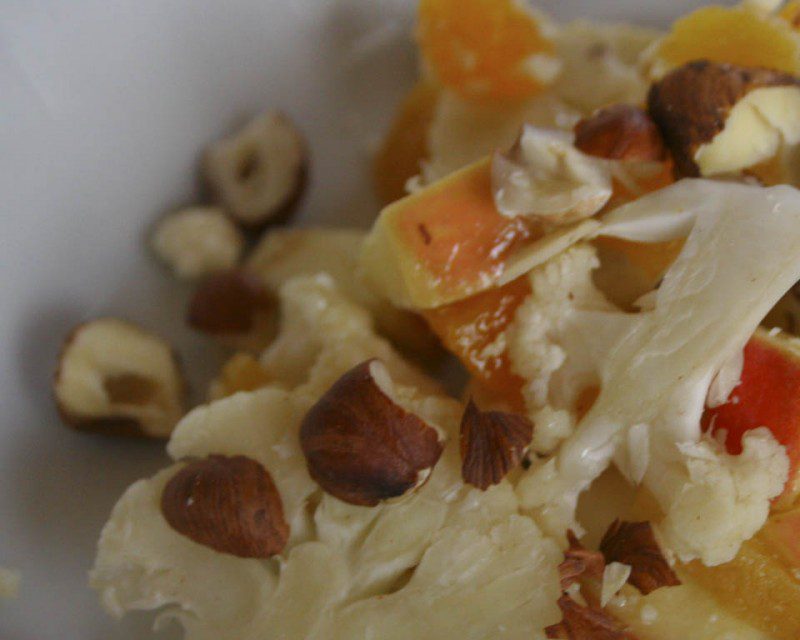 More cauliflower broccoli recipes:
Creamy cauliflower soup with truffle oil