Pollo alle mandole
Garlic lovers will adore this chicken in garlic almond sauce and people with a cold should eat it for medicinal purposes and keep their distance the next day
This recipe is supposed to be Spanish of origin, where it is called "pollo en Pepitoria", meaning chicken stew. The interesting thing is the almond and garlic sauce, which in this version is real thick and tasty like béarnaise or aioli but without the excessive amounts of fat normally used for emulsified sauces. Garlic lovers will adore it and people with a cold should eat it for medicinal purposes, and keep their distance the following day.
Ingredients
1 chicken cut in 8 pieces
12 peeled almonds
3-4 garlic cloves
Olive oil
1 slice of white bread
100 ml white wine vinegar
400 ml chicken stock
3 bay leaf
Fresh thyme and parsley
2 hard-boiled eggs
Preparation
Heat up the olive oil in a large casserole and roast garlic and almonds until they turn golden.
Remove the garlic and almond, but use the oil to brown the chicken on all sides
Soak the white bread in vinegar
Blend bread with almonds, garlic and chicken stock to a smooth paste.
Stir the paste in the casserole with the chicken. Add bay leaf and thyme, and let it simmer for 30 minutes until the chicken is done.
Remove the chicken from the sauce.
Mash up egg yolks (and discard the whites) and mix it with the sauce to make it even thicker.
Serve chicken and sauce with parsley and bread for a joyful and bad manner "scarpetta"
If you don't like the colour you can add a couple of saffron threads to the sauce.
More easy chicken dishes for dinner:
Chicken stew with lemon and rosemary
Chicken with chickpeas and oranges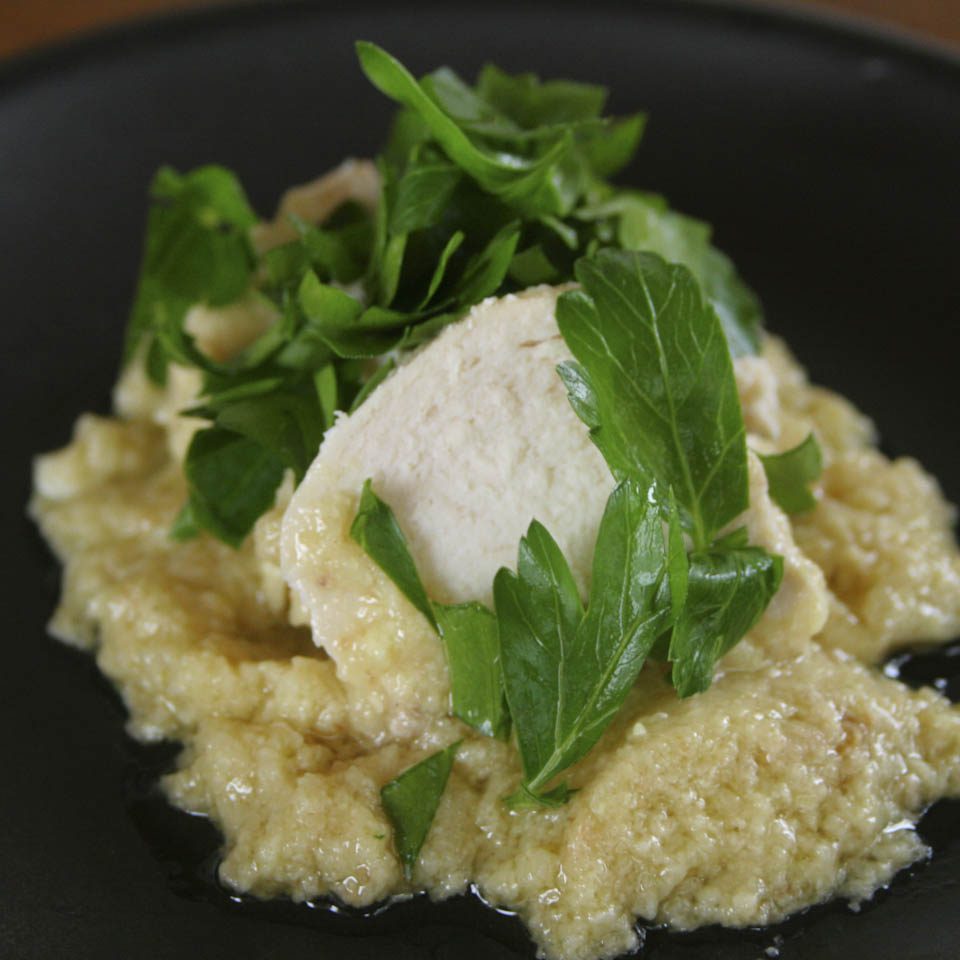 https://italiannotes.com/wp-content/uploads/2012/07/Chicken-in-almond-and-garlic-sauce-e1359107936576.jpg
240
640
Mette
https://italiannotes.com/wp-content/uploads/2014/12/logo.jpg
Mette
2010-12-08 12:19:43
2017-01-08 16:50:34
Chicken in garlic almond sauce