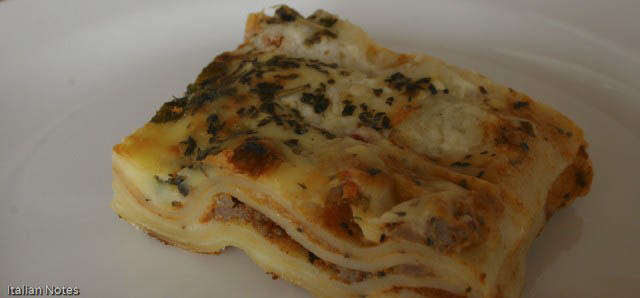 The first written real lasagne recipe was found in a fourteenth-century in Naples. Since then it has been refined and this is our family version.
Admittedly, I am not the real lasagne wizard of this family, but through the years I have learned a few tricks for making a lasagne so outstanding that it is way beyond dishes of the same name offered in most Italian restaurants.
The word lasagne derives from either Arabic (according to Clifford A Wright) or Greek (according to Wikipedia), but the dish itself originates in Italia.
A written recipe has been found in a fourteenth-century cookery manuscript from the Angevin court in Naples, according to which the sheets of lasagne should be boiled and layered with ground spices and grated cheese. Later people have defined the spices, elaborated on the cheese and added meat, but the basic principles remain the same.
If you are using pasta secca it needs to be properly soaked in besciamella and tomato sauce, and the result improves if the dish is left to rest for an hour, before being heated in the oven.
If you prefer to make your own pasta follow proceedings here, but stop before the sheets of dough are cut up in circles or squares.
Ingredients
300 g of lasagna
1 portion sugo di pomodoro
1 portion salsa besciamella
Oregano
100 g grated mozzarella
For the sugo di pomodoro
1 finely chopped onion
2 finely chopped cloves of garlic
250 g minced beef
1 can of tomatoes
1 small pepperoncino
Olive oil, salt, pepper, oregano and paprika to taste
For the salsa besciamella
2 tabsp of butter
3 tbsp of flour
1 ltr milk
100 g grated mozzarella
100 g grated parmesan
Preparation
Start making the sugo by frying onion and garlic in olive oil in a casserole over low heat until they are soft and glass-like.
Add the minced meat, turn up the heat and fry until brown.
Pour in the canned tomatoes, allow the sauce to simmer for a while and perfect the taste with berbs and spices.
Leave the sugo to rest, while you prepare the besciamella by melting the butter in a pan.
Add the flour when the butter stops sizzling, and stir vigorously, while you pour in a little milk at a time to avoid lumps.
When the salsa is smooth and not too thick, it should be given plenty of freshly grated nutmeg and a bit of salt and pepper.
Remove the casserole from the heat, stir in parmaggiano and mozzarella and see the cheese dissolve.
Spoon a little tomato sauce in a pre-greased oven-proof dish.
Cover with lasagna sheets, but make sure there are no overlappings.
Add a layer of tomato sauce, a layer of besciamella and another layer of lasagna. Continue till all the sauce has been used, ending with a layer of besciamella.
Put the remaining mozzarella on top of the besciamella, sprinkled with oregano and leave to rest for about 1 hour under a tin foil cover.
Bake the lasagne in a preheated oven (200°C/375°F) for 20-25 minutes, remove the foil and bake for another 5 minutes. When all lasagne sheets are nice and soft, the dish is ready to serve.
Alternatives to the real lasagne recipe 
Spinach and ricotta cannelloni
Sole with spinach and white sauce
Aubergine gratin with tomatoes and parmesan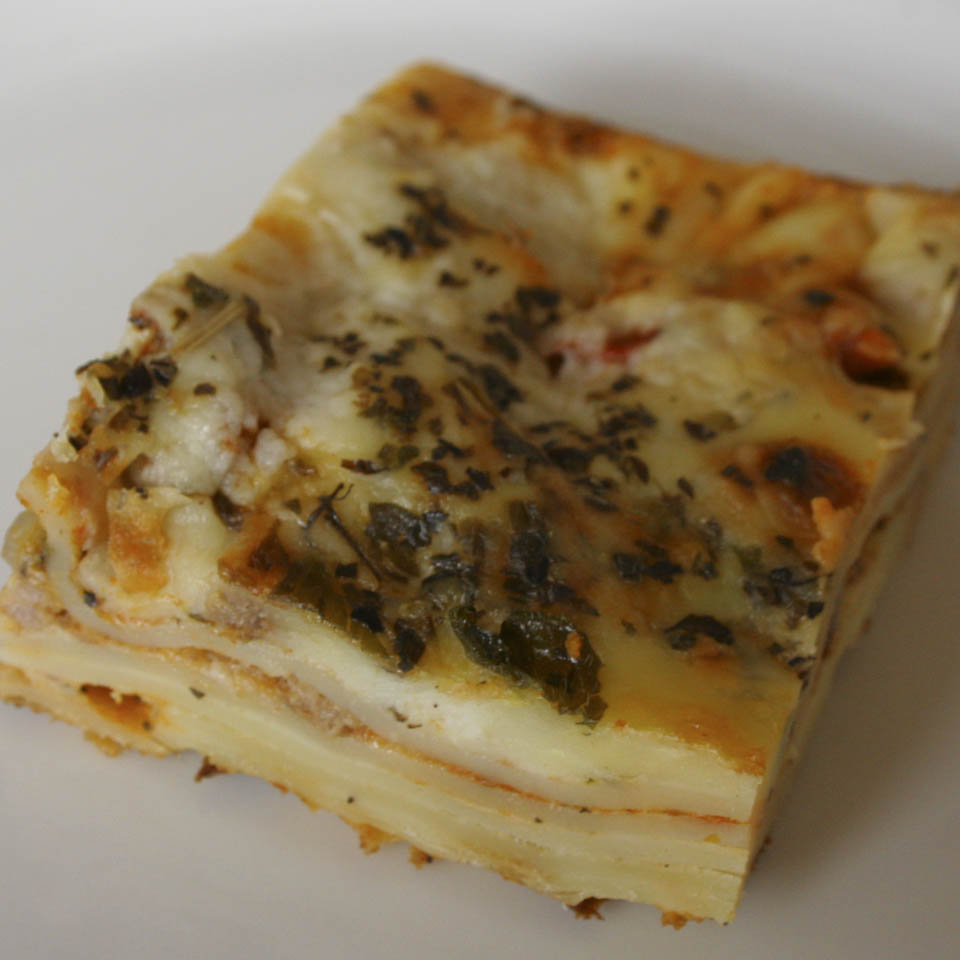 https://italiannotes.com/wp-content/uploads/2012/06/Real-lasagne-e1359715559460.jpg
298
640
Mette
https://italiannotes.com/wp-content/uploads/2014/12/logo.jpg
Mette
2010-03-11 15:45:00
2013-05-04 16:32:41
Real lasagne