Ravioli con topinambur e salsa di zucchine 
Ravioli with Jerusalem artichokes  is a happy fusion between new Nordic cuisine and ancient Mediterranean traditions.
In recent years the Nordic kitchen has won great international acclaim, and the best Danish chefs experiment wildly with sow's ear snacks, pine needle salad and tasty dirt powder. Less eccentric chefs fuse traditional Nordic ingredients with Mediterranean methods of preparation, and with good results.
This recipe inspired by the semi-professional gastrocorner uses Jerusalem artichokes as ravioli filling but other vegetables might be used instead. I have added the zucchini salsa, which gives any type of pasta a fabulous lift. The result is an understated, mild, autumny and surprisingly elegant tasting dish.
Ingredients
For the pasta
250 g pasta flour
100 ml water
For the filling
200 g Jerusalem artichokes
Butter
2 egg yolks
Fresh thyme
For the salsa
1 shallot onion
1 clove of garlic
3-4 zucchini
Olive oil
Fresh thyme
Preparation
Start by making the pasta dough. Make a volcano of flour on a clean table. Pour a little more than half the water in the middle of the mount and use a fork to stir it with the flour. Add more water gradually, till you have a tough dough. Use the heal of your hand for kneading, when the fork is no longer useful. Keep kneading for at least 10 minutes or use a pasta machine.
Run the dough through the pasta machine once. If the edges are frayed, add more water, and if the dough seems sticky, add more flour. Roll the pasta through the machine at least ten times at max width (to make up for ten minutes kneading).
Decrease the width of the pasta machine gradually, one step at a time. Cut the pasta out in circles.
Leave the pasta on wire rack covered by a clean tea towel.
Meanwhile prepare the filling. Clean, peel and chop the Jerusalem artichokes into smaller pieces. Fry them in butter over low heat with thyme until they become soft. Blend the Jerusalem artichokes. Blend in a couple of almonds or walnuts, if the mixture seems too runny.
Zucchini salsa is prepared in much the same way. Peel, chop and fry the onion and garlic, add cleaned and chopped zucchini and fresh thyme and let it simmer for 5-10 minutes. Blend to a smooth salsa and taste with salt. If you want a more creamy texture, you can stir in a tbsp of parmesan and ricotta or mascarpone
Fill the pasta circles with a tsp of the Jerusalem artichoke mixture. Boil for 3-4 minutes in a large pan filled with salty water and serve with the zucchini salsa and sprinklings of fresh thyme.
Other recipes similar to Ravioli with Jerusalem artichokes 
Spinach and ricotta cannelloni
Italian pasta recipes: Meat filled tortellini in broth
Tasty pecorino stuffed ravioli from Sardinia – Culingionis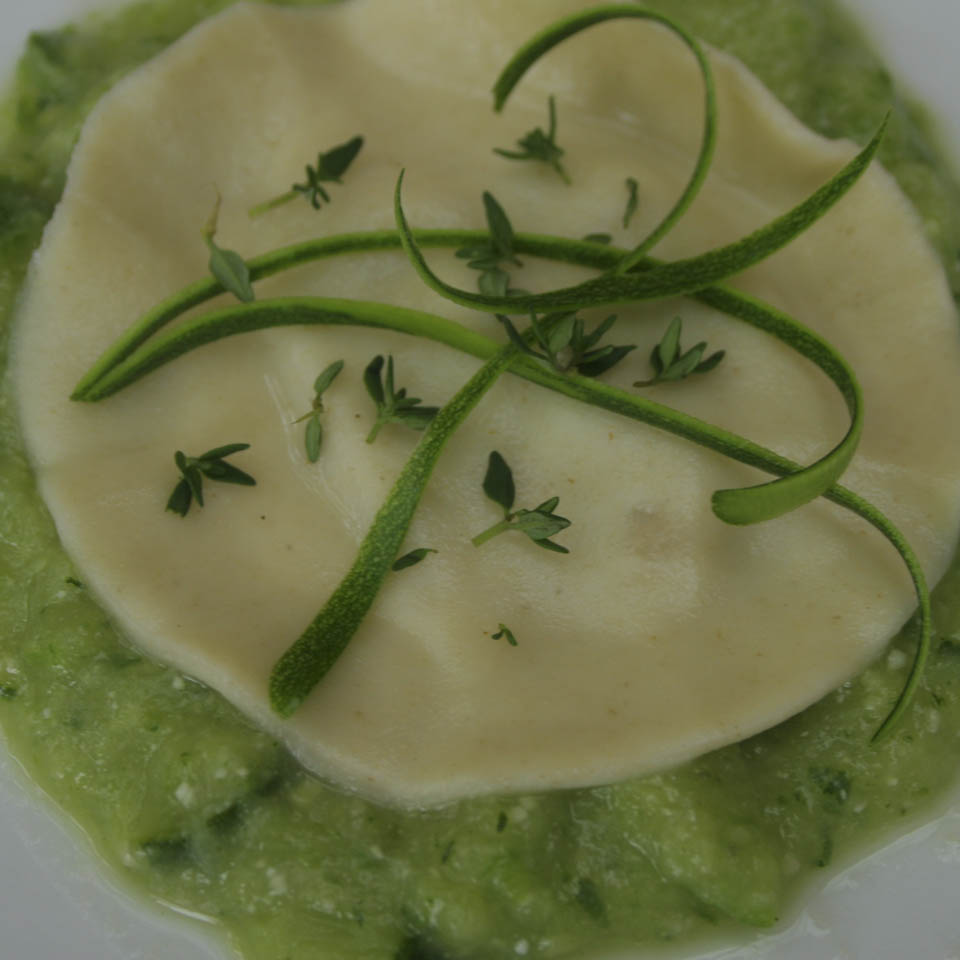 https://italiannotes.com/wp-content/uploads/2012/07/Ravioli-with-Jerusalem-artichokes-e1359542073948.jpg
240
640
Mette
https://italiannotes.com/wp-content/uploads/2014/12/logo.jpg
Mette
2010-10-01 14:24:00
2014-12-21 14:44:57
Ravioli with Jerusalem artichokes