Crostata di cotognata
Quince pie recipes present a marvellous solution to the problem of having too much quince marmalade or 'cotognata' for one extended family to stomach. One pie can easily absorb 4-500 g of marmalade and the result is refined and delicate and not at all as perfumed as I would have feared.
If you have not been blessed with extraordinary amounts of cotognata, you might use another kind of fruit compote, mincemeat or marmalade, if it is not too sweet.
If you have only got raw quince, and want to prepare your own cotagnata, try cooking the fruit with half-and-half sugar. In vain, I have tried to lure the cotognata recipe from my Italian friends, but for one thing all their measures are approximations, and second they are not that strickt about the ingredients either. Some would never use anything but quince and sugar, while others add figs, grapes and other mature fruits that happen to be close at hand. It's all a matter of taste.
Ingredients
400 g flour
2 tsp baking powder
½ tsb salt
1 organic lemon – rind
120 g sugar
150 g cold butter
2 eggs
500 g cotognata (or other fruit puree)
Preparation
Mix all the dry ingredients for the pie dough. Add the cold butter and cut it to pieces in the flour. Rub the ingredients together until they resemble fine bread crumbs.
Add the eggs – one at a time – and gather the dough in two balls. If is seems too dry, add a drop of cold water.
Put the dough in a plastic bag and leave it in the refrigerator for 30 minutes.
Grease an oven-proof tart pan with butter. Place the bigger of the two dough balls between two pieces of cling-film (this really saves time and annoyance), and roll it out in a circle that can be used to line the pan.
Spread cotognata evenly on top
Roll out the other dought ball between two pieces of cling-film. Cut it into strips and use the strips to decorate the pie.
Bake the quince pie for 40-50 minutes in a pre-heated 175 degree C (350 F) oven until golden brown.
Other sweet ideas like this quince pie recipe
Apple cake with walnuts and amaretti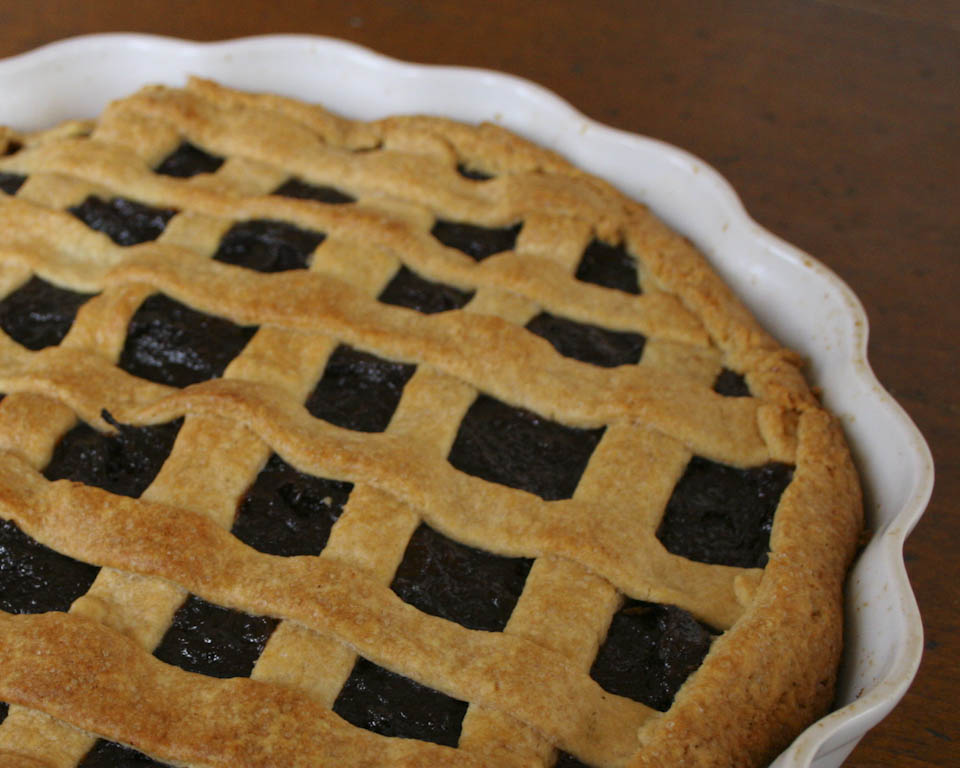 https://italiannotes.com/wp-content/uploads/2012/06/Italian-quince-pie-e1360149400569.jpg
240
640
Mette
https://italiannotes.com/wp-content/uploads/2014/12/logo.jpg
Mette
2010-02-15 15:32:00
2013-05-04 11:38:41
Italian quince pie recipe