If Stones Could Speak:
Porticato di San Giovanni in Udine
In my opinion, Piazza della Libertà in Udine is one of the most magnificent Renaissance squares in Italy. And one of square's main buildings, Porticato di San Giovanni, is the epitome of local history over the last 500 years.

Several young couples sit on the steps beneath the arches of the Porticato di San Giovanni, when we enter the piazza on a summer Saturday in the late afternoon. They use this public porch for shade and privacy in the same way that the portico has been an intimate part of local life since the early 16th century.
It Began with a Sacrilege
Before Porticato di San Giovanni was erected in 1533, there was a church dedicated to Saint John in its place. A major earthquake in 1511 made a nearby loggia collapse and the church itself was severely damaged. The aristocracy saw this as a chance to seal off the embankment from the castle hill and create a proper square, yet no workers had the courage to demolish the existing building.
Finally an old servant began to dismantle the old church and others followed suit, but the church issued an interdict stating that the demolition was illegal and sacrilegious. They would not budge until the city council decided to solve the problem by rebuilding the church.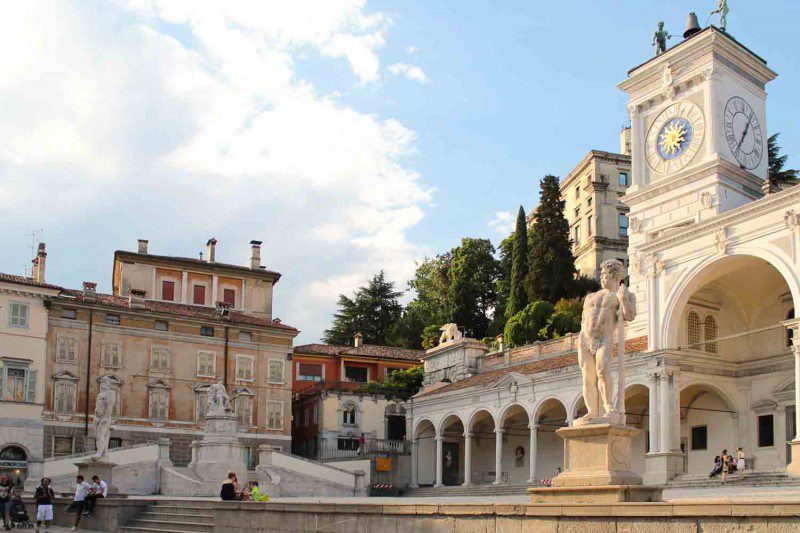 Embracing Church, Clock Tower and Portico
The sculptor and architect Bernadino da Morcote was given the task of designing a church that should incorporate the fairly new clock tower and create an elegant gathering place for the people of the city.
Udine's clock tower had recently been remodeled to match Coducci's clock tower on Saint Mark's Square in Venice, and it is said that on a clear day the blue skies serve to highlight the whiteness of the stone. Bernadino placed the clock tower beside the cupola and used stones of a similar colour to merge the tower with the church. He then designed a portico entrance with a triumphal arch in the centre flanked by two wings of seven columns like an ancient temple.
Military HQ
In 1835 Udine was invaded by Austria, and the Austrians used the Porticato di San Giovanni as headquarters for the army guards. The arches were locked behind iron railings and two guns were placed on either side of an iron gate. The guns and daily military parades accompanied by banners and a marching band helped to suppress opposition.
The Austrian occupation ended in 1866, when Udine was included in the new Italian state, but the Austrians returned in 1917 and their army was reinstalled under Porticato di San Giovanni. This time, however, the occupation lasted only one year, and in 1920 the church and Porticato di San Giovanni was transformed into a Pantheon for the fallen. As such is it still one of the main sights of Udine.