Polenta con funghi
Polenta and mushrooms can be served as a main course or as an inviting crostini snack for antipasti starters.
The wonder of polenta is its versatility. In the postwar period, cornmeal porridge sexed up with salted anchovies was one of the staples feeding north Italian peasants, and daily use nourished the imagination. Polenta started to appear in a number of dishes with various cheeses, butter and sauces and leftovers were recirculated as crostini or polenta fritta.
This recipe can be served as a main course of polenta porridge or – if you scale down the amounts and grill the polenta slices – as a crostini antipasti. And even though it is extremely easy to prepare, it is also top tasty.
To make crostini, make sure the polenta has set properly and been coated in olive oil, before you try to place it on a grill pan or the barbecue. Otherwise you may end up with a greasy and clumsy looking mush.
Ingredients
1 litre water
300 g (instant) polenta
Salt
200 g mushrooms
2 tbsp dried chanterelles or other wild mushrooms
4 dried tomatoes
1 clove of garlic
Olive oil
Thyme, rosemary, salt and pepper
Preparation
Soak the dried mushrooms in water, before they are chopped.
Soak the dried tomatoes in boiling water, unless you are using the semi-dried or 'sott'olio' variety
Clean and chop the fresh mushrooms, the garlic and the fresh herbs finely.
Heat the oil in a drying pan, and fry all ingredients together for about 10 minutes until all the water has evaporated.
Cover the mushrooms, while you heat the salted water for polenta in a thick-bottomed casserole.
Sprinkle in the polenta, when the water boils. Lower the heat and stir vigorously with a wooden spoon (instant polenta can have a tendency to form lumps, or burn you when the boiling bubbles burst, so take car and remove the pan from the heat for some time while you are stirring).
For primi piatti: Spoon the polenta on to a plate, top up with mushrooms and serve.
For crostini di polenta: Spread the polenta porridge on a sheet of baking paper, flatten it with a knife dipped in cold water, and leave it to cool for at least an hour and preferably until the next day. Cut the cooled polenta in squares, triangles or circles, brush them with oil, and grill them on each side for 3 minutes in the oven. Place a spoonful of mushrooms on top of each polenta slice and serve polenta with mushrooms as a canape snack.
If you like polenta and mushrooms you might also want to try:
Italian vegetables: Tuscan mushrooms
Torta Sbrisolona – huge polenta biscuit from Mantova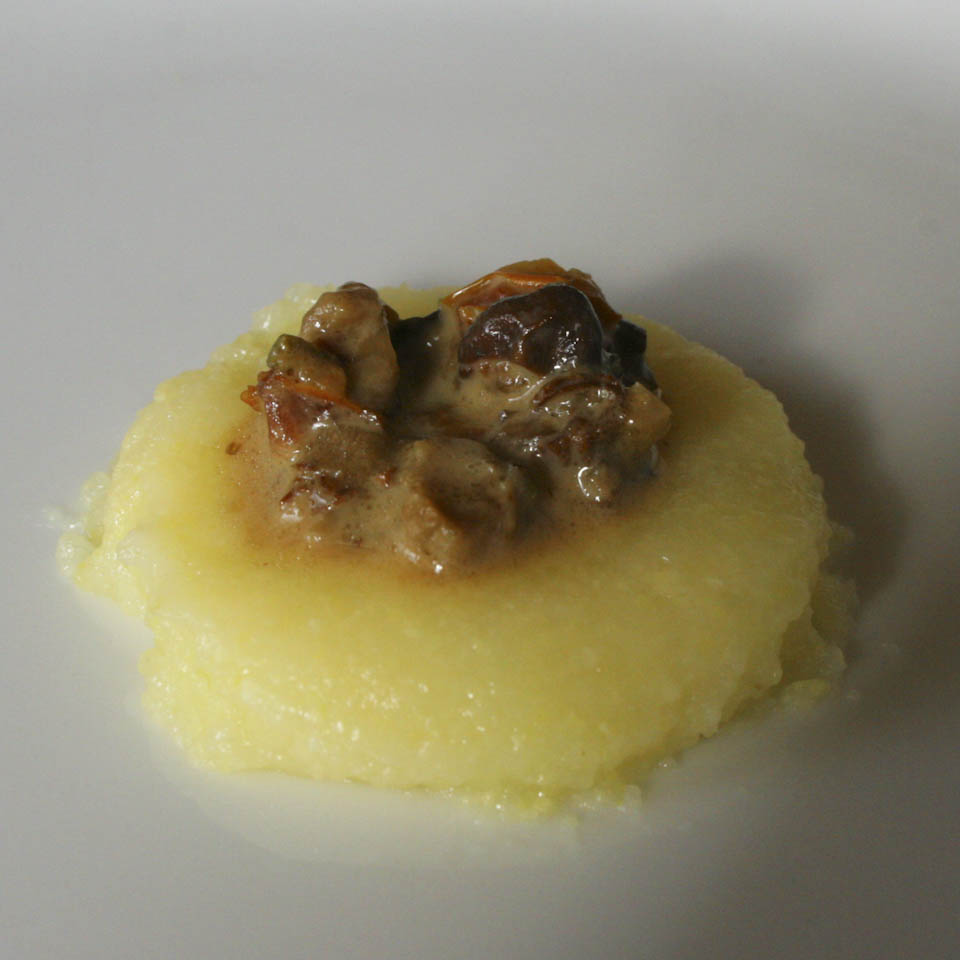 https://italiannotes.com/wp-content/uploads/2012/06/Polenta-and-mushrooms-e1359714488801.jpg
240
640
Mette
https://italiannotes.com/wp-content/uploads/2014/12/logo.jpg
Mette
2010-05-25 14:44:00
2013-06-23 10:55:07
Polenta and mushrooms