Quick Guide to Peschiera del Garda
Peschiera del Garda is one of the most popular and highly frequented holiday stops on Lake Garda. A pretty little town offering loads of activities and entertainment for the entire family.


Looking on a map Peschiera del Garda sits like a clot at the point where Lake Garda turns into the river Mincio. Four small islands turned the old centre of town into a fortress that has played a prominent part in most military campaigns conducted in northern Italy after 1400. Today the strong defensive walls help to limit the number of cars in the city centre.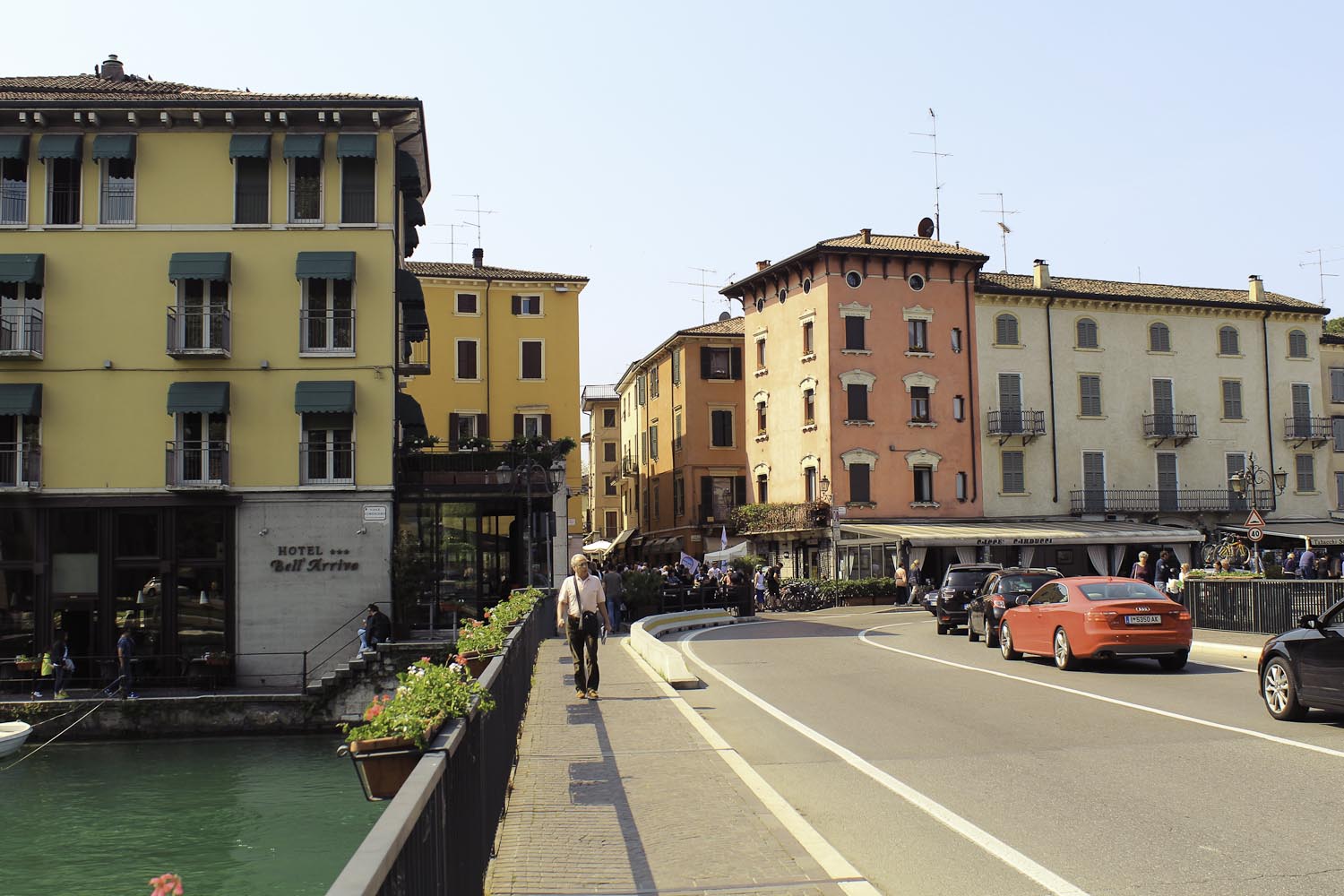 With huge campsites almost the size of the city on both sides of town and numerous smaller villagios, hotels and hostels, Peschiera del Garda can accommodate thousands of people at the same time, and a strong infrastructure with railroads, boats and motorway makes it easy to get around. These facilities have turned Peschiera del Garda into an ideal base for exploring nearby cities such as Verona, Brescia and Mantova. Both Venice, Milan and Bologna are within a 150 km ratio.
Children can have a choice of theme parks ranging from the roller-coasters of Gardaland over tube & chute rides in Caneva Aquapark to a mixture of movie sets and amusements in Movieland and adventure trails, zoo safari and botanical gardens in Natura Viva Parco and Sigurtá.
Any spare time spent in Peschiera del Garda is normally used to relax and chill out by strolling the narrow city streets, eating ice cream, drinking cold beer or sparkling wine at local cafes or cooling off by the swimming pool or on a shingle beach.
But if you do have a couple of extra hours, here's a suggestion of five highly enjoyable things to do in Peschiera del Garda:
1.Enjoy the waterways
Peschiera del Garda is literally surrounded by water waiting to be explored and enjoyed. For those who haven't brought their own boat, there are several opportunities to rent all types of floating vessels from pedalo to motorboat. Along with sailing boats, parasailing, kitesurfing, stand-up paddles, surfboards and wakeboards.
If action sports don't appeal to you, you might enjoy a fishing trip or a lake cruise in one of the ferries or hydrofoils connecting Peschiera del Garda with Sirmione, Saló, Lazise, Bardolino and all the way up to Riva del Garda with the breathtaking mountain scenery.
Or you could remain on firm ground and enjoy a view of the water from one of the endless river or lakeside promenade. Cheer on the participants in the annual boat race Palio delle Mura in August. Or try to catch eel from the Voltoni bridge. If you've read the Latin writer Plinio il Vecchio you'll know that eels gather by their thousands in the Mincio, when the autumn star shines, and according to the locals there are still eels to be caught in the Canale di Mezzo.
2.Get some exercise
Rent a bike and take a ride along the river Mincio all the way to Mantova.
It's a 43 km long and predominantly flat ride that will take you through natural reserves and some pretty, romantic villages like Monzambano, Valeggio sul Mincio and Borghetto before you reach your destination. There are few facilities such as toilets or snack shops on route, so make sure to bring lots of water and sunscreen and to stop for refreshments every time you get the chance.
3. Explore the museums
On a rainy day you might explore the museums and the churches of Peschiera del Garda. The city is invariably linked with the Quadrilateral defense system, and Peschiera del Gard played a prominent role in the Napoleonic wars, during the Italian struggle for independence and in World War I.
The history is unravelled in Palazzina Storica Museo where you can visit the room, where King Vittorio Emanuele III made his famous address to the Italian people after the disasterous battle of Caporetto urging them to keep on fighting.
Another aspect of local history and culture is displayed in the Museo della Pesca. Here you'll find a collection of fishing boats, motors, fishing nets and other utensils along with photographs and the odd freshwater fish mounts. There's free entry at both museums in compensation for rather unpredictable opening hours.
The churches, however, are always open, which means you can admire the frescos at the Parish Church of San Martino and the Church of the Virgin Mary. There is also the Sanctuary of Madonna del Frassino with some interesting architectural features along with a still prominent legend from 1510. At that time a shepherd, who had gone out to work in the fields was attacked by a snake. He got so scared, he invoked the help of God, and when he turned his eyes towards heaven, he discovered a tiny statue of the virgin among the branches of an ash tree. He took the statue home and placed it in a cabinet as in proof of the miracle, and in recognition the sanctuary that still attracts thousands of pilgrims each year was built around it.
4. Sample local wine and specialties
Wine is produced along the shores of Lake Garda, and shops in Peschiera del Garda are packed with Bardolino in nostalgic, straw basket, fiasco bottles that make you long for a chequered table cloth and a dripping candle.
Other edible souvenirs include honey, a special kind of salami called Soppressa di Verona, the ultra-thin Tortellini di Valeggio that are normally served in broth, cheeses like the soft Formaggella di Tremosine and the semi-firm Garda and biscuits and cakes such as the Sbrisolona  to be softened by a drop of grappa, biscotti con farina di farro made with spelt.
In restaurants popular local courses include marinated trout, the sweet and sour sardines sarde in saor with raisins and pine nuts, Risotto con la tinca originally made with Swiss chard, Parmesan cheese and a kind of carp fish and bigoli pasta with alborelle which is a tiny freshwater fish used in much the same way as anchovies.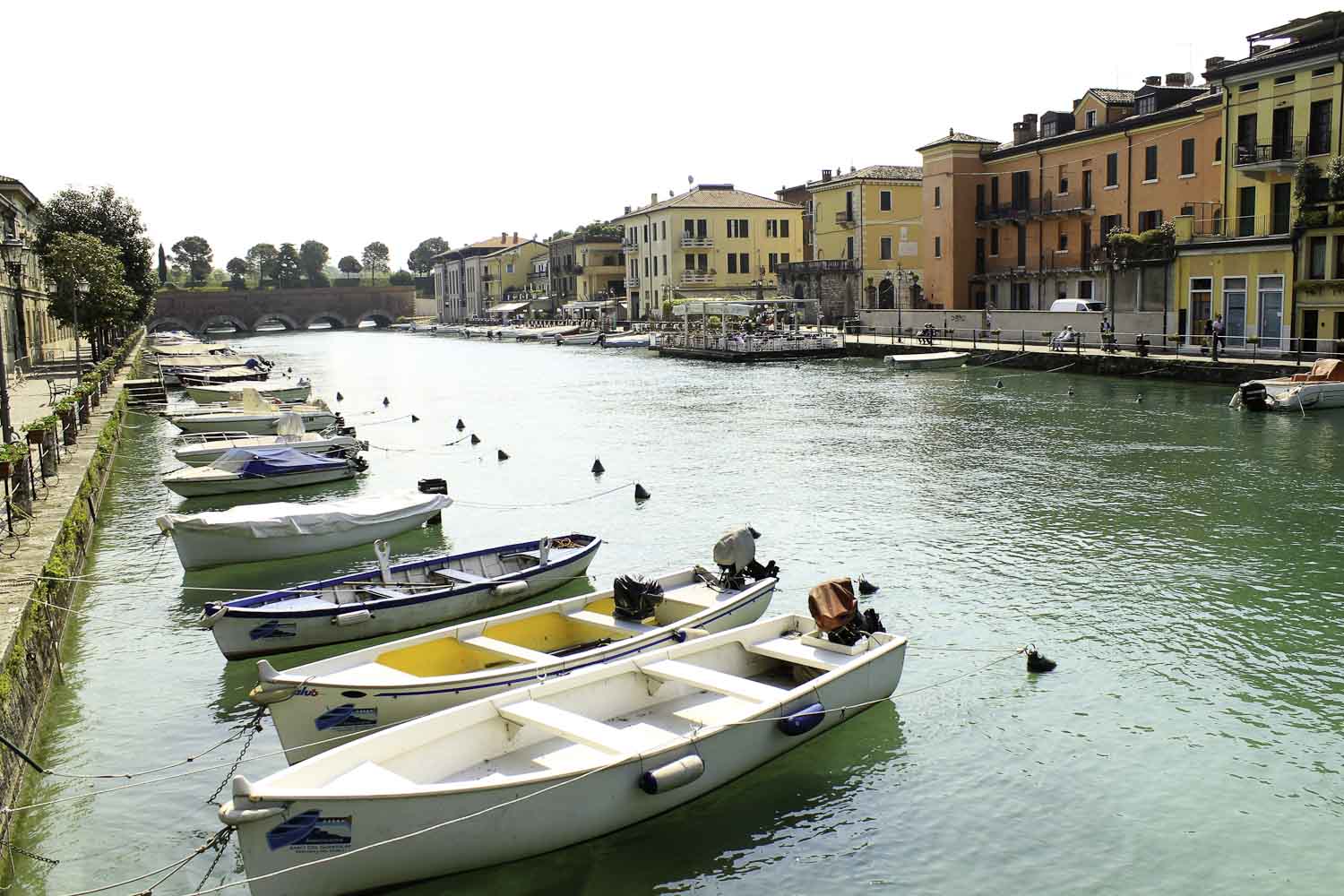 5. Breathe the romance
If you are looking for romance and have brought someone to hold your hand, you should climb the ramparts of the pentagonal fortress to see the city and the lake from above followed by a walk along the narrow streets within the defensive walls and a glass of bubbles at a lakeside café.
Or sit down on a bench in a ray of sunlight with D.H. Lawrence's travel book Twilight In Italy. D.H. Lawrence lived in Gargnano on Lake Garda from 18 September 1912 to 30 March 1913 and his perception of the people and landscape are as always passionate and sensual.Even though Peschiera del Garda is located in the dull end of the lake, where it is hard to discern the dramatic mountains further north, I still recognize Lawrence's description of a sunrise by Lake Garda:
"The lake lies dim and milky, the mountains are dark blue at the back, while over them the sky gushes and glistens with light. At a certain place on the mountain ridge the light burns gold, seems to fuse a little groove on the hill's rim. It fuses and fuses at this point, till of a sudden it comes, the intense, molten, living light. The mountains melt suddenly, the light steps down, there is a glitter, a spangle, a clutch of spangles, a great unbearable sun-track flashing across the milky lake, and the light falls on my face."
The light on Lake Garda is special and there are sensuous moments of great beauty around. Especially if you visit Peschiera del Garda out of season, before the holiday crowds rush in. We visited Peschiera del Garda in April when the weather was just perfect for anything but dazing by the pool.