Pastiera cake recipe from Naples
Pastiera
The traditional pastiera cake recipe from Naples requires special ingredients such as wheat grains and ricotta, but apart from that the process is not that difficult.
I have been wanting to make the Neapolitan pastiera for years, but never got round to it until today, when I happened to have all the ingredients at hand. The traditional Easter cake requires a special effort, and some of the recipes operate with bizarre amounts of sweet wheat grains and ricotta, but apart from that the process is not that difficult. These amounts work and the result is delicious, if somewhat on the heavy side.
Ingredients
For the pastry
300 g flour
150 g sugar
150 g butter
4 egg yolks
For the filling
100 g whole wheat grains (grano) dry weight.
500 ml milk
1 cinnamon stick
½ lemon peel
1 tsp cinnamon
1 tsp vanilla sugar
500 g ricotta
4 eggs separated in whites and yolks
240 g sugar
3 tbsp orange blossom water
100 g candied cedar
50 g candied cherries
Preparation
In Italy you can buy pre-boiled wheat that doesn't need to get soaked for 24 hours before use.  Therefore the first step is to boil the wheat grains with cinnamon stick and lemon peel in milk, until all the milk has been absorbed. (Take care it doesn't burn)
Meanwhile prepare the pastry. Mix flour and sugar, add butter and make it crumble before you use the egg yolks to tie up the pasty.
Leave the pastry in the fridge for about 1 hour.
Whip 4 egg whites with sugar until it forms stiff white tops.
Whip ricotta with egg yolks, cinnamon, vanilla, orange blossom water and candied fruits (if you can't get cedar other kinds of candied citrus fruit peel can be used).
Remove the cinnamon stick and large pieces of lemon peel from the wheat, when it has cooled.
Mix the wheat with the ricotta mixture.
Roll out ¾ of the pastry and use it to line a well greased springform pan. (The cake turned out a lot taller than I'd expected, so don't use a porcelain pie pan)
Fold egg whites with the wheat-ricotta mixture and pour it in the pan.
Roll out the remaining ¼ of the pastry and cut it into strips to make a lattice top.
Bake the pastiera at 150 C (300 F) for 1 hour.
More ricotta based recipes
Gnocchi with butter, lemon and ricotta
Spinach and ricotta cannelloni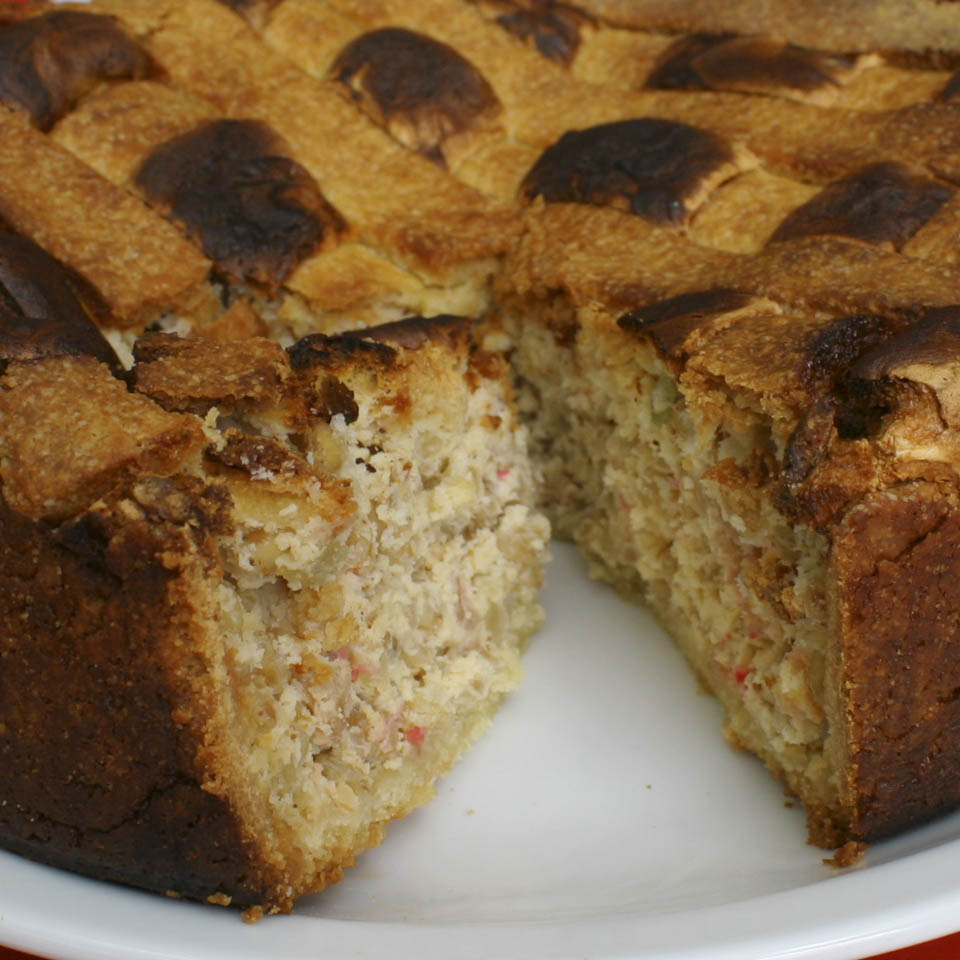 https://italiannotes.com/wp-content/uploads/2013/02/pastiera-cake-recipe-1-e1361633004603.jpg
240
640
Mette
https://italiannotes.com/wp-content/uploads/2014/12/logo.jpg
Mette
2011-08-25 08:07:20
2017-01-07 13:22:50
Pastiera cake recipe from Naples