The Mysterious Easter Traditions in Taranto
Easter in Italy is celebrated with some rather strange traditions and celebrations. Like the mysterious processions in Taranto on Friday before Easter.
It is almost impossible to find a parking space in Taranto in the early evening of Venerdi Santo the Friday before Easter. Even the Lungomare is crammed with cars, and we end up half way in San Vito, before we spot some empty curb. Still, it's a nice walk back to the centre of the city, while a huge red sun sets over the sea with anchored ships and container cranes in silhouette.
Hours of Anticipation
In the pedestrian streets, people are already lined up in anticipation of the annual spectacle. Positions are won with a push and a squeeze, strangers chat and joke, and four generation families stand around in look-alike clusters. For hours. First when it has gone properly dark a hush goes through the crowd, you crane your neck to get a glimpse of what might be coming but still see nothing. These kinds of events test the patience.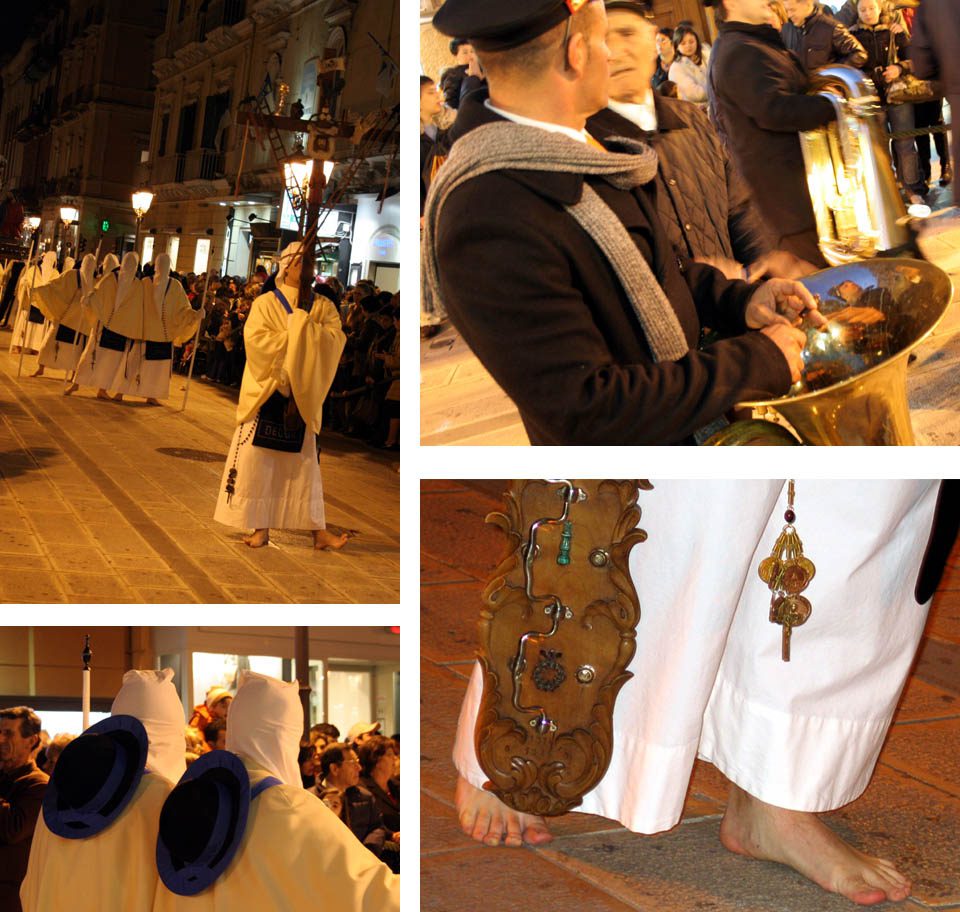 A Three Legged Ghost.
Then an eerie rattling noise can be heard above the din. It's the troccola – a board instrument sounding like the pebbles hurled after Christ on his way to the cross. This is one of the details unique for Taranto. Nearby towns like Grottaglie and Francavilla Fontana have different rites and slightly different costumes, while the town Oria specialised in Bible reenactments.
The rattling is accompanied by a funeral march, and finally a man carrying a cross with some strange symbols on the cross bar appears. He is unmasked and his naked feet perform a weird little dance flicking the instep for every slow step forward. He is followed by pairs of perdoni  or pilgrims hoping to be absolved from their sins. Their faces are hidden behind a white hood with only two tiny pin pricks, where the eyes should be. They walk as if they are joined at the shoulder and the hip, swaying from side to side as a three legged ghost.
No Waiting for the Black Madonna
The procession goes on for hours, and at the end they are bringing the heavy statues around.
Strong men in funny clothes take turns shoulding a suffering Jesus and other scenes from the testaments, but this time I don't wait around for the Black Madonna. She won't appear until midnight, when a different kind of motor driven procession will take over and fill the streets with a most unholy traffic jam.