It can be hard to detect Magna Grecia in Italy, but history is visible in cityscapes of the 21st century.
You won't get far along the Ionian Sea without encountering large brown signs that in white letters proclaim "Itinerario Magna Grecia" creating the expectation that you are just about to pass an ancient Greek temple or exciting archaeological excavations. You cold not be more mistaken. Even if you drive very slowly and look carefully to all sides, you always end up missing the announced Magna Grecia sights. This may be due to the wink of an eye the exact split second, when history is revealed. Or perhaps it is a case of failing to see the wood for trees, as every stone and olive tree, in principle, dates back to antiquity.
Whatever the reason, I have not succeeded in seeing the sights, the signs promise, once, in ten years. So this summer I made a determined effort to stick to the trail until it showed up something old and Greek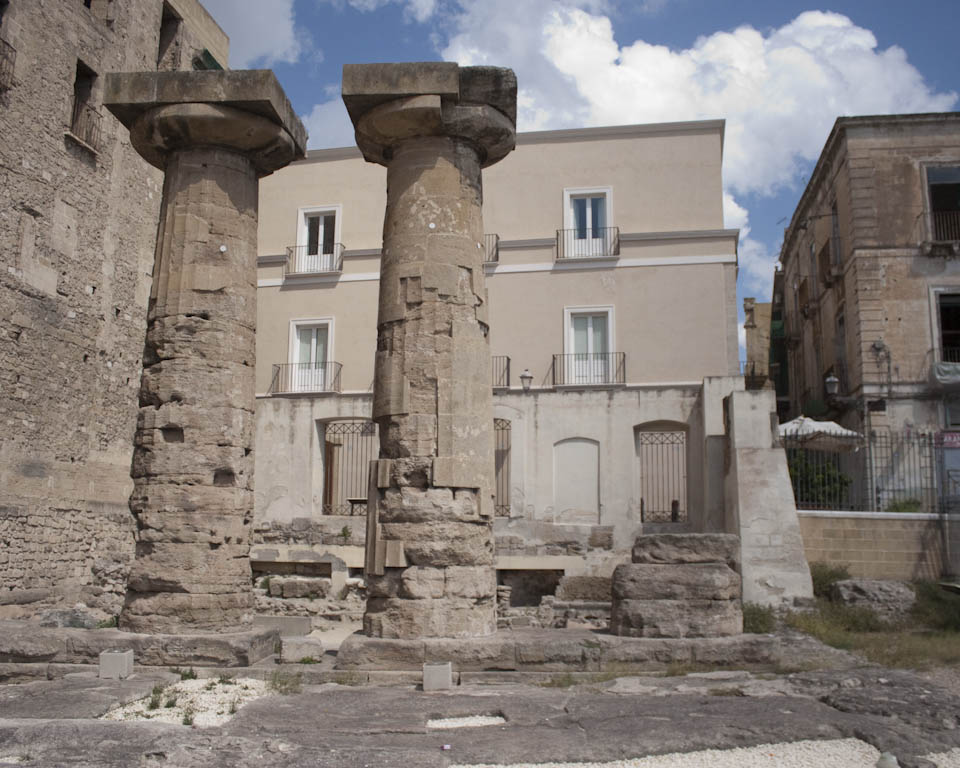 The expedition began in the southern outskirts of Taranto, where a sign announced the proximity of both necropolis and aqueduct. There were lots of cars and shops on the wide and busy street, but in spite of scrutinizing glances among the housing estates, I failed to spot anything the least bit like an old cemetery, and we had to turn around and cover the same distance several times. After numerous attempts we found a small archaeology-brown sign at the entrance of a covered market. It gave directions to a tomb, which happened to be hidden behind a locked door. An interesting and rather telling cultural experience in itself.
We had more luck with aqueduct. It turned out to be three or four layers of rock in a neat row in the centre strip of a six-lane highway. A 30 cm high, plastic wire fence guarded the antique monument from pedestrians, dog walkers and mischievous children, and you start to understand why constructions of the Spartan colonialists are so marked by wear. It is, after all, 2800 years – or thereabouts – since the aqueduct was built.
I guess we just have to accept that the past takes up a lot of space in southern Italy, as does modern life. They have to live in layers and let the periods merge into one another to make room for all. Magna Grecia exists, but it can be hard to detect in a 21st century cityscape.
More on Magna Grecia in Italy
The Paestum temples: Greek ruins in a sea of flowers
https://italiannotes.com/wp-content/uploads/2012/06/magna-grecia-in-italy-e1360946686585.jpg
240
640
Mette
https://italiannotes.com/wp-content/uploads/2014/12/logo.jpg
Mette
2009-08-20 12:18:00
2013-05-01 10:19:48
Magna Grecia in Italy