The lion of Venice
As a symbol of power and leadership the lion of Venice guards Piazza di San Marco from the top of a granite column. But the intimidating big cats can be found all over the city.
As one of the four evangelists, Saint Mark has always been associated with the power and elevation of the winged lion guarding the throne of the Almighty. So when the patron Saint Mark was stolen from his grave in Alexandria in 828 and transferred to Venice, the lion followed suit. And soon the lion-griffin was adopted as a symbol of Venice. As such it can be spotted all over the lagoon city and in other cities forming part of the Republic of Venice.
Lions in all shapes and sizes
The lions of Venice come in all shapes and sizes from weathervanes and door knockers to fountains and monuments. They should have wings to symbolize both power and elevation, but frequently they are paired with other symbols as well. There are winged lions resting on water, some have halos and swords as signs of spirituality and justice, and some rest their paws on an open or closed book. There's material for years of semiotic studies.
There are even crab lions with wings displayed as claws. These lions 'in moeca' are normally associated explicitly with the lagoon and the city of Venice, while the standing winged lion can be found all around the Mediterranean in what used to be Venetian territory.
The lion dominating Piazza San Marco
The most famous of standing lions is of course the one topping one of the two granite columns in Saint Mark Square. This proud bronze animal with front paws resting on the Bible probably originated in Southern Turkey around year 300 BC., but over the centuries it has been through numerous moves, restorations and transformations.
The lion in Piazza San Marco first appeared in Venice in the late 13th century and stayed there until Napoleon came by in 1797. He thought this proud animal would look better in Paris, and mounted it on a plinth in a fountain at the Place des Invalides. After Napoleon's downfall, Venice reclaimed its pet, but a rope broke and the lion returned to Venice in 20 pieces. It was during the subsequent restoration the lion's tail, which had previously been tucked between its legs, was raised as yet another sign of victory and domination.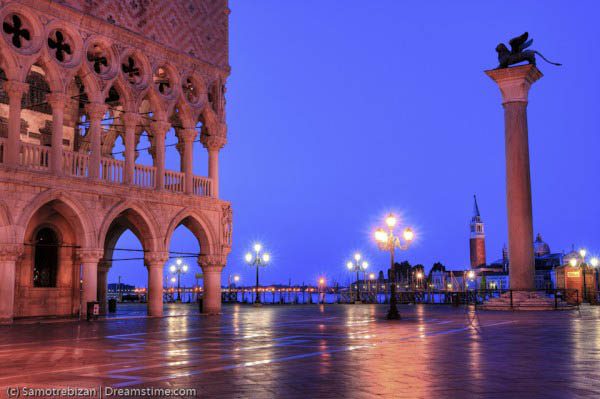 Other posts like the lion of Venice
Chioggia – the pantry of Venice