Linguine with bottarga
Linguine con bottarga di tonno
Even in Italian supermarkets bottarga is a rare sight, so when I stumbled over a jar, I bought it and started looking for appropriate uses. Bottarga are dried roe of tuna or mullet. It is normally produced in Sardegna, Sicily or Tuscany and marketed as Mediterranean caviar. Still, it smells and looks like the powder you use to feed the goldfish in a freshwater aquarium. Nevertheless it is quite a delicacy, when sprinkled over a nice plate of pasta tossed in olive oil.
This time I've used homemade linguine with eggs. For years, I've insisted on making pasta with water and flour only, but after buying a litre of pasteurized egg yolks, I've found it a lot easier to achieve the right mix and texture. And a nice, firm, egg-based dough makes a great, unsticky fettuccine or linguine.
Good ready-made pasta can of course be used instead, and then this dish will be ready to serve in the time it takes to cook the pasta.
Ingredients
2 tsp bottarga
Olive oil
8 tomatoes
Fresh parsley
500 g pasta
For the pasta
300 g flour type 00
200 g durum
1 egg and 50 ml egg yolk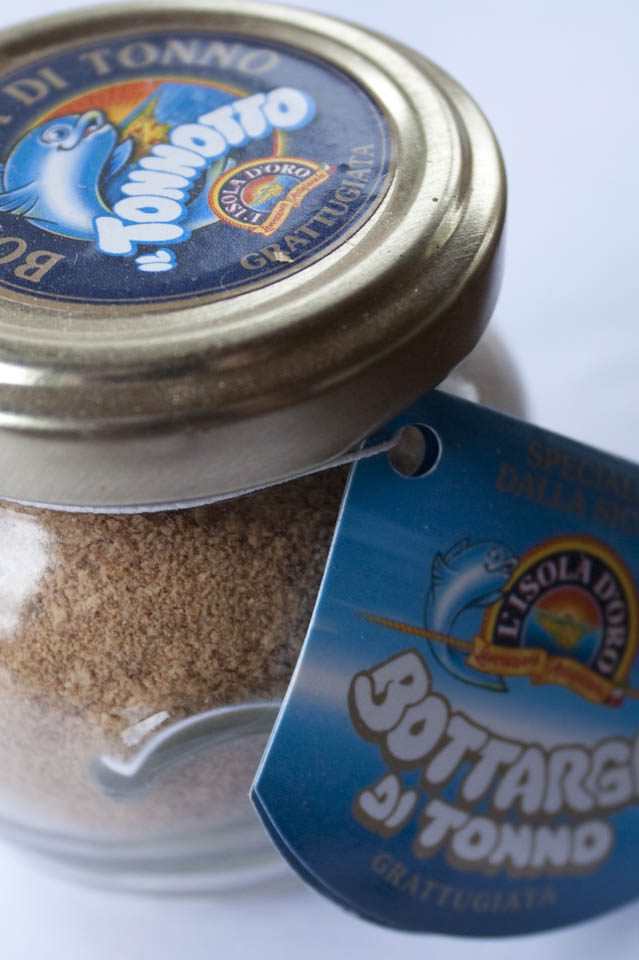 Preparation
Form a heap of mixed flour and durum on the table
Make a well in the centre and add the egg and egg yolks
Work the flour into the egg with a fork until there's no powder left, adding more egg yolk if necessary.
Knead the dough with the heel of your hand and run it through the pasta machine 10 times at least
Roll the dough through all steps in the pasta machine while gradually reducing the width
Cut the pasta by hand or roll it out as fettucine or linguine.
Boil the linguine in salted water for 3 minutes
Toss the linguine in olive oil, mix with quartered tomatoes and sprinkle with bottarga and parsley.