Stoccafisso
This Ligurian stockfish recipe is a stew made from dried or salted fish, tomatoes and potatoes.
It is last call for dried or salted cod bought in Southern Italy in the fall. Shop owners always find it hilarious to see Scandinavians stock up on a Scandinavian specialty in Italy, and they do not quite believe us when we say that dried fish costs three times as much, when bought 2 500 closer to its native waters. One of life's small paradoxes.
As we don't want to change a tenderloin steaks for preserved cod, we prefer to buy Norwegian fish to last the winter in Italy. It keeps fine in the refrigerator for a couple of months, and the craving for this kind of food passes with the winter.
This year I used the last baccala in a Ligurian recipe, according to which the fish should be boiled directly in the suace. Normally, I give it a boil and throw away the water, before mixing the fish with the other ingredients, but this had to be tried, and the result was unsurprisingly …. salty. Next year I think I will stick to my old habits and boil the cod a little on its own first.
Ingredients
500 g baccala, stockfish or other kind of dried salted cod
1 red onion
2 cloves garlic
1 celery stick
1 carrot
1 ltr vegetable stock
2 cans of tomatoes
5 potatoes
Olive oil, pepper, (salt)
Pine nuts, parsley or fresh basil
Preparation
Leave the fish under water for 24 hours to remove the salt. Change the water 2-3 times along the way.
Put the fish in boiling water for 5 minutes
Drain fish, remove skin and bones and cut it into fair sized cubes
Clean, peel and chop onion, garlic, celery and carrot finely and fry it in olive oil.
Add the cod and let it steam for a few minutes
Pour in stock and tomatoes, but remember it is not a soup.
Peel the potatoes, cut them in pieces, and add them to the pan, so they can help to thicken the sauce.
After 1-1½ hour the dish is ready to serve with good Italian bread and a sprinkling of pinoli, parsley and/or basil.
Great altenatives to this Ligurian stockfish recipe
Sole with spinach and white sauce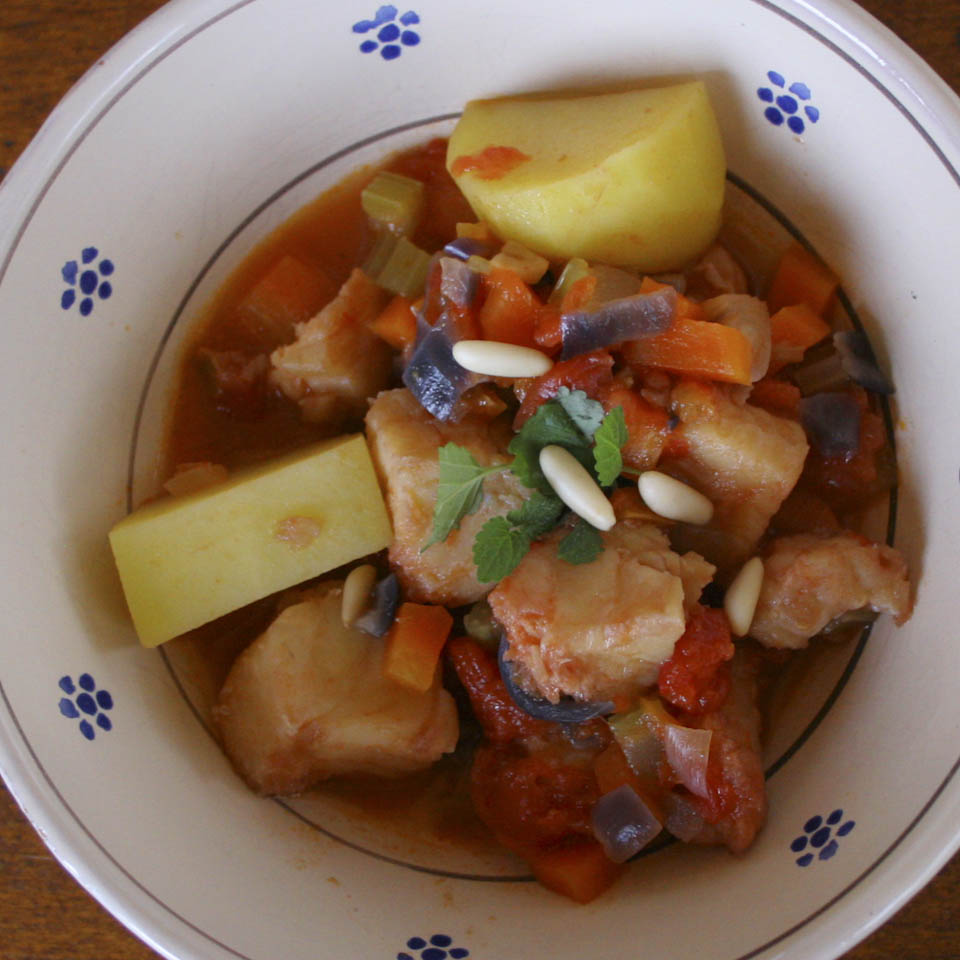 https://italiannotes.com/wp-content/uploads/2012/06/Ligurian-stockfish-recipe-e1359715706534.jpg
240
640
Mette
https://italiannotes.com/wp-content/uploads/2014/12/logo.jpg
Mette
2010-03-01 10:41:00
2015-03-25 19:29:06
Ligurian stockfish recipe