Torta pasqualina
Ligurian Easter pie adds a touch of bright spring colours to the traditional pasquetta picnics.  The recipe is included in several Italian cookbooks and with my usual craving for unnecessary hard work in the kitchen, I follow the most elaborate version, where the dough is prepared from scratch and rolled into numerous thin sheets placed on top of each other to provide the right, multilayered crispness.
I did, however, stop short after 4-5 sheets of dough, as the 33 layers prescribed by traditional recipes to mark the Christ's 33 years of age, seemed excessive. Still, you can use ready-made puff pastry, or even better multiple layers of thin filo pastry to make the pie less heavy. Any which way, the torta pasqualina, which is best when served warm, will feed at least 8 people.
Ingredients
For the pastry
500 g flour
2 tbsp olive oil
250 ml water
Salt
For the filling
500 g chopped frozen spinach or 1 kilo fresh spinach
500 g ricotta
8 eggs
1 dl milk
2 tbsp grated parmesan cheese
2 tbsp fresh bread crumbs
Olive oil
Marjoram, salt, pepper
Preparation
Make a heap of flour and a little salt on the table. Stir in olive oil and water and knead thoroughly till you have an elastic, smooth dough. Cut the dough in 8 pieces, and let it rest under a wet tea-towel, while you prepare the filling.
Clean the fresh spinach and give it a quick boil before chopping. If you are using frozen spinach, it should be thawed in a casserole. Make sure to drain all excess water from the spinach.
Mix spinach with generous amounts of marjoram, salt and pepper.
Soak the bread crumbs in milk.
Mix ricotta with 2 beaten eggs and the parmesan cheese and fold in the spinach.
Roll each of the 8 dough balls into very thin round sheets.
Grease a high pie dish with olive oil, and line it with a sheet of dough. Brush the first sheet of dough with olive oil, before adding the next pastry layer. Repeat 4 times.
Pour in half the filling and make 6 hollows in the filling with a spoon.
Break the eggs carefully and place one egg in each hollow. Top up with extra salt, pepper, parmesan and the remaining spinach/ricotta mixture.
Close the pie with 4 sheets of oil brushed dough, and roll the sides to seal.
Prick the surface with a pin (without puncturing the egg yolks) and brush with olive oil.
Bake the pie in a pre-heated oven (180°C/350°F) for about 1 hour, until golden brown.
Other specialties like Ligurian Easter pie
Pastiera cake recipe from Naples
Easy focaccia recipe with herbs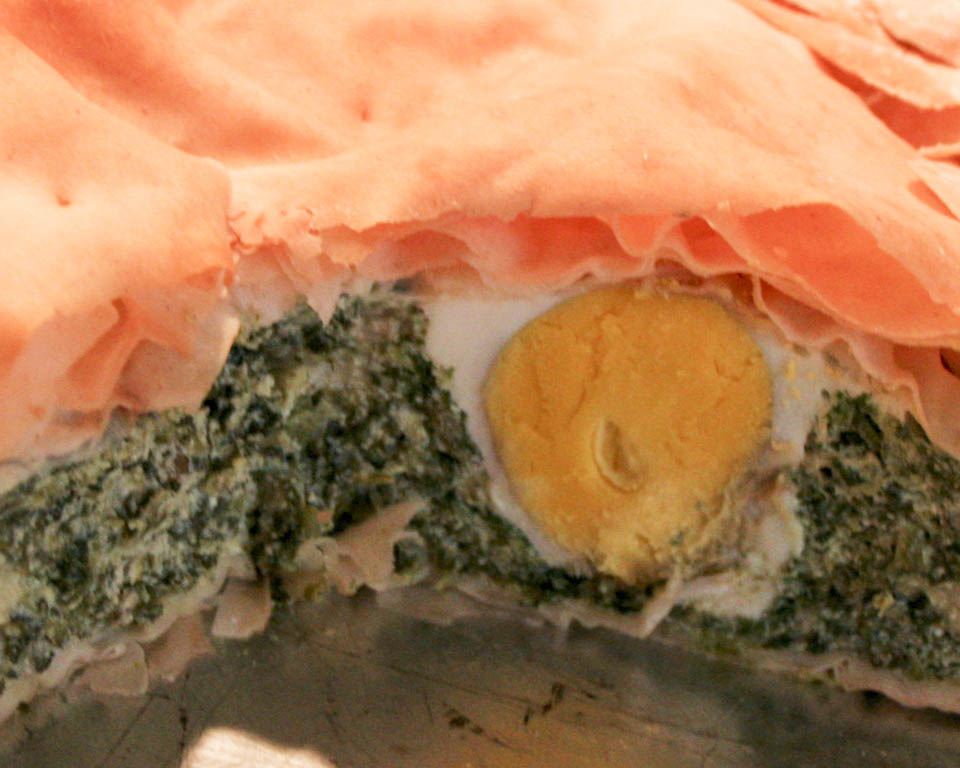 https://italiannotes.com/wp-content/uploads/2012/06/Ligurian-Easter-pie-e1359715472767.jpg
240
640
Mette
https://italiannotes.com/wp-content/uploads/2014/12/logo.jpg
Mette
2010-03-19 10:31:00
2015-03-25 19:28:48
Ligurian Easter pie