The invention of sunscreen and intense studies of Italian beach culture helped me to relax and I'm actually learning to love beaches and beach life in Italy
I've got the natural skin tone of a maggot, so when I first started travelling in Italy my relationship to beach going and sunbathing was strained. I would rush out for swim followed by a rigid roast in the sun for exactly 10 minutes on both sides, taking care to turn the palms upwards to ensure an even lobster tan.
Since then the invention of sunscreen and intense studies of Italian beach culture have helped me to relax and actually enjoy the sand, the sun and the sound of waves licking up on the beach. As long as I observe these five golden rules that seem to be copied straight from Maslow's hierarchy of needs.
Start by building a shelter. Place three umbrellas or more in a cluster to make shadow and room for the extended family including grandmas, neighbours' kids, loud aunts, funny uncles and the one-legged cousins. Bring an appropriate number of chairs, sun beds and beach towels to make everyone feel comfortable.
Focus on food. If you listen to the talk on Italian beaches, you'll realize that every other sentence contains the name of a dish, fish, meat or vegetable. People constantly discuss what they plan to prepare and eat today, tonight and tomorrow, and on Sundays their thermo bags contain not only crisps, taralli and cooled slices of peach and watermelon, but also lasagna, focaccia, stuffed peppers and rice salads. That kind of behavior is contaminous, so make sure to bring your own treats for when the mouth starts to water.
Spoil yourself with a shopping spree. Greet all beach vendors kindly and take time to leaf through their offers of (almost) designer sunglasses, fake watches, pirate CDs, beads, bracelets, hairpins, scarves, shawls, dresses, ethnic wood carvings, silver earrings and henna tattoos. You'll be amazed by the number of goods available on an Italian beach, and after some haggling you might even drive a good bargain.
Boredom is a sin, so make sure to bring your own entertainment. Books, magazines, spades, buckets, beach rackets, balls, dragons, snorkeling gear, rubber boats, fishing nets and harpoon guns will keep you occupied for as long as it takes to catch an octopus and parade it along the beach. Then you can always move on to rented equipment like pedalos, surf boards, water scooters and water skiing. Don't forget to bring your mobile phone with a personal ring tone. One Nokia tune on a summer beach makes the crowd go wild.
Don't get upset, if someone takes a short-cut over your legs, sprinkle your sun lotion with sand, hit you in the head with a racket ball or try to spike you with a flying umbrella. It is nothing personal, and the beauty of the beach is there's room for all. Just sit back and enjoy it.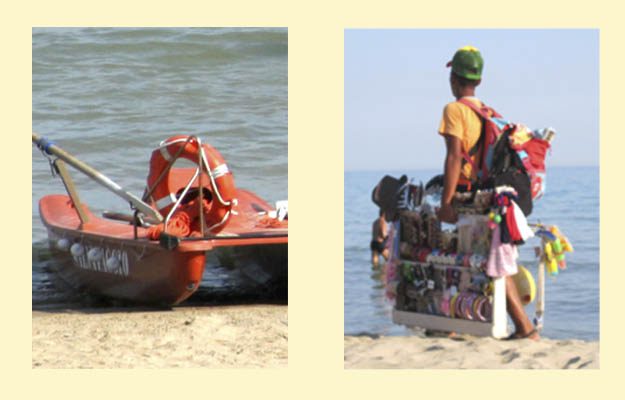 Other posts on beaches in Italy
https://italiannotes.com/wp-content/uploads/2012/07/Learning-to-love-beaches-e1358703284275.jpg
240
640
Mette
https://italiannotes.com/wp-content/uploads/2014/12/logo.jpg
Mette
2011-08-04 14:30:29
2014-12-26 13:57:15
Learning to love beaches