La Dolce Vita and other sights in Rovereto Italy
Rovereto Italy is an unspoiled town with a real Italian feel close to the Lake Garda tourist magnet.
Monday is half closing day in Rovereto, so even if it's the height of the tourist and exam season, and the city is less than 30 kilometres from the University of Trento and the terraces at Lake Garda, the pedestrian streets in Rovereto remain deserted.
In the old town Neptune stands completely naked and alone in Piazza Battisti, shops have rolled down their shutters, the door of the church is locked, and everything is 'chiuso per risposo lunedì', as the signs say.
The only place, where there is some life, is on the square in front cafe 'La Dolce Vita'. A woman complains to her male colleague about the lack of enthusiasm and commitment to work, while she rattles her fashionable bracelets vigorously, and at another table five fashion punk students are sitting around an open Zingarelli sipping Aperol, while discussing the argument in today's exam paper.
Italy formally starts at the Brenner border, but you have to reach the southernmost corner of the Trento province, before you start to feel the real Italy.
While people from Brenner to Trento switch to German, Rovereto is entirely Italian-speaking. Torta replaces strudel on the menus. Hanging geraniums are increasingly mixed with hibiscus and bougainvillae. And the mood is – well – typically northern Italian.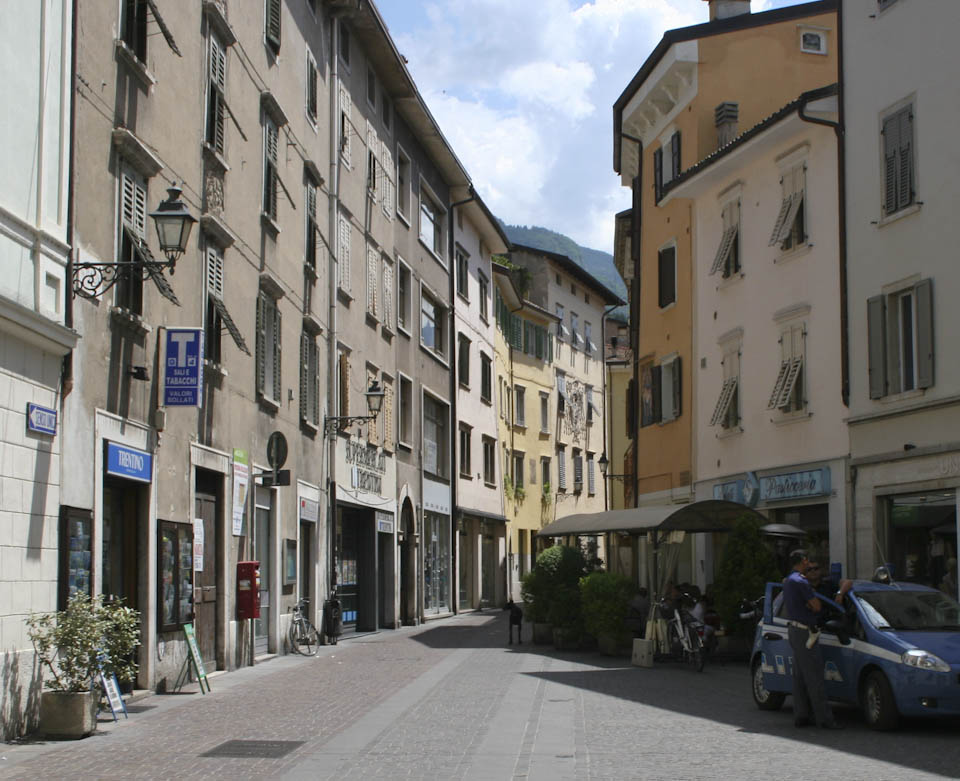 Rovereto offers exclusive brand shops with all the latest and most stylish fashions. House colours are tastefully matched shades of pink, yellow and orange in beautiful contrast to the green, grey and brown wooden shutters. The people who defy the lethargic Monday afternoon atmosphere seem chic, wealthy and educated. And if you get tired of strolling around the cobbled streets with an ice cream in hand, you can always climb up to Ossario di Castel Dante and enjoy the stunning views, spanning rivers and mountains to Lago del Garda; or visit the historic castello, Museum of La Grande Guerra, a museum overflowing with futuristic art called the Mart, or the politically correct peace bell, which is said to be among the world's largest.
But when the weather is nice, shops wake up, and scooters and people start getting out and about again, it will be difficult to draw visitors away from dolce vita in the inner city.
Other places to explore near Rovereto Italy
Carducci and the green Adige river
https://italiannotes.com/wp-content/uploads/2012/08/La-Dolce-Vita-in-Rovereto-e1361542077139.jpg
240
640
Mette
https://italiannotes.com/wp-content/uploads/2014/12/logo.jpg
Mette
2009-07-28 19:32:00
2017-09-23 15:50:30
La Dolce Vita and other sights in Rovereto Italy