Why are There
Jewellers on Ponte Vecchio?
I've often wondered why there are jewellers on Ponte Vecchio. Might as well have been bakers or butchers, if it hadn't been for heritage and a severe case of medieval snobbery.
No sight in Florence is more iconic than Ponte Vecchio. The only bridge in Florence to survive the Second World War, because Hitler was said to admire it.
As previously noted, I too prefer to admire Ponte Vecchio from a distance, and no visit to Florence is complete without time to for a long walk along the Arno. The Duke of Tuscany, Cosimo I, however, did not have time for long walks. He had to cross Ponte Vecchio frequently in order to get to the Pitti Palace, after he – as the first Medici – decided to live on the other side of the river.
The Secret Corridor
In 1565 the Duke Cosimo therefore commissioned Giorgio Vasari to build a corridor above the bridge as a secret covered passageway between his palace and the seat of government. At that time Ponte Vecchio was occupied by butchers and tanneries that dumped their stinky waste directly into the river. The Duke found this unpalatable, so he issued a Decree banishing butchers from the bridge, and gold merchants immediately took their place. In this way the trade on Ponte Vecchio became an emblem of medival snobbery.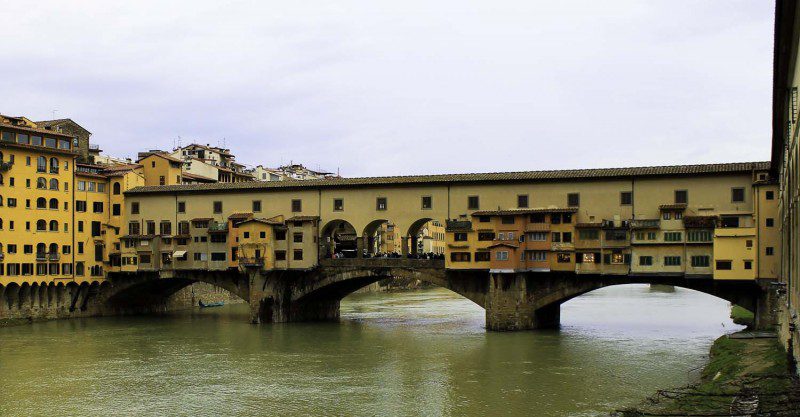 The secret corridor looks like an extra storey, merging perfectly with the other architectural sediments on the bridge that started out as a simple structure with stone piers built 2000 years ago by the Romans as a crucial link between the North and the South of Italy.
Over the centuries, the bridge was destroyed and rebuilt several times and each time new layers were added. The present bridge was completed in 1345 with three segmental arches that were precisely long enough to let the water pass through and low enough to ensure a comfortable crossing. At that time, this in itself was an impressive technical accomplishment.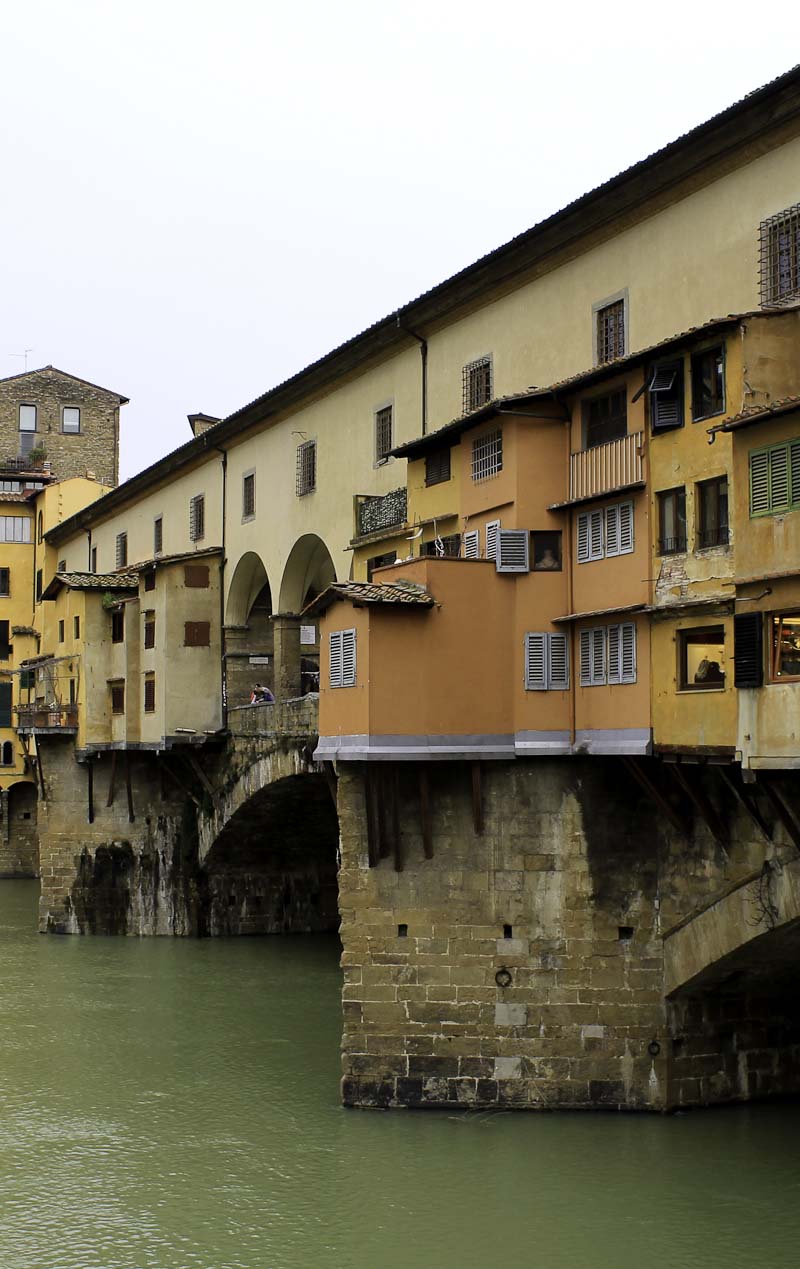 From tables and carts to cantilevered extensions
The top of the bridge was constructed as a fortress with stone walls and battlements, but soon traders set up tables with their wares along the sides. Tables and carts eventually became shops that were sold to private owners and eventually enlarged vertically, making a base for the secret corridor. Gold merchants took over and shops were passed on from one generation to the next as part of the family heritage. The successful ones even figured out how to build cantilevered extensions, when the need for more space arose.
So over the years, Dukes and jewellers on Ponte Vecchio gave the bridge the asymmetrical, charming look that makes people from all over the world fall in love with Ponte Vecchio and Florence at first sight.