Italian crock pot with pancetta
Stracotto di manzo con pancetta
Crock pot roast makes a normally tough piece of beef marvelously tender. And it produces the most wonderful gravy.
Pot roast makes a normally tough piece of beef chunk or brisket marvelously tender, and it produces the most wonderful gravy. This means that can produce a real tasty and wholesome meal on a rather tight budget. Yet nobody will even think about the cost once the dinner is served, they'll just eat and enjoy it.
This is a variation over a recipe know as 'alla Fiorentina', but using pancetta slices instead of cubes.
Ingredients
1 kg beef of round, chunk or brisket
10 slices of pancetta or (not too smoky) bacon
2 onions
3 cloves of garlic
4 carrots
1 celery stalk
2 tbsp tomato paste
½ ltr beef stock
1 glass of red wine
Salt
10 Pepper corns
Fresh rosmary and thyme
Peel of ½ orange and ½ lemon
Preparation
Wrap the beef in pancetta and roast it in a little olive oil in a pot on the stove until golden brown.
Add sliced onion and garlic.
Stir in wine, tomato paste and beef stock, bring it to the boil and then turn down the heat.
Clean and peel the carrots and add them to the pot along with chopped celery, pepper corns, herbs and slices of lemon and orange peel.
Let the dish simmer over low heat for 3-4 hours, making sure to add more beef stock when necessary.
When done the crock pot roast should be very tender and surrounded by a rich, thick and tasty gravy.
More Italian crock pot recipes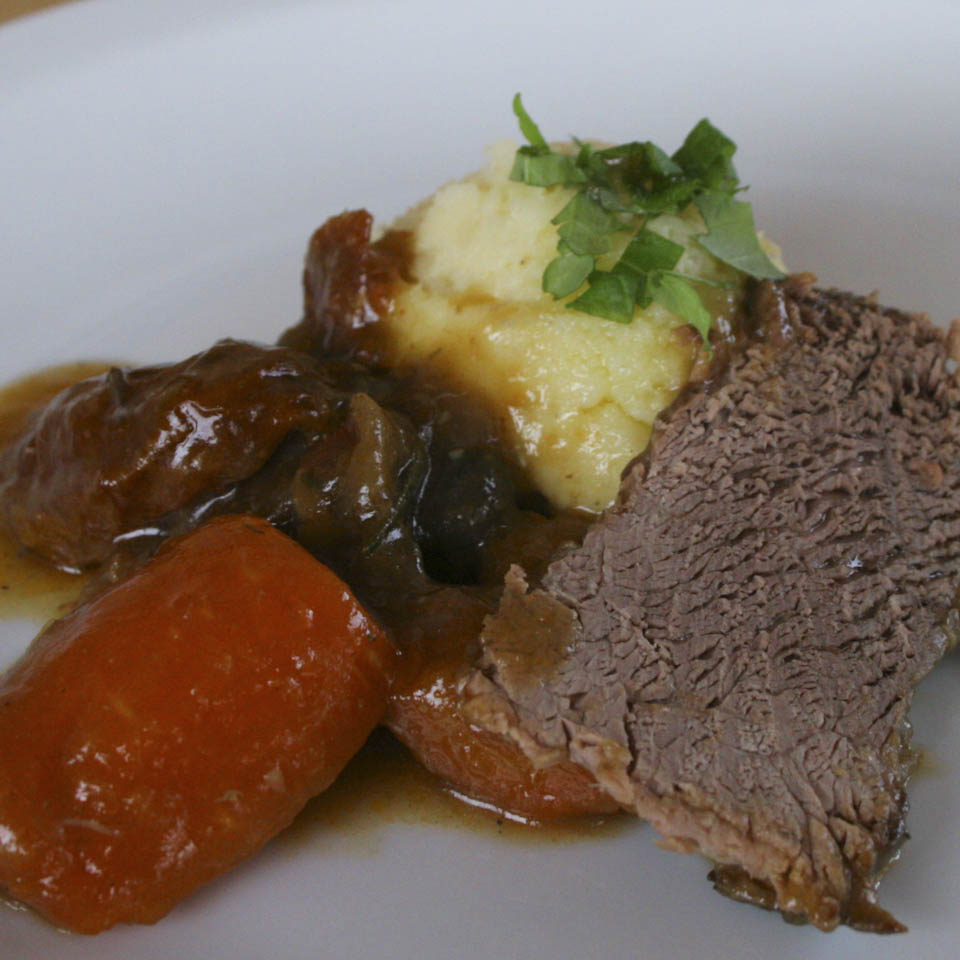 https://italiannotes.com/wp-content/uploads/2012/07/Italian-crock-pot-roast-with-pancetta-e1359107521852.jpg
240
640
Mette
https://italiannotes.com/wp-content/uploads/2014/12/logo.jpg
Mette
2011-01-23 17:12:56
2022-06-19 17:20:29
Italian crock pot with pancetta