Hotel Review: Hotel Medici in Rome
Hotel Medici in Rome is an average three star hotel offering basic comfort at very reasonable prices.
It's hard to find the perfect hotel for a city break, if you can't or won't afford five star luxury. Especially, in a city like Rome, where incredible numbers of tourists create a constantly high demand for temporary accommodation. In the cheaper end of the spectre, there are cramped rooms, noisy rooms, filthy rooms and rooms with no windows. Medium priced offers can generally be either high standard in distant or unattractive parts of town or small and tacky rooms at a prime location. The problem is that you have to know the town fairly well, to find the best compromise between location, comfort and price.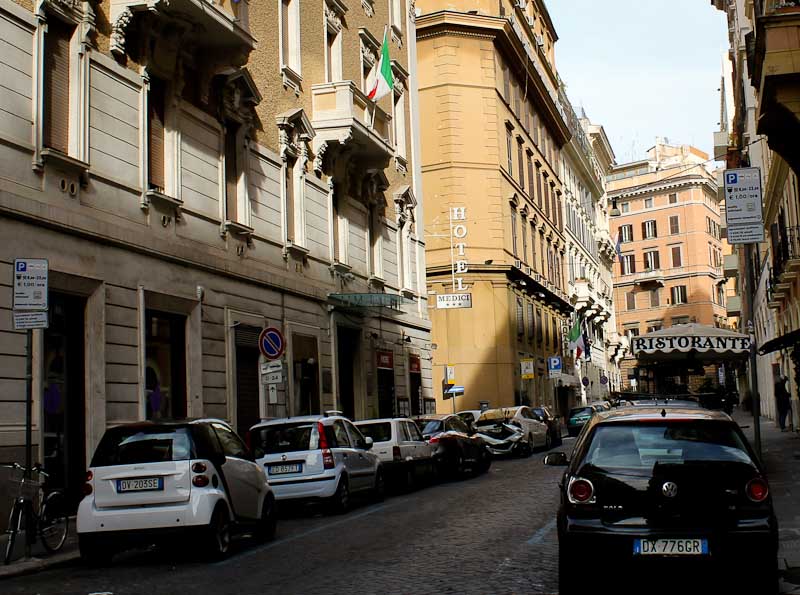 Not As Far Out As It Seems
Hotel Medici is located on Via Flavia in Rione Sallustiano. A 10 minute walk from the Termini Station. It's a quiet – some might say boring – residential neighbourhood outside the fairground attractions of the ancient Rome and areas like Trastevere and San Pietro. There are few shops and no sights within a five minute radius, but thanks to the number of hotels and embassies in the area there are plenty of authentic Italian restaurants.
And it's not nearly as far out as it seems. One day we walked to Villa Borghese via the Spanish Steps and Piazza Popolo to San Pietro, Trastevere and Piazza Campidoglio before returning home by foot. And it didn't prevent us from going out again in the evening.
Well-Worn But Clean
Hotel Medici is a proper hotel with a night porter, which has been a main criteria for me after a sleepless night in Salerno next door to an insomniac, who watched TV all night at max. volume. The lobby and the stairs appear tolerably clean though well-worn and shabby, and the tiny lift is an old-fashioned box-in-an-iron-cage model.
Still, the general standard is more than acceptable considering the price. Especially, because there room is nice. The large double room has a proper double bed, a writing desk, a cupboard and a TV that can be seen without binoculars. The bathroom has a fair size, and there are no leaks nor dripping and running taps. There is virtually no noise from the street and only a murmur is discernible from the room next door. It's an okay place to sleep rest your tired feet, during a hectic city break.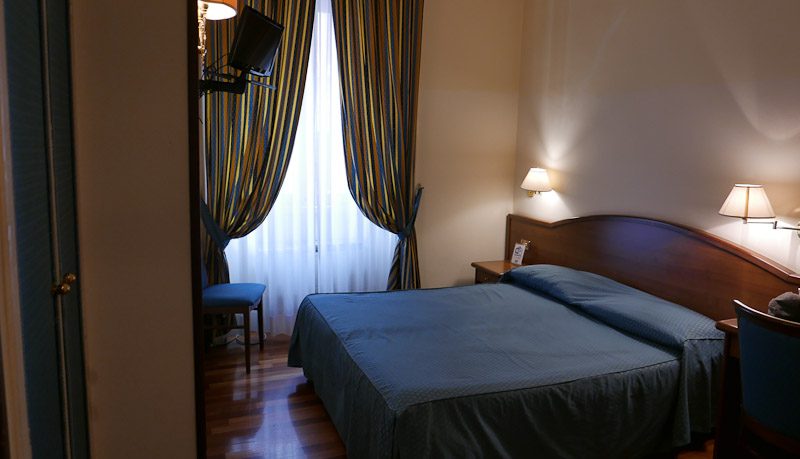 One Major Complaint
My only major complaint is the morning coffee. The breakfast buffet offers fruit, juice, yoghurt, bread, cereals, cakes and biscuits, and there are even slices of ham which qualifies for European breakfast in the Italian book. The only thing that is downright unacceptable is the cappuccino. It is plain lousy, and probably the worst I've ever had anywhere in Italy. But then again, you can't have everything and at the prices charged by hotel Medici there's plenty of money saved for a nice cup of coffee at the nearest café.