Calabrian chili: Hot weekend at the Mar Tirreno
Calabrian chili is a local delicacy and Calabrians can sniff their way to the strength of chili on the Scoville scale. According to a chili vendor I met along the road.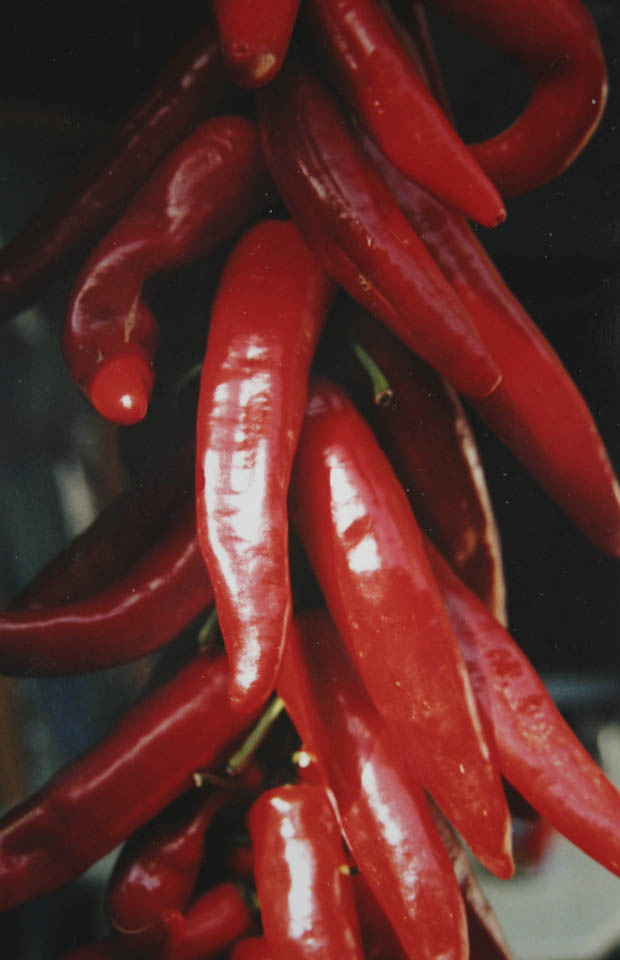 Calabrians are fond of their peperoncini. Every gas station sells chili pepper vines, earthenware dishes with chili motifs, chili sauces with scary names such as bomba calabrese, strong ndjuja sausages with chili taste, grappa with chili , etc., etc. Consequently, it does not come as a surprise that a town like Diamante this weekend hosts a Chili  Festival for La cultura piccante, as they say. From the 9th-13th September, the town wallows in photo art, street theatre, concerts and gourmet cuisine with chili as a more or less far-fetched common denominator. There will even be an exhibition of 800 different chili of varying strength. Left-over beachgoers are in for a truly hot weekend at the Mar Tirreno.
Perhaps they will learn to sniff their way to the strength of chili according to the Scoville scale, like a Calabrian chili vendor tried to teach me a few months ago. He was standing by the side of the road with a van filled with yellow, red and orange chili peppers.
– Senti, he said, smell this, and lifted first one and then another chili pepper up in my face. Can you smell the difference? Some chillies are dolce, others are molto piccante and piccante, and the red one is sweet. It tastes of nothing at all, while the yellow one has a nice sting. The yellow are definitely the best.
Meanwhile, his friend tried to figure out whether it would be worthwhile to immigrate to Denmark to find unskilled work in a factory.
You cannot support a family by cultivating chili fruits, dragging them on a string and selling them for 5 euro per vine. Unless an initiative like the one in Diamante really succeed in making the demand increase.
If you like Calabrian Chili you might also want to try
One of the best beaches in Italy?
https://italiannotes.com/wp-content/uploads/2012/06/Hot-weekend-at-the-Mar-Tirreno-e1360494720525.jpg
240
640
Mette
https://italiannotes.com/wp-content/uploads/2014/12/logo.jpg
Mette
2009-09-10 18:11:00
2021-10-03 18:45:49
Calabrian chili: Hot weekend at the Mar Tirreno